This turmeric soap recipe makes a homemade face soap with skin-healing properties to remedy acne, dark spots, and red, irritated skin while bringing about a natural glow. The easy melt-and-pour method only takes 20 minutes before the soap is ready to set and then use.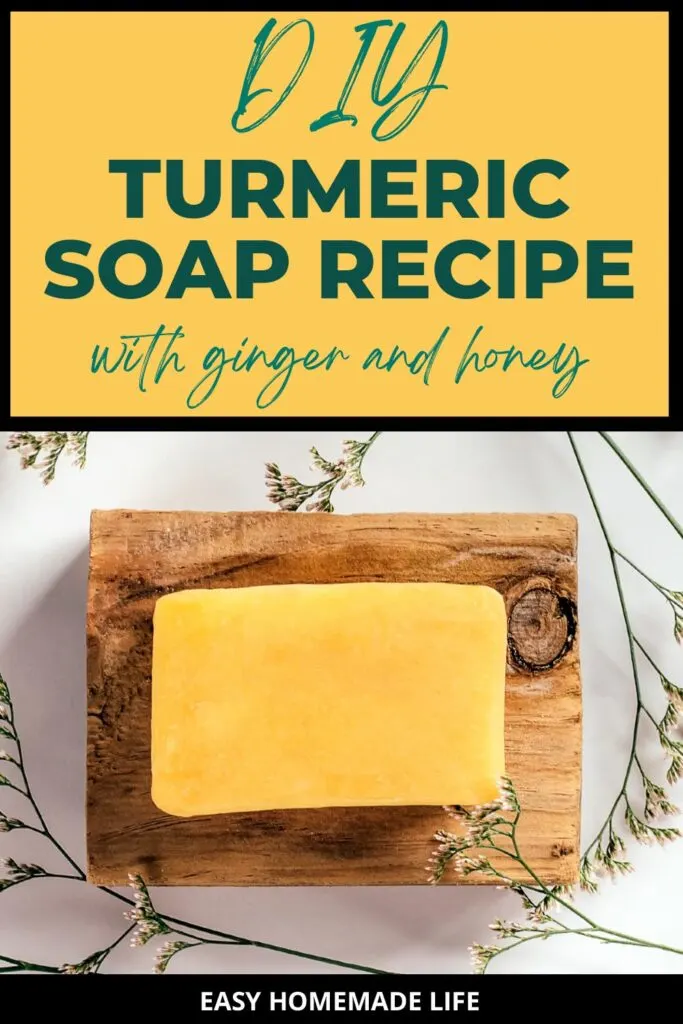 Turmeric Soap Benefits
Turmeric, as a food, has already made headlines for many proven health benefits for your body and brain. Curcumin is the most significant bioactive compound with potent anti-inflammatory and antioxidant properties. [1]
Since consuming turmeric internally links to decreased inflammation, increased antioxidant activity, and mood boosting effects that also improve memory, it's a fair question to wonder: is turmeric soap good for your skin too?
In short, yes. There are several benefits of turmeric soap. [2, 3]
Reduce skin inflammation
Repair damaged skin
Fight acne
Lighten skin
Moisturize cells
Due to the antimicrobial and antiseptic properties, many use turmeric in homemade soap for acne. As a bonus, turmeric may also reduce scarring. Furthermore, the anti-inflammatory properties will reduce redness. So it could help your skin clear up and smooth over.
In addition to cleansing the skin's surface of bacteria and pollutants, turmeric soap also brightens the color and can enhance your natural glow. If you notice hyperpigmentation in certain areas, using turmeric soap for dark spots can facilitate a more even skin tone and lighten skin. Our Homemade Turmeric Body Scrub is another recipe for brightening and hydrating your skin.
Now you see how turmeric soap benefits for skin. Are you ready to try it out for yourself?
How to Make Homemade Turmeric Soap
Gather you ingredients and you'll be on your way to making a turmeric face soap recipe in about 20 minutes, plus an hour or two of wait time.
Materials for Turmeric Bar Soap
Cutting board
Chefs knife
Double boiler or microwave
Bowl
Measuring spoons
Fork or whisk
Soap mold – there are lots of variety available so you can choose what you like best. This suggestion makes 12 (2.5-ounce) soap bars.
Plastic wrap or biodegradable cellophane
While you're at it, put on a fun apron and get started!
Ingredients
You can find most, if not all, of these ingredients at a local health food store, or purchase them through the links I share here for your convenience.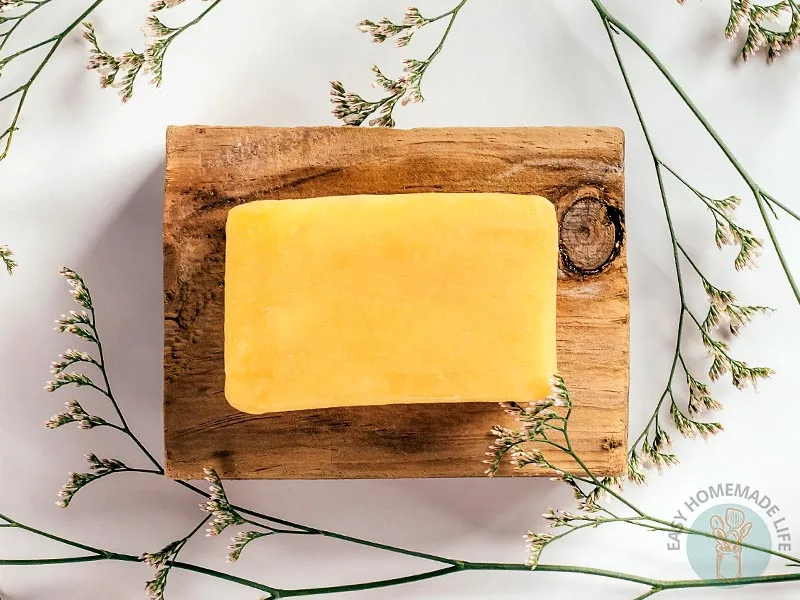 Step-By-Step Directions
Follow the easy method detailed here and you can't go wrong making a homemade turmeric soap bar recipe.
Melt the soap base
Divide the base into smaller chunks and melt in a double boiler. I make a DIY option for crafts the same way I do for food. You can also melt the base in a microwave if you prefer. Put the cut soap base in a microwave-safe container and stir every 30 seconds. Continue heating until completely melted.
Combine ingredients
Add the essential oils and turmeric powder to the melted soap base. If 50 drops of essential oil sound like a lot, consider that this whole recipe will divide into eight or more bars, so each soap bar will contain 6.25 drops per bar, which isn't too much. I suggest counting in two sets of 25, so you don't lose track of how many drops get added.
Whisk well with a fork. To avoid lumps and get a nice, even color, it's best to sprinkle the turmeric powder evenly over the top rather than dumping the whole teaspoon in one place. Next, drizzle honey into the liquid soap and gently push visible honey ribbons throughout the mix with the fork or whisk to combine well.
Transfer to mold and set
Pour the soap mixture into your mold. Leave to set and firm up in a cool, undisturbed place at room temperature for 1-2 hours.
Remove and finish
Once completely firm, remove the soap from the mold. Cut into individual bars if using a loaf mold. Use immediately and store other pieces in a cool dark area by wrapping them tightly in plastic wrap first. You might like using compostable soap wrappers. One hundred pre-cut biodegradable sheets come per packet, making soap wrapping very quick and convenient.
That's the easy way to make an all natural turmeric soap with a melt-and-pour base. I'd love to test a cold-process technique but haven't gotten to that yet.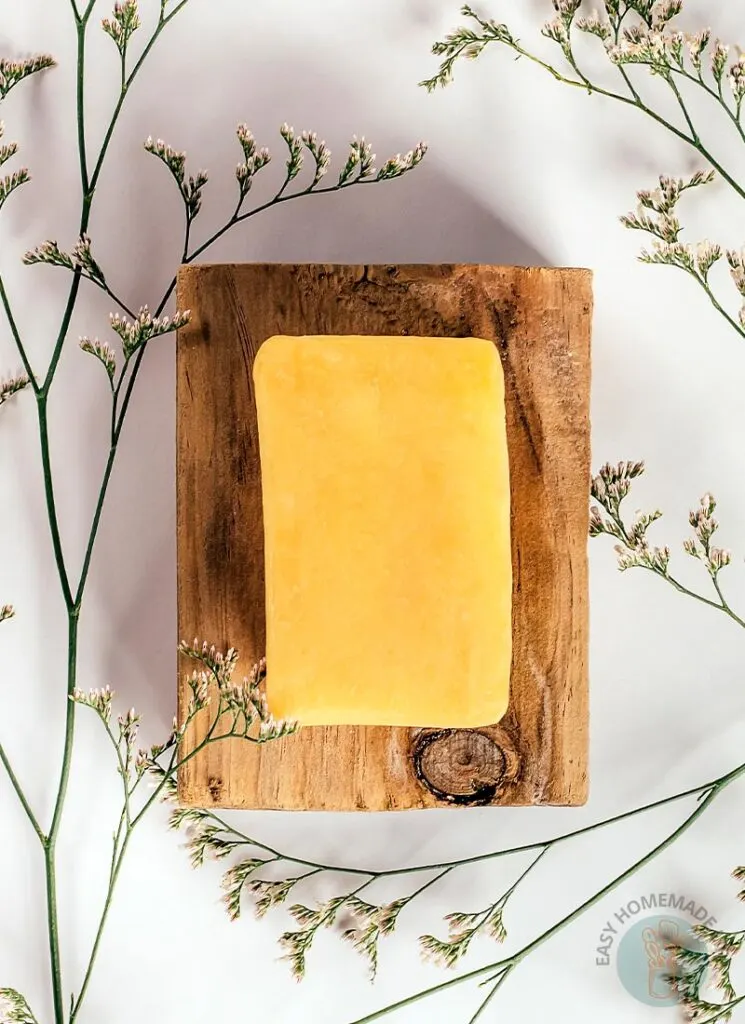 Turmeric Honey Soap FAQ
What is turmeric soap good for?
People use turmeric soap for various reasons: reducing skin inflammation, repairing damaged skin, fighting acne, lightening skin, and moisturizing.
How to use turmeric soap on face?
First, wet your face and the bar, then rub the soap between your hands and create a lather. Next, wash your face as you would with any soap. Leave on for 10-30 seconds, then rinse thoroughly.
How to make turmeric soap for acne?
Following the step-by-step directions here will guide you on the right way to make turmeric soap for acne. You could also adapt this recipe to either hot or cold process, however, the melt-and-pour approach is exceptionally easy and recommended for beginners.
Does turmeric soap stain?
This was my first question! I use the root often enough in the kitchen to know it leaves yellow stains on wood and plastic. While it might not behave in the kitchen, the good news is that even if you have fair skin, the turmeric soap does not stain or bleach skin. It won't stain your shower or tub either
More Easy Melt and Pour Soap Recipes