These Dirty Chai Earthquake Cookies are a delicious, unique take on the classic holiday crinkle cookie. This sweet treat is enhanced with espresso and flavored with chai spices like cinnamon, ginger, and cardamom. These spiced crinkle cookies are perfectly soft and chewy with bold flavors, soon to become your favorite holiday dessert!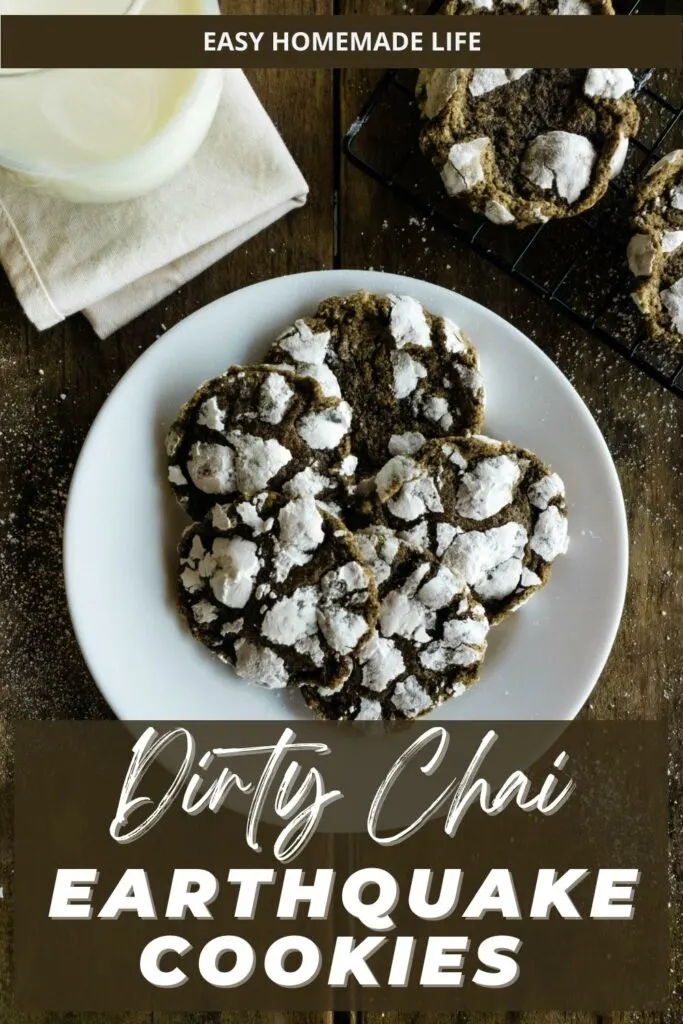 What are Chai Earthquake Cookies?
If you love chai, you must try these chai-flavored cookies. Chai is a tea blend from India with spices like ginger, cinnamon, and cardamom. These spices are commonly steeped with black tea to create what we know as chai tea. In Hindi, the word chai translates to "tea" and is considered to be the standard way of making tea.
The Western world commonly uses chai in drinks like chocolate chai tea, dirty chai tea latte, pumpkin chai latte, and iced dirty chai latte. But when you love the flavor, how can you limit chai to drinks only? Why not try a chai cookie, or even chai ice cream?
And as if the chai cookie wasn't fantastic enough, can you imagine the robust flavor with an added espresso shot? That's like taking a dirty chai latte and transforming it into a cookie form. But not just any cookie.
A delectable, chai-flavored, espresso-enhanced crinkle cookie, sometimes known as "earthquake cookies." The cracked top is the signature look for these cookies, as though fault lines are spreading over the surface.
I have many precious memories of making chocolate crinkles with my dad for Christmas every year. It was a yearly tradition that I looked forward to every holiday season.
And this year, as I made many chai-flavored recipes, I was inspired to combine the two. Obviously, chai Christmas cookies sound amazing! So when I stumbled across a recipe by Susan Spungen from The New York Times, I knew I had to recreate it at home with simpler instructions.
Here, I take my dad's recipe for traditional chocolate crinkle cookies and swap out the chocolate for the chai spice mix and a kick of espresso to make a delicious dirty chai cookies recipe.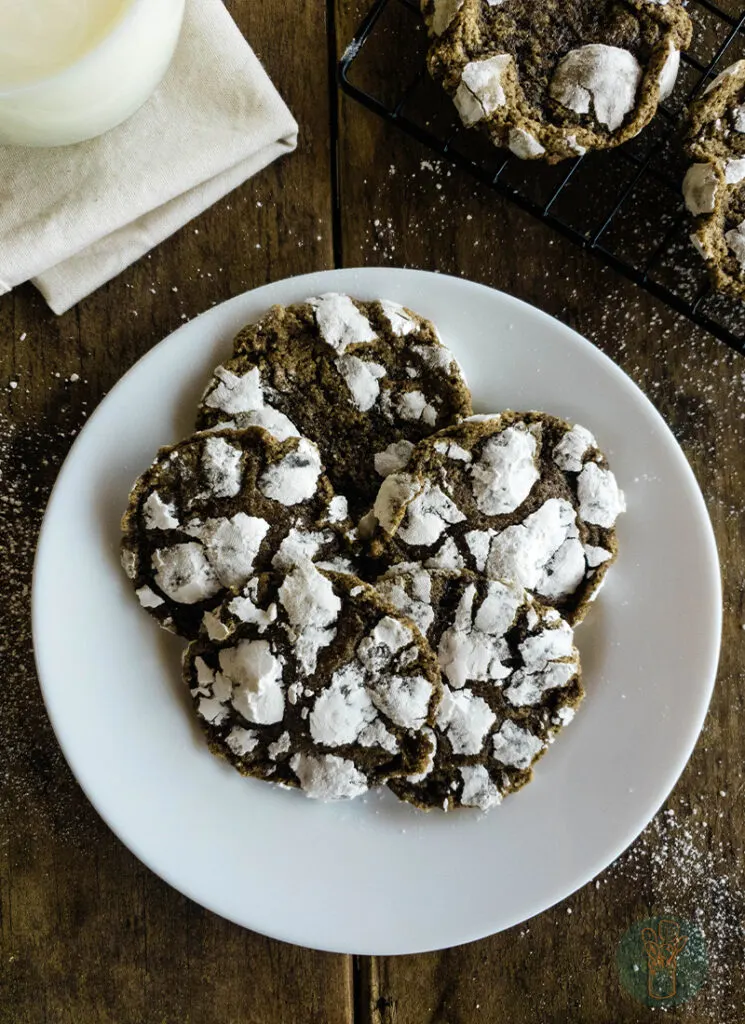 How to Make Dirty Chai Cookies
Gather five basic ingredients, plus spices, vanilla, and salt and you're on your way to making spicy chai cookies in only 10 minutes of active time.
Mix the wet ingredients, combine the dry ingredients, then marry the two for the most delicious chai cookie dough there is. The hardest part about this simple recipe is waiting for the dough to chill. That's why it's great to double or triple the cookie dough and store it uncooked in the fridge until ready to bake.
When you have chai cookie dough on hand, all you need is to roll the dough into 1-inch balls, coat them in powdered sugar, and bake for 10 minutes.
Ingredients
Sugar – granulated white sugar
Butter – melted or coconut oil for dairy-free chai crinkle cookies
Large egg
All-purpose flour
Espresso powder – finely ground coffee can also be used, but don't substitute with instant espresso or instant coffee
Chai spices – ginger powder, ground cinnamon, and ground cardamom
Powdered sugar – to roll and coat the cookie dough balls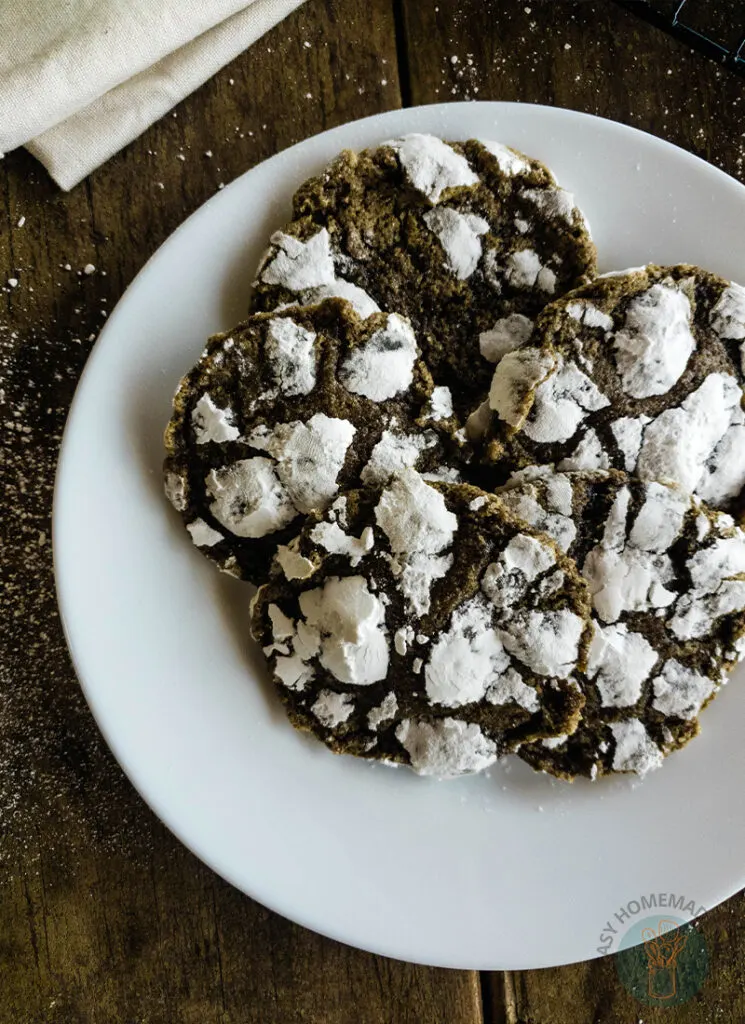 Step-By-Step Directions
Follow these simple directions, and you can't go wrong! The cookie dough recipe is super easy and comes together quickly in 10 minutes.
For the best taste and texture, chill the cookie dough in the refrigerator for at least 2 hours and up to 2 days. You can also freeze it for an hour or so until firm. This will prevent the cookie dough from spreading too much during baking.
Step one: Mix Dough
In a medium mixing bowl, beat sugar, butter, and vanilla together using a hand mixer or stand mixer. Add the egg and combine well.
In a separate bowl, sift the flour, espresso powder, ground ginger, cinnamon, cardamom, baking powder, and salt. Mix to combine.
Gradually add the dry ingredients to the wet ingredients and mix on medium speed until thoroughly combined.
Step two: Chill Dough
Cover the dough with plastic wrap and refrigerate for 2 hours. Alternatively, you can transfer the dough into an airtight container and store it in the refrigerator for up to 3 days. Then, bake when ready. This cookie recipe is great for making the dough ahead and baking before serving warm from the oven.
Step three: Bake
When you are ready to bake, preheat the oven to 350 degrees Fahrenheit (177 degrees Celsius). Scoop a heaping ½ tablespoon of dough, make 1-inch balls, and roll each one in powdered sugar until fully coated.
Arrange the rolled cookie dough balls on a lightly greased cookie sheet, but do not press down. These cookies will spread out while baking, so it's important that your cookie dough is well chilled.
Ensure ample space between the cookies when arranging the rolled cookie dough balls on the sheet; aim for approximately 2 inches. I can fit nine cookies on a standard cookie sheet and bake two batches. Pop the cookie dough back in the freezer as the first batch of cookies bakes.
If the cookie dough is too soft or the cookies spread too much during baking, place the dough balls on a cookie sheet and pop it in the freezer for 10 minutes before baking to chill.
Bake cookies for 8-10 minutes. Finally, transfer each dirty chai earthquake cookie to cool on a wire rack.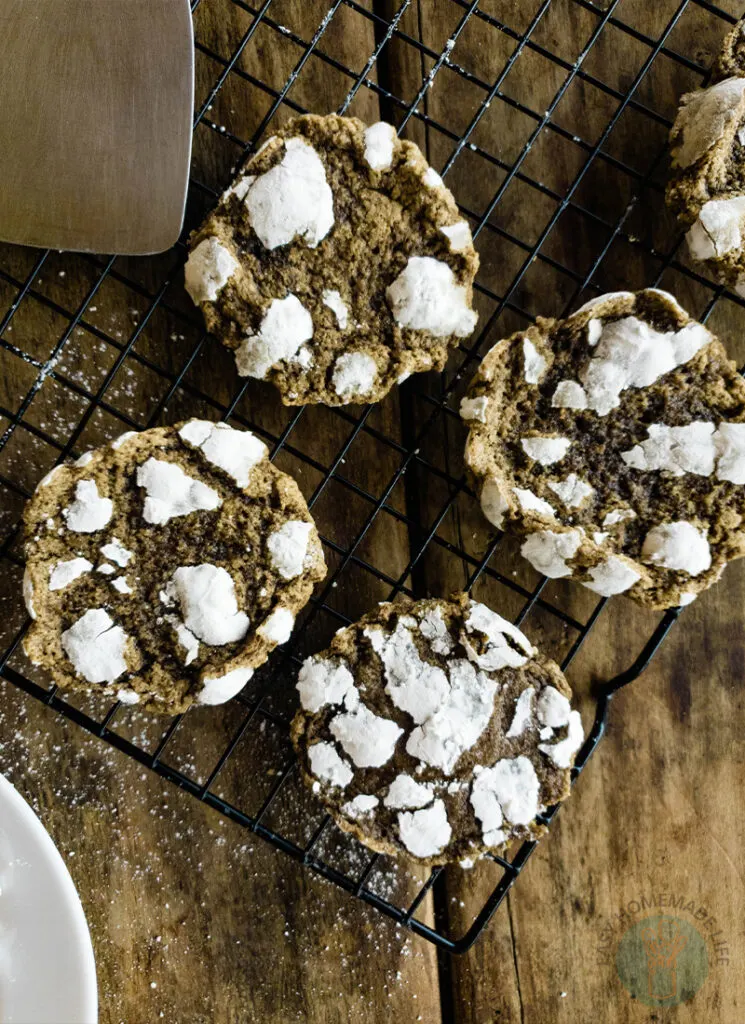 Chai Crinkle Cookies Nutrition
It's so delightfully good you won't be able to stop at just one. The cookie dough is great to make ahead and bake just before serving. So feel free to double or triple the recipe!
There are 18 servings of spiced crinkle cookies.
Each serving contains:
63 calories
1 g protein
2 g fat
10 g total carbs
Please note that the nutritional value will change if you substitute ingredients. Use a nutrition app like My Fitness Pal to recalculate and reflect your changes.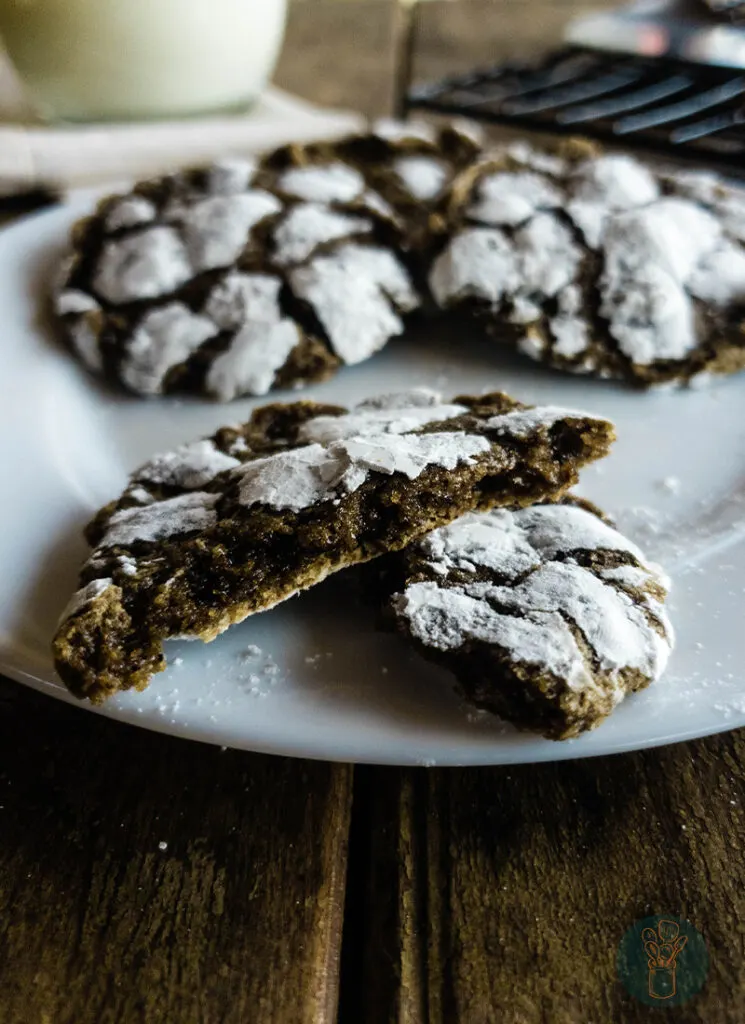 More Easy Homemade Cookie Recipes