Need to get your glow back? This turmeric scrub, with its skin-healing properties, will give you your glow back, and reduce skin inflammation, acne – and so much more. This DIY turmeric scrub is quick, easy, and great for your skin. You only need 4 ingredients and five minutes!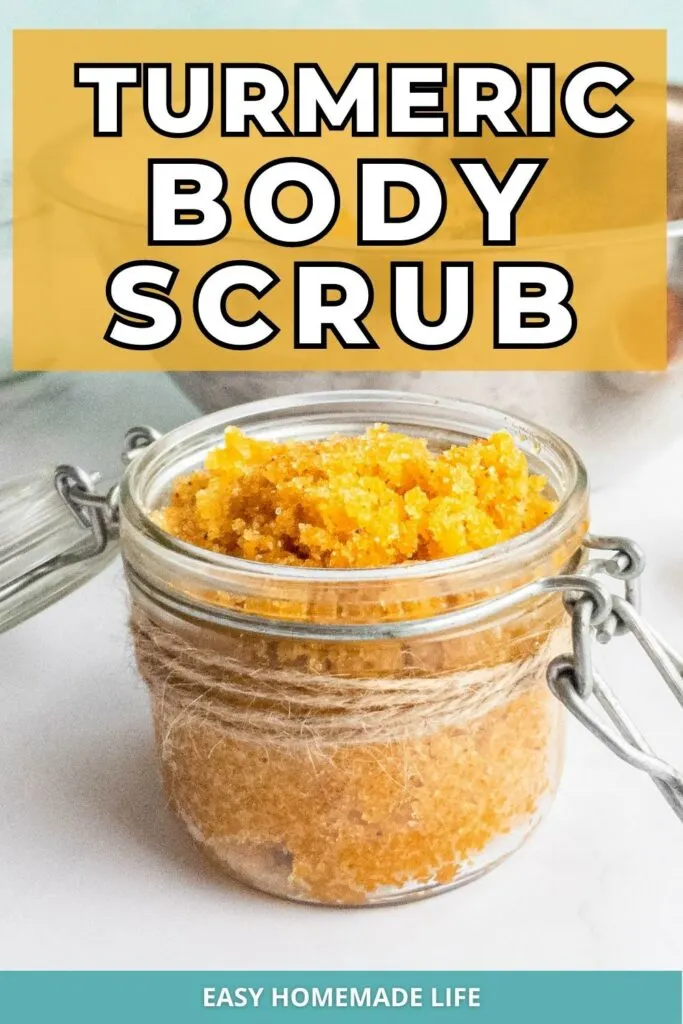 Turmeric Scrub Benefits
Turmeric is all the rage right now… and for good reason. Turmeric is rich in antioxidants and anti-inflammatories that are good for your body and your brain.
So you may be wondering: Is turmeric scrub good for your skin? It sure is!
Here are some turmeric body scrub benefits:
Fights acne
Lightens skin
Minimizes dark spots
Relieves dry skin
Reduces signs of sun damage
In addition, due to turmeric's anti-inflammatory properties, turmeric sugar scrub reduces redness, helping your skin clear up. Furthermore, this might brighten your skin color with a light, natural glow. You can also use this for hyperpigmentation because it evens out skin tone and lightens skin.
You can also get many of these same benefits from my easy, melt-and-pour Turmeric Soap recipe.
With all these turmeric body scrub benefits, are you ready to learn how to make a turmeric scrub? Time to give it a go! If you're looking for a scrub that amps up the moisturizing effect, try alternating with our Milk and Honey Body scrub.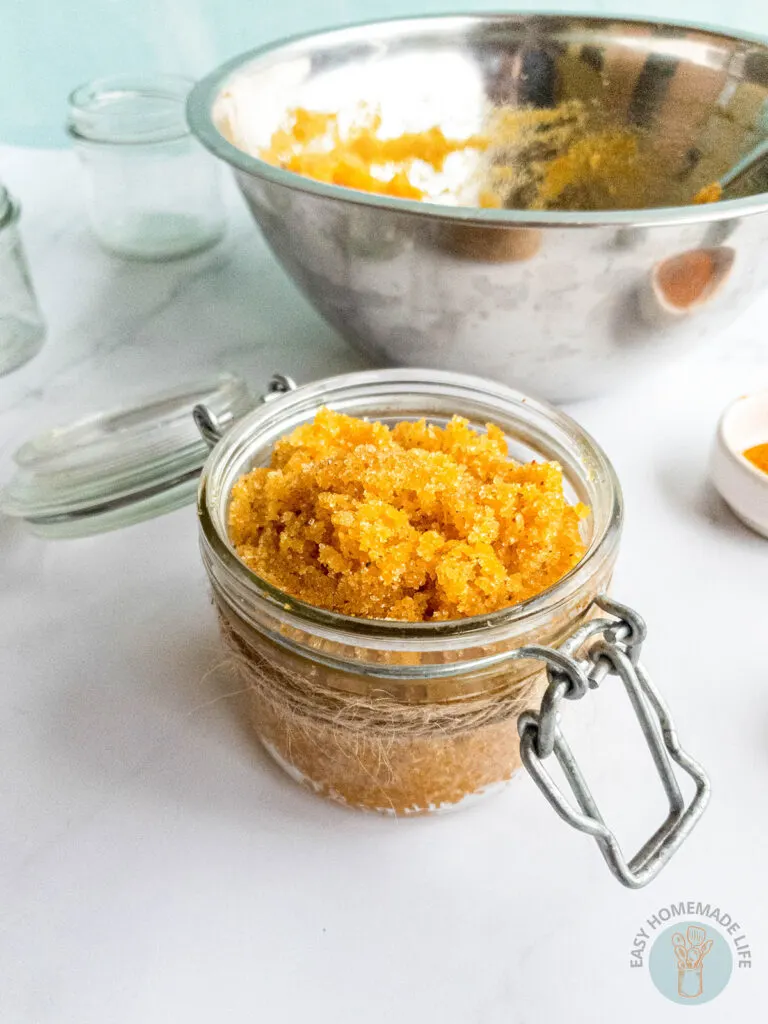 How to Make Turmeric Scrub
All you need to do is gather 4 ingredients, and you're halfway to making an homemade sugar scrub in just 5 minutes!
Tools
Mixing bowl – To place your ingredients
Mixing spoon – To stir your ingredients, so they're well-combined
Measuring cups and spoons – To ensure you use the right quantity of ingredients
3 (4-ounce) storage jars with lids – To store your finished product. Make you use airtight storage jars, like Mason jars, so your DIY turmeric body scrub stays fresh.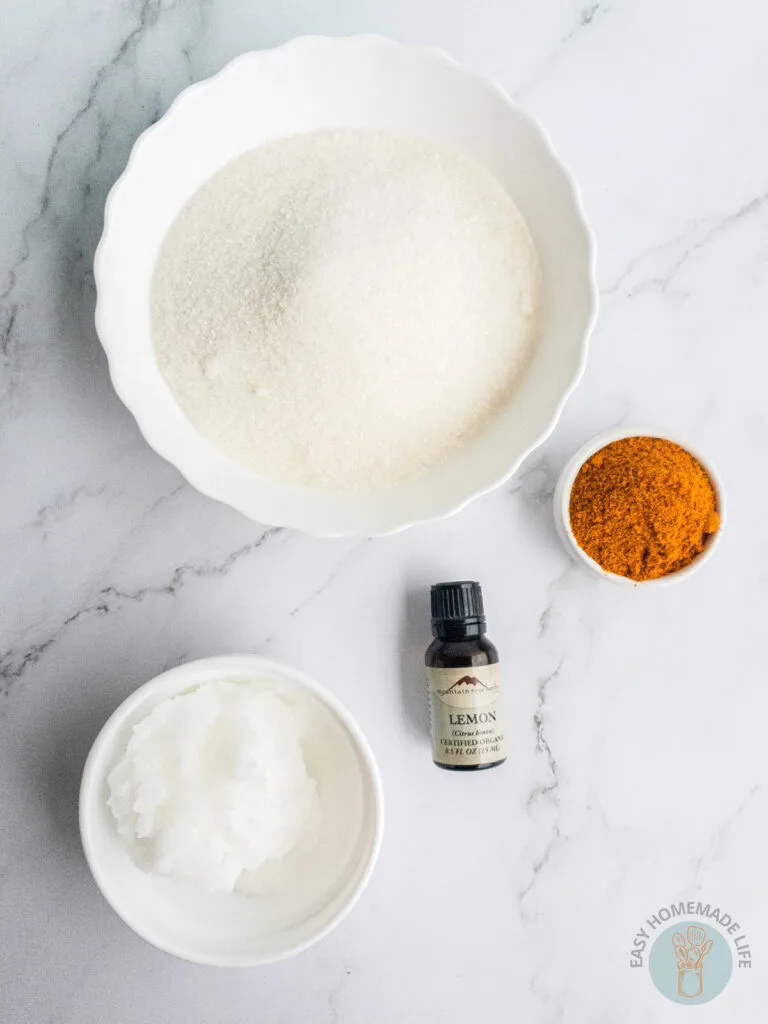 Ingredients
Wondering where to find the ingredients? You can find them at natural/specialty food stores. Or, to save time, you can shop for them online using the affiliate links I provided above for your convenience.
Step-By-Step Directions
Follow these simple directions, and you can't go wrong!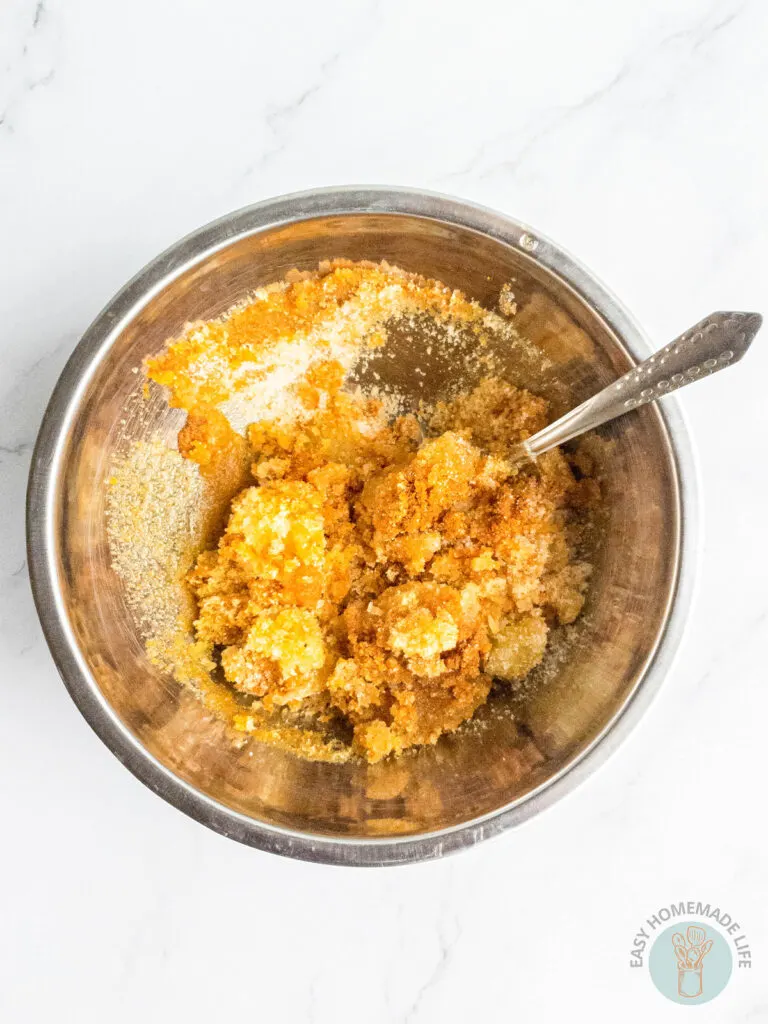 In order to make this homemade turmeric scrub, simply add your ingredients to a mixing bowl.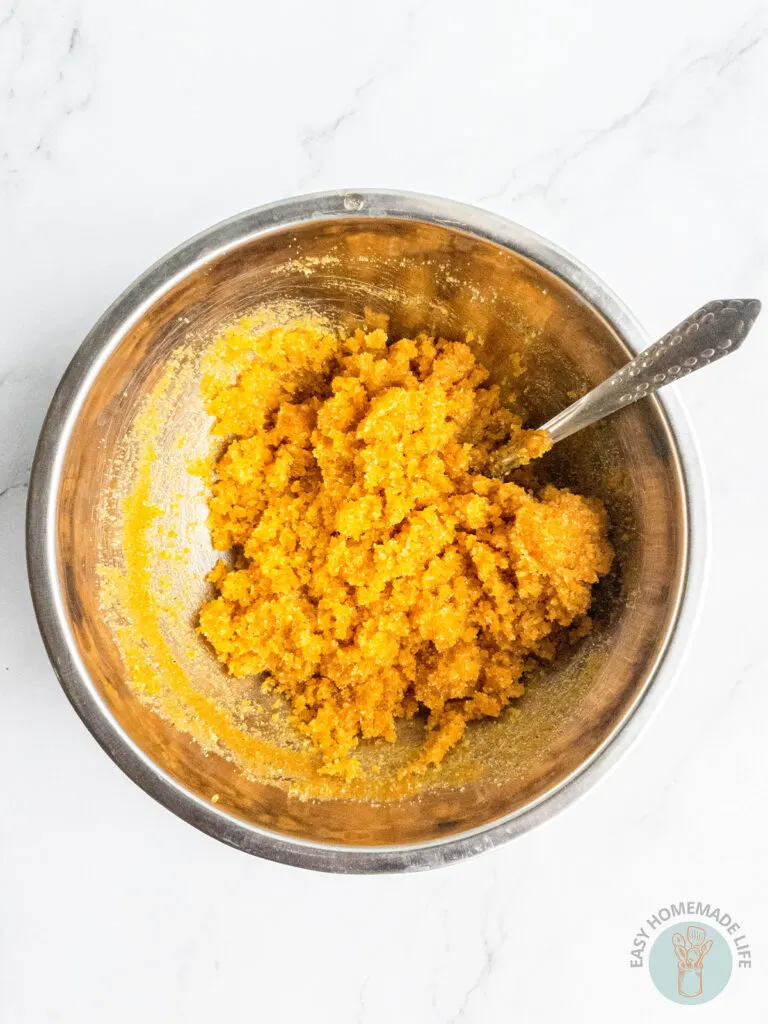 Then mix well until everything combines thoroughly.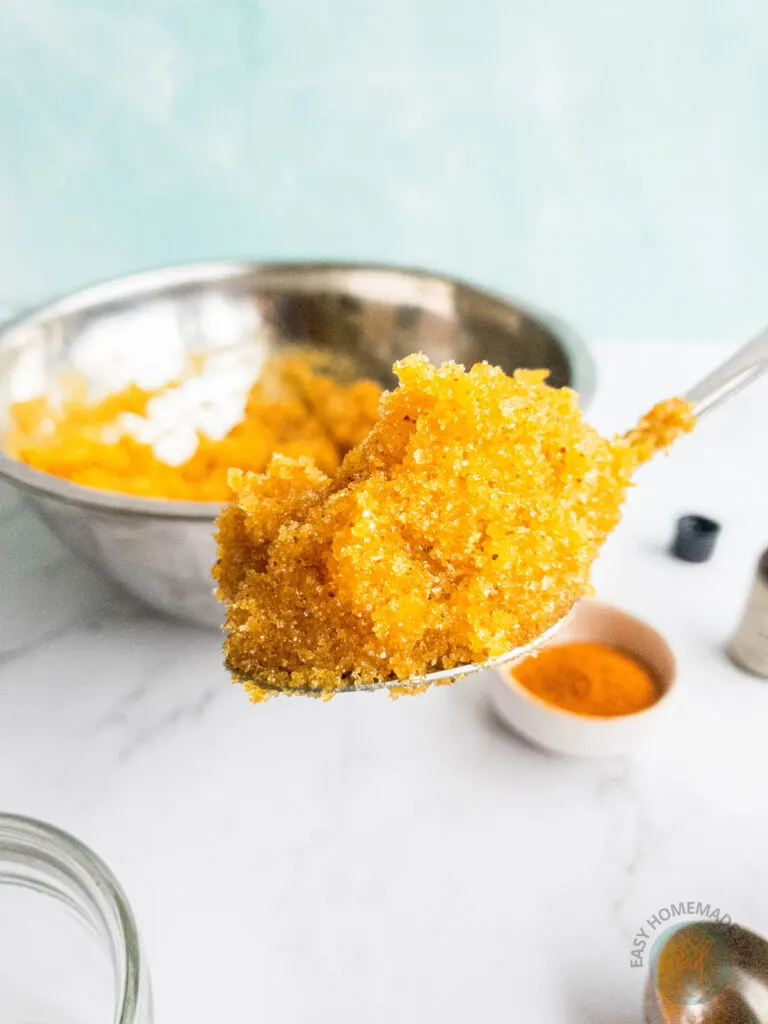 Then use a scoop to transfer your scrub to your storage jars, tighten and store it in a cool, dry place.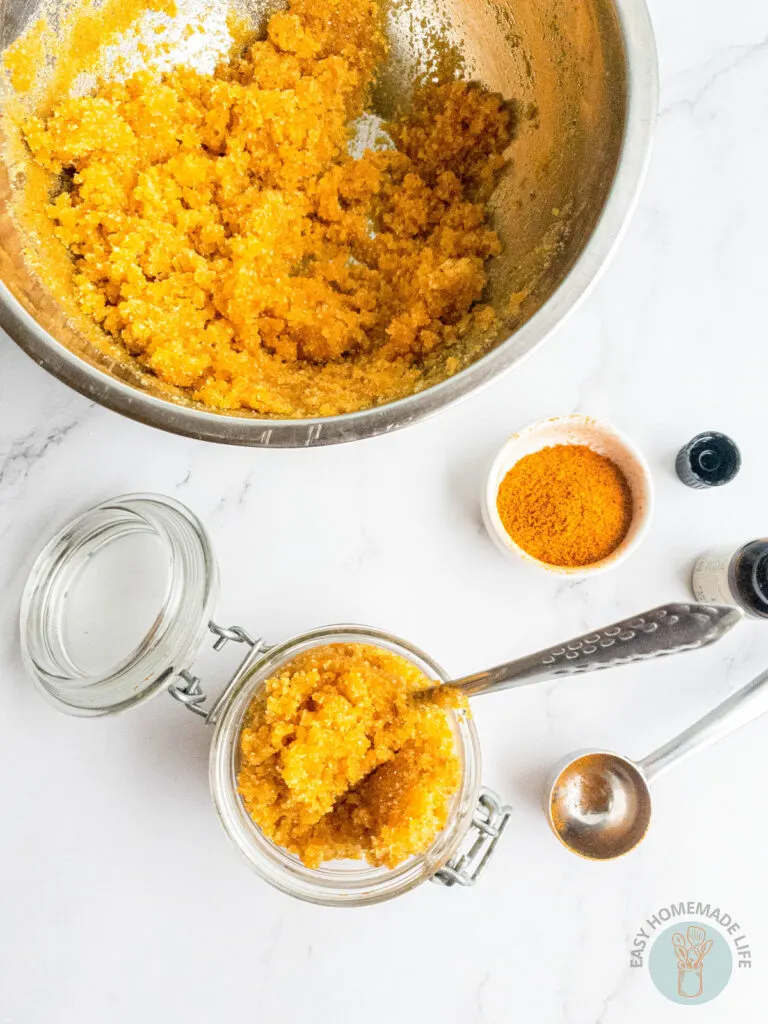 Your homemade scrub should last about 3 months when stored this way.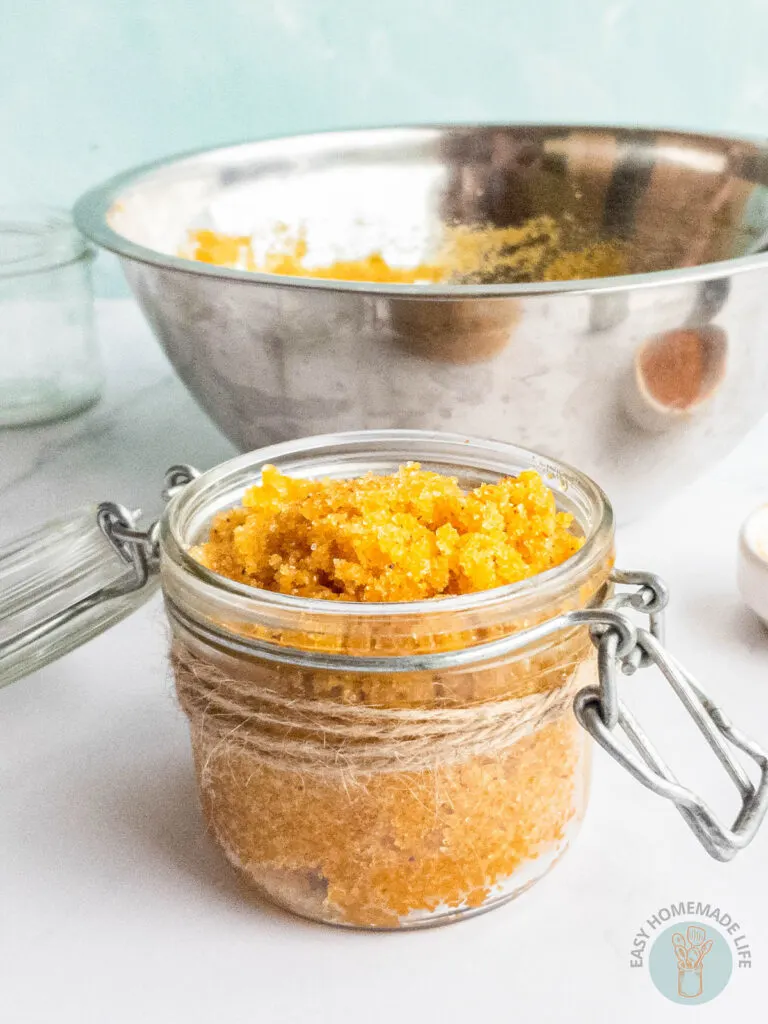 How to Use Turmeric Body Scrub
To use this DIY turmeric sugar scrub, begin by wetting your skin. Then apply a medium amount of the scrub to your skin. Massage gently, rubbing the turmeric body scrub in circular motions. Finally, rinse your skin with warm water and towel dry.
Note: If you have sensitive skin, it's best to test a small area of your skin with the scrub first to see if your skin reacts. Additionally, if you're using this turmeric body scrub for the bikini area, it's also good to test a small area there as the skin there is thinner and more sensitive.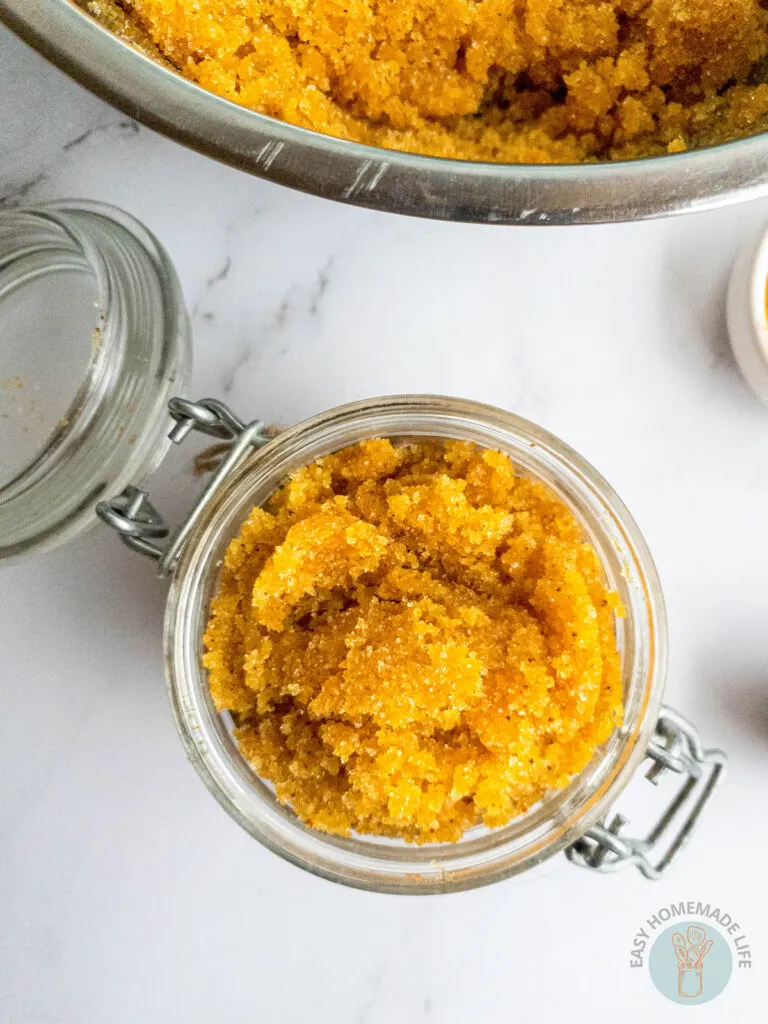 More Easy Homemade Body Scrub Recipes
Looking for more easy homemade body scrub recipes?
This Epsom Salt Scrub Recipe leaves your skin feeling silky-soft and smelling heavenly due to the soothing lavender notes.
Meanwhile, a Lavender Sugar Scrub Recipe is the perfect way to pamper your skin and unwind after a busy day.
And this Whipped Sugar Scrub Recipe, with all-edible ingredients, smells so yummy, you could eat it!
Finally, our collection of Body Salt Scrub Recipes is great for those tougher areas of your skin like the soles of your feet.