Make a delicious Chick-Fil-A iced coffee recipe in the comfort of your own home and save money on eating out while sipping away on a refreshing drink any time of the day. Pick the traditional flavor or choose a vanilla option. Either way, this recipe will guide you through the process in just a few simple steps.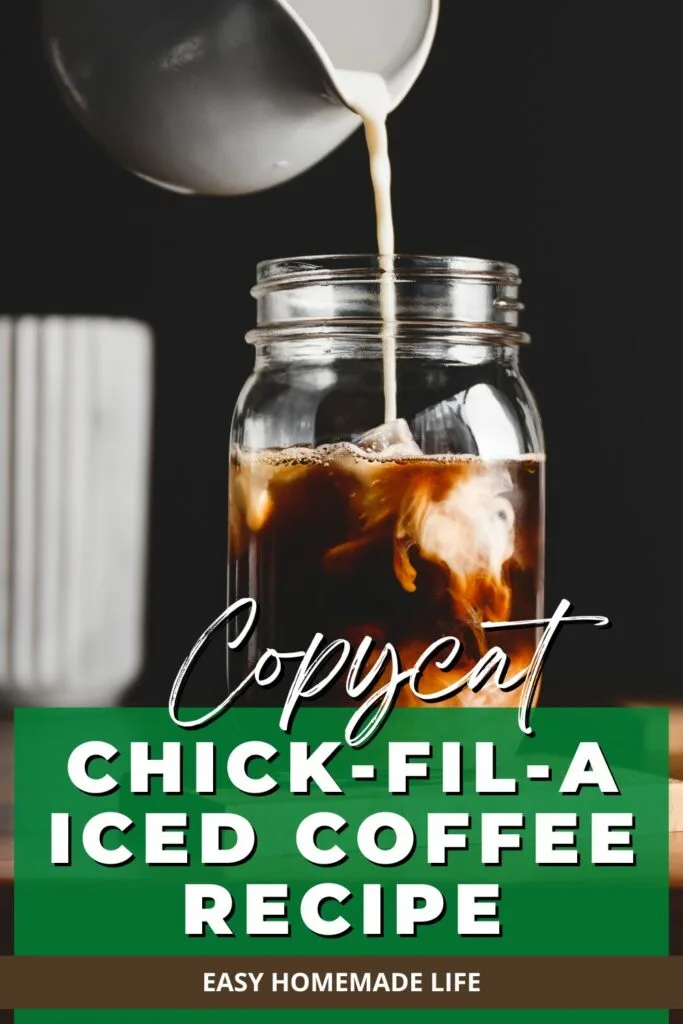 If you're a coffee aficionado, a fan of Chick-Fil-A, or someone who loves trying new things, you'll appreciate this easy yet indulgent cold coffee drink.
Similar to our Starbucks Iced Americano, this is perfect for the summer months and whenever you want a refreshing coffee fix with a sweet taste.
Why You'll Love This Recipe
Quick and easy – Assembling this recipe only takes five minutes.
Rich and smooth flavor – Sweetened cold brew coffee and creamy milk poured over ice makes a delicious treat.
Copycat favorite – Chick-Fil-A is a favorite chain restaurant in the United States. Now coffee lovers can get their favorite take-out drink at home without waiting in long lines.
Customizable – Work with what you have on hand, or follow the substitution tips below for other options and variations.
Budget-friendly – Save money when you make restaurant copycat recipes at home instead of spending gas and money to visit a drive-through.
On-the-go option – Make the tasty drink ahead of time and then take it to go for busy mornings.
Enjoyable anytime – When isn't a good time for coffee? Drink this in the morning or afternoon, and use decaf coffee with a lower amount of caffeine for the evening.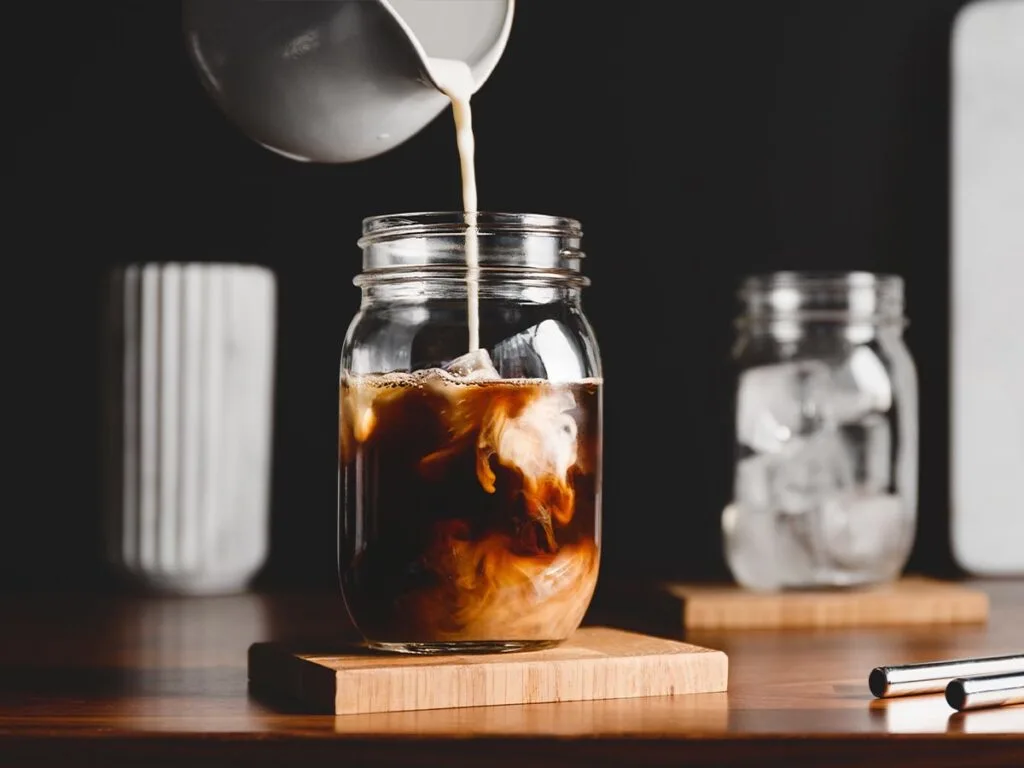 How to Make a Chick-Fil-A Iced Coffee Recipe
You'll need four basic ingredients to make a regular Chick-Fil-A iced coffee.
For Chick-Fil-A's vanilla iced coffee option, you'll add one more ingredient for a total of five simple ingredients.
Once everything is ready, just mix the recipe up in about five minutes!
Ingredients You Need
Chewy ice – Also known as nuggets ice, is the specific type of ice Chick-Fil-A serves. It has a soft chewable texture, made from small irregular-shaped ice pellets. You can buy bags of chewy ice from a local Chick-Fil-A restaurant, convenience store, or gas station.
Cold brew coffee – Milder and less acidic than from a coffee maker or hand-brewed hot coffee, cold brewed coffee has an exceptionally smooth flavor and makes this a delicious iced coffee.
Simple syrup – Chick-Fil-A uses pure cane syrup but I find simple syrup is a better homemade option. Since it's a common ingredient for sweetening cocktails and coffee, you might already have some on hand. If not, buy a bottle from the store or make it yourself with the recipe below.
Vanilla extract – Optional if you want to make a vanilla iced coffee recipe instead of a regular iced coffee.
Milk – Whole milk adds the ultimate creamy flavor and thickens the coffee nicely.
Substitutions and Variations
Review the lists here for quick and clever substitutions, plus fun variations you can try to extend this recipe into more delightful renditions.
Ingredient Substitutions
Even though this is such a simple recipe, you might be missing one of the key ingredients.
Here are suggested substitutions for Chick-Fil-As's iced coffee ingredients:
Chewy ice – If you can't find a local retailer of chewy ice (also called nugget ice) or don't have any on hand, use crushed ice or regular ice as an alternative. Buy a bag of crushed ice from a grocery store or convenience store. The DIY method of making crushed ice involves putting ice cubes in a blender or food processor and pulsing a few times until you achieve the desired texture. Similarly, seal the ice in a heavy-duty Ziploc bag and smash the cubes with a meat mallet or hit the bag on a hard counter or floor surface.
Cold brew coffee – Substitute with regular hot brewed coffee. I suggest making your regular coffee a little stronger than you normally would and then letting it cool completely before using it in this recipe. Better yet, chill it in the fridge for a few hours before pouring it over the ice.
Simple syrup – If simple syrup isn't available, substitute one-half to two-thirds of the amount with regular sugar. For example, instead of three tablespoons of syrup, use one and one-half tablespoons or two tablespoons of granulated sugar. You can also sweeten with honey, maple syrup, or other liquid sweetener of your choice. Be mindful that these alternatives will add their own unique flavor.
Vanilla extract – What can you do if you want a vanilla iced coffee but are without vanilla extract? In that case, substitute half the amount of vanilla powder. Another popular choice is using an equal part of almond extract, which has a similar but slightly different flavor.
M​ilk – Any milk you already have on hand or like to buy will work in place of whole milk. Substitute with 1%, 2%, skim, coconut, or plant-based milk. Likewise, you could use half-and-half, coffee creamer, or full cream if you want.
Variations
Want to add your own spin?
Try these iced coffee variations:
Serve with a topping of fresh whipped cream.
Mix caramel sauce or chocolate syrup into the iced coffee or drizzle it over the whipped cream.
Choose a flavored simple syrup like hazelnut or lemon instead of plain.
Blend the sweetened coffee liquid with ice cubes into a frozen coffee treat.
Serve a scoop of vanilla ice cream or spiced chai ice cream with iced coffee poured over it in the style of an Italian Ice Cream Affogato.
Use decaf coffee if you want a caffeine-free option.
Want to try a boozy adult drink? Add 1 tbsp of Baileys into this coffee or go straight for Baileys on ice.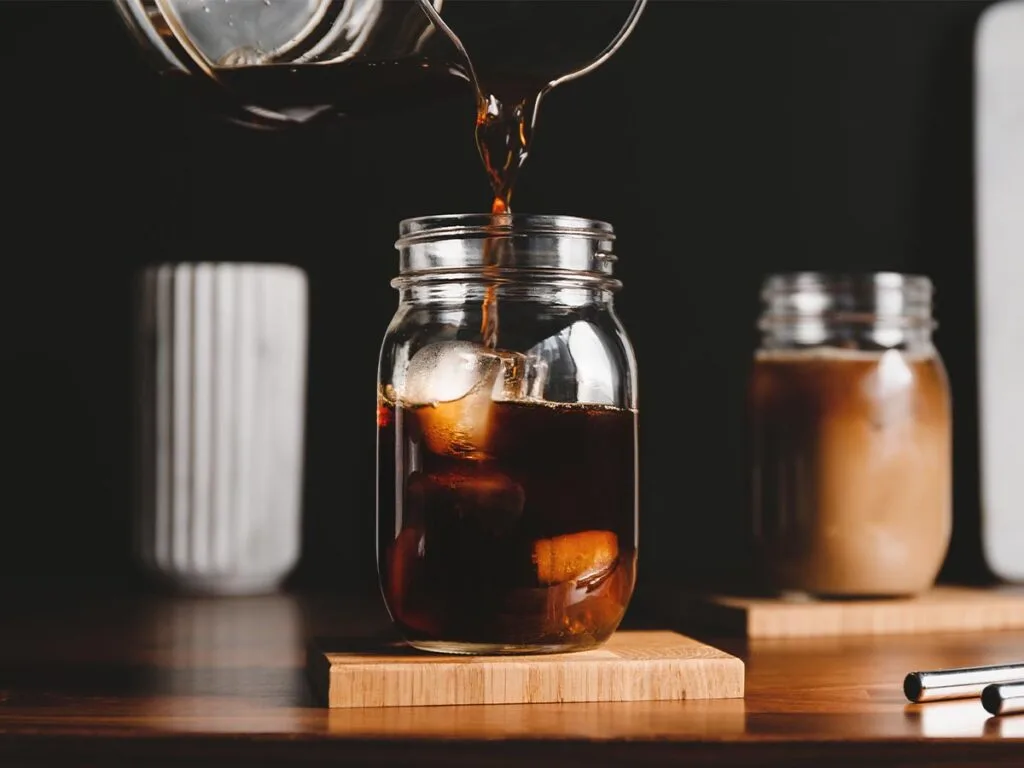 Step-By-Step Instructions
Plan to brew and cool the coffee ahead of time. Then quickly mix all the ingredients together in a glass and enjoy a refreshing caffeine boost any time of the day.
Follow these simple directions, and you can't go wrong!
How to Make Cold Brew Coffee
Use 1 ounce of coarsely ground coffee per 1 cup of cold water. Add the coffee to a clean jar with a lid, then pour the cold water over it.
Tighten the lid to cover and transfer to the refrigerator for 12-24 hours.
Finally, strain the coffee through a coffee filter, cheesecloth, or nut milk bag. Discard the coffee grounds and reserve the liquid.
How to Make Simple Syrup
Add one cup of granulated white sugar to one cup of water in a small saucepan over medium heat. Stir continuously for a few minutes until the sugar dissolves.
Remove from heat and let the syrup cool to room temperature before transferring to a clean container with an airtight lid and storing it in the refrigerator.
Homemade simple syrup will keep for about one month in the fridge.
How to Make Chick-Fil-A's Iced Coffee Recipe
Fill a 16-ounce glass with ice.
Pour the coffee over the ice. Mix in simple syrup and optional vanilla extract.
Pour the milk in and stir upon serving.
Expert Tips
A dark roast coffee brings a deeper, stronger flavor.
Taste and adjust! I always recommend tasting while cooking so you can get to know the recipe and adjust the flavor as you like best.
Add more milk for a milder drink with less caffeine.
Add more or less simple syrup for a more or less sweet flavor.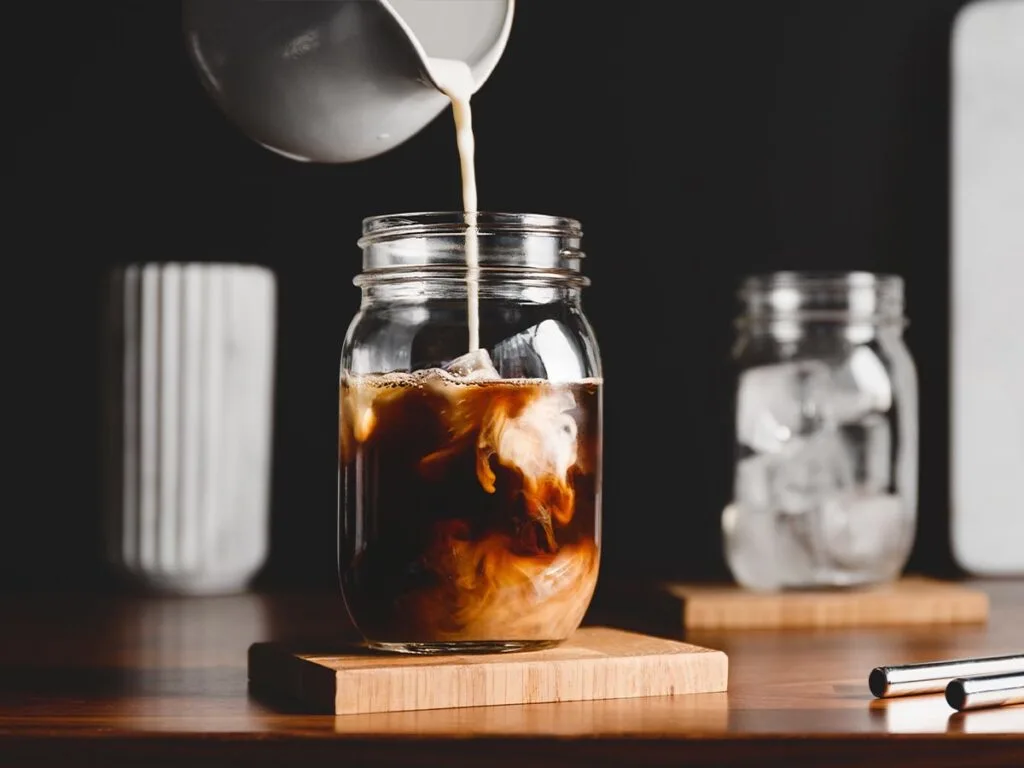 How to Store This Recipe
Some unexpected event might come up just as you're ready to sit down and sip this Chick-Fil-A coffee that makes you need to put it away and save it for later.
A first choice is to pour it into a to-go tumbler, canteen, or sturdy mason jar and take it wherever you're headed.
If that isn't possible, the next best thing is to transfer it to an airtight container with a tight-fitting lid and store it in the refrigerator.
The ice will eventually melt in the fridge, but it can take a few hours, maybe even overnight, depending on the exact temperature.
Drink the iced coffee within 2-3 days after storing it in the refrigerator.
Want to make this ahead of time?
You can do that too.
Combine the brewed coffee, syrup, and vanilla ahead of time and refrigerate the liquid in an airtight container until you're ready to serve it later. Then, add ice to a glass, pour the chilled coffee mixture, and top it off with the milk before serving.
Can you freeze iced coffee?
Sure, if you need a long-term storage option, freezing the iced coffee drink is a good way to go.
Transfer just the sweetened coffee or the whole combination with milk to a freezer-safe container or pour it into an ice cube tray. I like the silicon molds because they are so easy to pop out. Once the ice cubes are frozen, transfer them to a bag and add a label with the date so you don't forget what you made.
Try to consume these within a month or two after freezing for the freshest flavor, three months at the most.
When you're ready, leave the frozen coffee in the refrigerator or on the kitchen counter at room temperature over a plate to catch any condensation that drips off. Once thawed, stir well and sip away. Or if you only froze the sweetened coffee, add the ice and milk now. Then, enjoy.
You can also blend the frozen ice cubes into a frozen coffee drink. That's a sweet treat! Place the frozen contents into a blender, and add a splash of milk. Then, blend until smooth and creamy.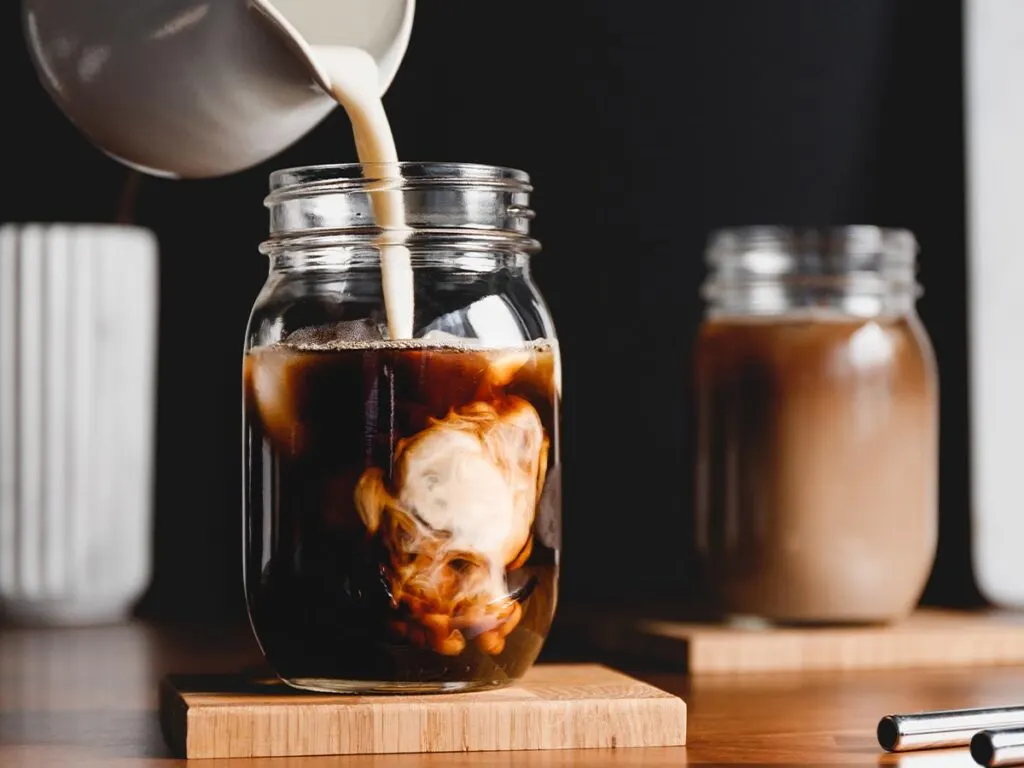 What to Serve with Chick-Fil-A Coffee
Coffee is highly compatible with all of your favorite foods. There are plenty of options to serve an iced coffee any time of the day.
Let's start with breakfast. Rise and shine to iced coffee on a hot day served with a slice of 4-ingredient banana bread, a plate of waffles, or a bowl of fresh fruit.
As a mid-morning snack, you might like it by just itself or with a few peanut butter cookies.
If you're drinking coffee at lunch, enjoy it with a piece of homemade pizza, leftover lasagna, or a chicken sandwich. Naturally, it's delicious with a lighter option like a salad or wrap too.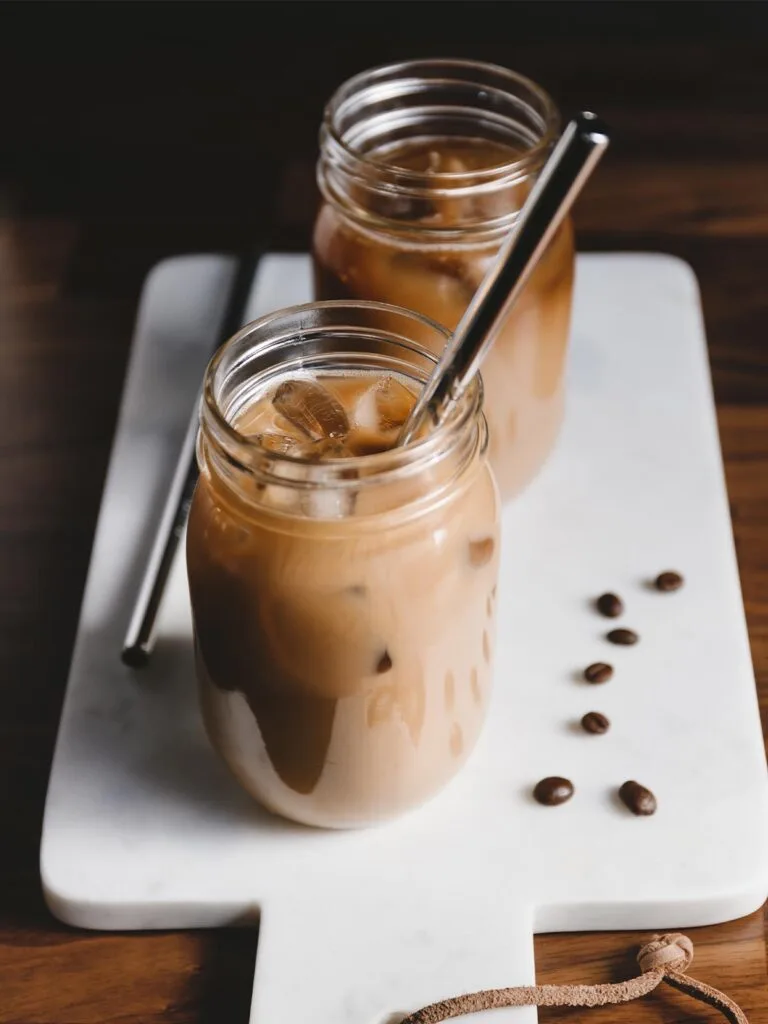 More Easy Copycat Recipes To Try
Recreating fast food and restaurant-style favorites is fun and easy!
Try these other easy copycat recipes next:
If you make this Chick-Fil-A coffee recipe, please leave a review. I really appreciate each and every 5-star rating and comment!