Making homemade ice cream doesn't get more simple than these 3-ingredient ice cream recipes. No churning, no ice cream machine, no problem. Just sweet, creamy bliss in your bowl!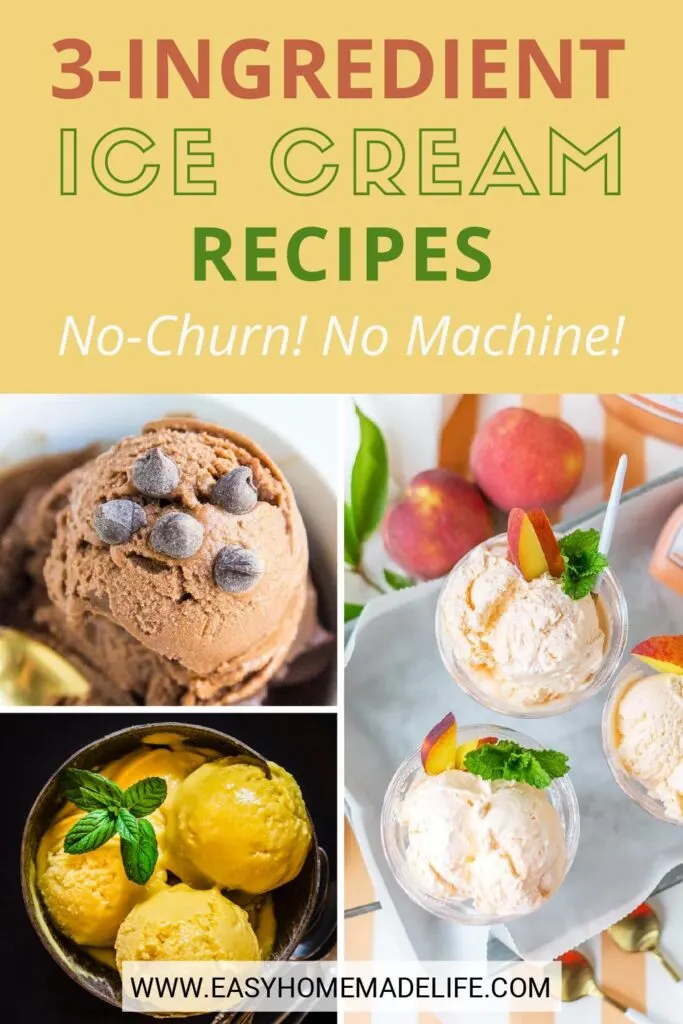 Easy Dessert Recipes from Scratch
Who doesn't love ice cream? Now you can have your favorite treat, made-from-scratch, ready in minutes any time you want.
These no-churn ice cream recipes are healthier than anything you can find in the store and quick to prep, so there's no excuse not to try them!
Not only do you avoid artificial ingredients and weird preservatives but by making homemade ice cream recipes, you'll save money too. Buying whole food ingredients is always more affordable than processed, premade products.
Quality, healthy ice cream can be hard to come by, but not when you make it at home. Ice cream is a no-fail dessert recipe you can make all year long, particularly when you're pinched for time and supplies.
How to Make Ice Cream with Three Ingredients
Hello, easy! You'll love this step-by-step breakdown on how to make homemade ice cream.
Besides the 3 simple ingredients that each recipe calls for, you'll need a freezer, a bowl and a mixing utensil. Both an electric mixer and spoon will work equally well. Use whichever you have on hand.
Spend about 5 minutes whipping all your ingredients together.
Then, pour the mixture into a freezer-safe container and cover it with a lid or plastic wrap.
Next, let your ice cream freeze overnight or for at least 8 hours.
Remove the ice cream from the freezer 10 minutes before serving until it is soft enough to scoop.
Serve simply in a bowl or get wild with classic sundae fixings like whipped cream and chocolate sauce. You could also take these homemade ice cream recipes and make ice cream sandwiches by arranging two cookies on top and bottom of a big scoop.
So yummy! Save these recipes and add them to your meal plan app today so that you can stay on track with family-friendly meal prep!
Now that you know what's for dessert, consider pairing it with Pineapple Teriyaki Pork Chops for dinner.
More 3-Ingredient Dessert Recipes
If you're ready to take your ice cream to the next level, try this Chocolate Sage Ice Cream Recipe. It's a few more ingredients, but the gourmet flavor is worth the work!
More Easy Summer Recipes