Are you feeling short on time but need to get dinner on the table asap? These quick and easy pasta recipes will save you! You only need a few ingredients per recipe and 30 minutes or less to make these delicious dinners ready to eat!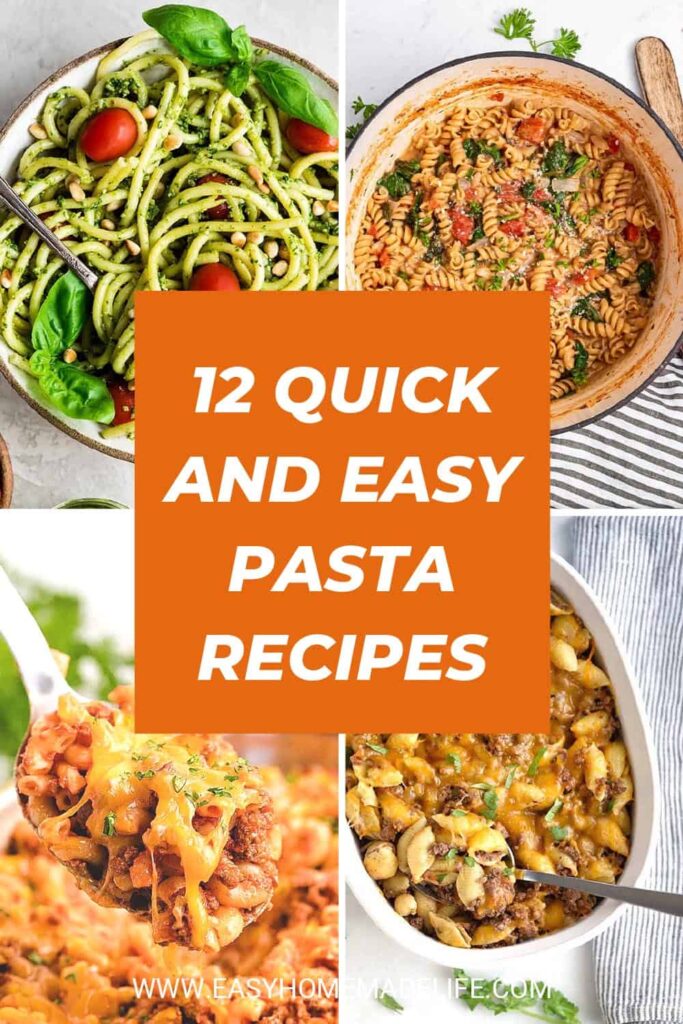 Super Easy Family Friendly Pasta Recipes
How often do you make pasta for dinner each week? If you do not already meal prep them regularly, I'm sure you will after reading over these quick and easy pasta recipes.
These are great go-to recipes for busy days. Plus, leftovers are perfect for lunch or dinner the next day.
Tried and true pasta recipes are some of the best family-friendly meals for a few important reasons:
Cheap (hello budget!)
Easy (can my 10 year old make dinner tonight, please?!)
Delicious (a balanced mix of carbs, protein, and fats!)
Freezer-friendly (so meal prep these recipes to save time)
Save these recipes and add them to your meal plan app today!
You might like these frugal, but Healthy Slow Cooker Dinner Recipes too.
How to Make Homemade Pasta Dinners
There are a few different ways to make homemade pasta dinners.
You can:
Cook on the stove
Prepare in an Instant Pot
Slow cook in a crock-pot or slow cooker
Bake in the oven
Cooking pasta on the stove is the most traditional way. The key here is adding salt to the water and keeping an eye on the time, so you get the exact texture you like best. Learn how to cook pasta perfectly (because you're probably doing it wrong!).
However, if cooking isn't your thing, using an Instant Pot can be a great method! With the appliance, you don't have much hands-on time cooking, and you don't need to worry about the pot boiling over and making a mess on the stove.
Slow cooking in a slow-cooker is even easier (in my opinion) than the instant pot but does take more planning. These recipes usually need to be planned out ahead of time because they take 6-8 hours to cook. The Instant Pot is much quicker. Choose what works best for you!
Baking pasta in the oven is great for pasta casseroles but makes a different dish than the big pot of pasta you might be seeking.
Both pasta casseroles and traditional pasta dishes are suitable for serving family-style. Which, if you don't know, means placing the finished dish on the table and having everyone serves themselves.
Take your pick of recipes to best suit your personal preference!
Common Ingredients for Simple Pasta Recipes
PASTA
Most pasta noodles are wheat-based. However, gluten-free pasta made from brown rice, beans, or quinoa is also available. There's even zero-calorie pasta made from konjac flour!
PASTA SAUCE
From a simple olive oil finish or store-bought sauce to homemade pesto, your pasta has to have sauce!
The most popular options are:
Marinara Sauce
Alfredo Sauce
Pesto sauce
MEAT
Sliced sausage, ground meat (beef, chicken, turkey, or pork), shredded chicken, fish, shrimp, and other seafood all pair well with any noodle type.
VEGETABLES
Tomato, broccoli, and zucchini are the most common pasta vegetables. Garnish frequently includes culinary herbs like basil, parsley, and thyme. Of course, you never want to forgo the garlic and onions!
Serve with a piece of homemade crusty no-knead bread or pair with any of these Homemade Pizza Recipes!
12 Quick and Easy Pasta Recipes with Few Ingredients
It's time to find your new favorite dinner recipe! Let's begin.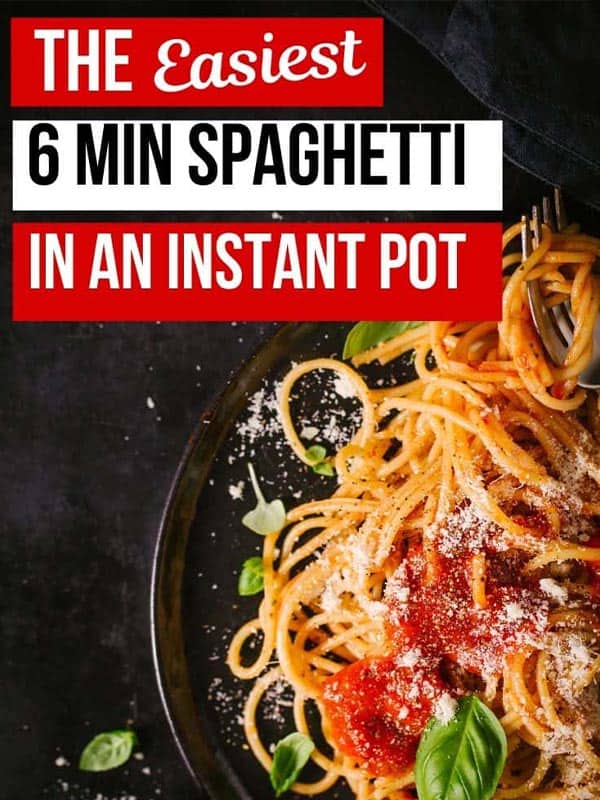 Super Easy Six Minute Instant Pot Spaghetti
No collection of "quick and easy pasta recipes" is complete without this Six-Minute Spaghetti. If you have an Instant Pot, this is a must-try meal! Ready in 6 minutes? Come on! It doesn't get any quicker than that. (via Saving Talents)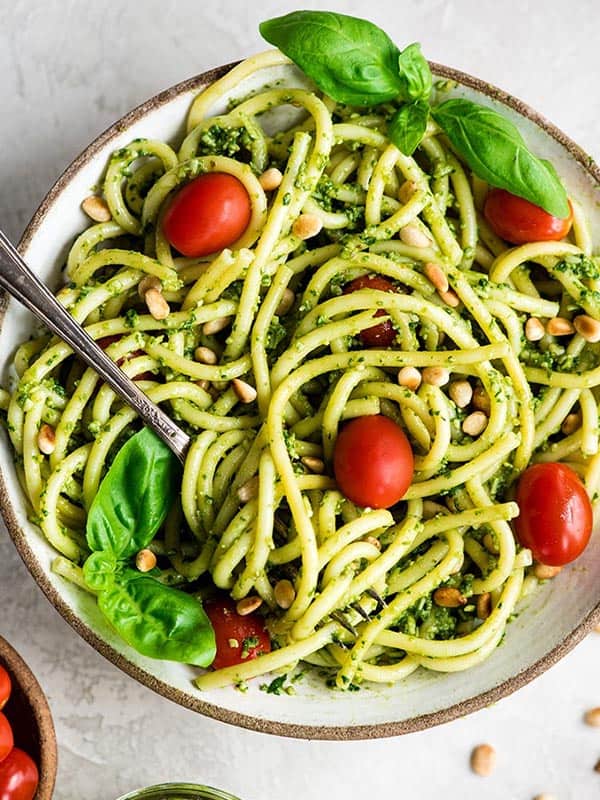 Easy Pesto Pasta Recipe
The ultimate in versatility, Pesto Pasta is a delicious main course or side dish and served warm or cold. It's great to make ahead and have on hand to serve for any occasion. (via Joy Food Sunshine)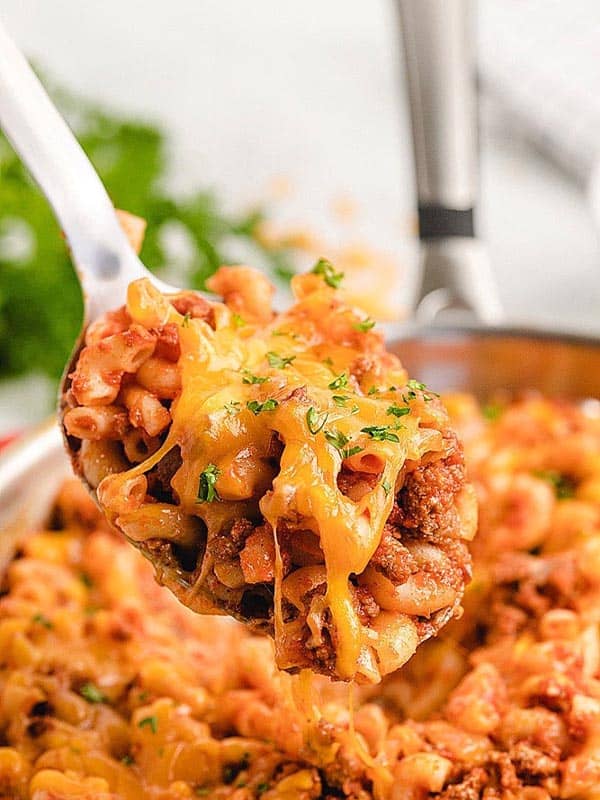 Super Easy Beef and Macaroni Skillet
Skillet meals employ one of the best methods of cooking dinner: pan-frying. This American Goulash recipe is a winner because you only need ONE PAN. That means everything is cooked together, and there's very little clean up. (via Thrifty Frugal Mom)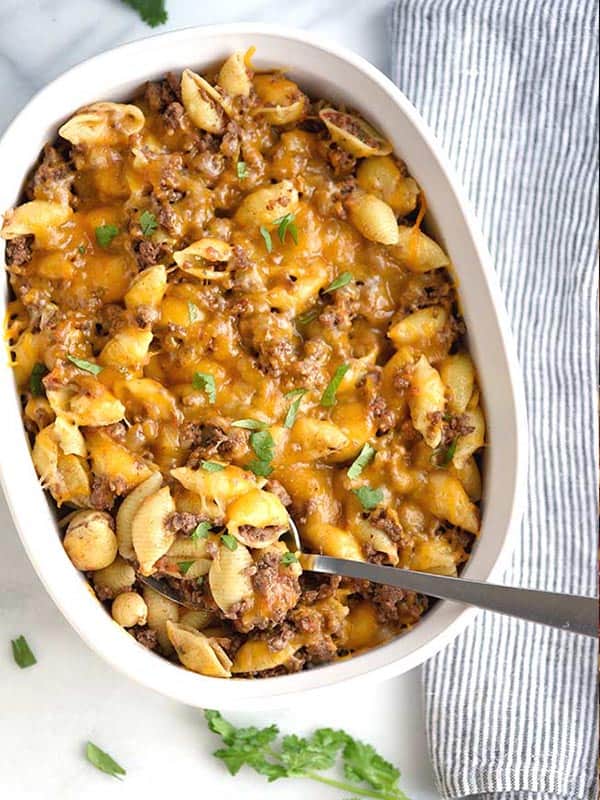 Taco Pasta Casserole
With only 5 ingredients, there's no excuse for skipping this dish! If you love spicy taco meat, you'll love Taco Pasta Casserole. It's all your favorite taco flavors baked into an easy-to-make pasta casserole. (via Mighty Mrs)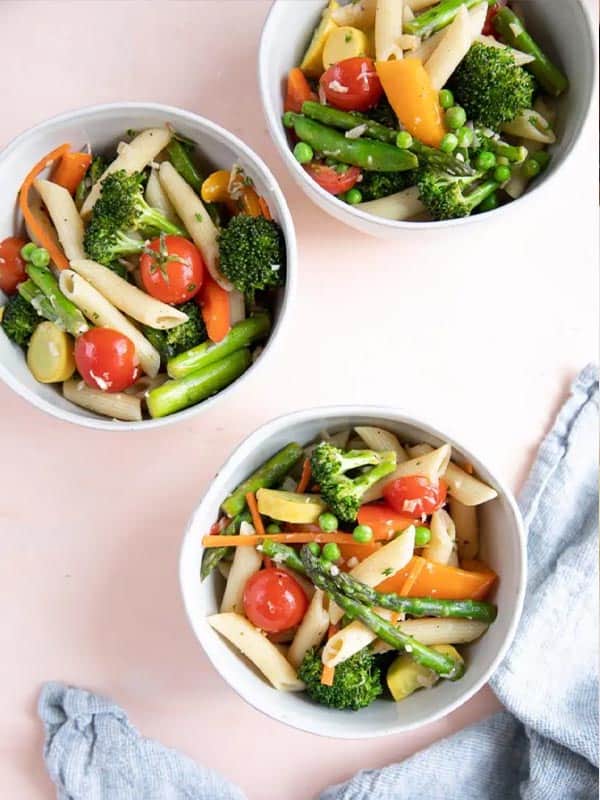 Pasta Primavera
When you're feeling like something light, Pasta Primavera is the recipe to make! It's packed with vegetables and finished with a butter parmesan cream sauce. (via The Forked Spoon)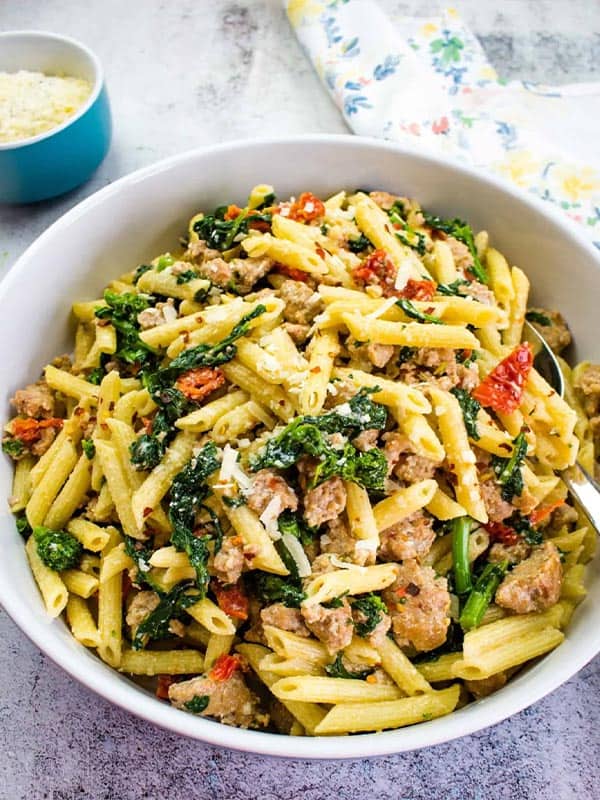 Sausage & Broccoli Rabe with Pasta
Take a look at the ingredients in this sausage pasta, and you'll find a restaurant-worthy combination of broccoli rabe, sun-dried tomatoes, white wine, and parmesan cheese. Don't be fooled, though. The best part is still to come – it's ready in 30 minutes or less and serves 6! That means it's the perfect lunch or dinner for company that anyone can make! (via Cook What You Love)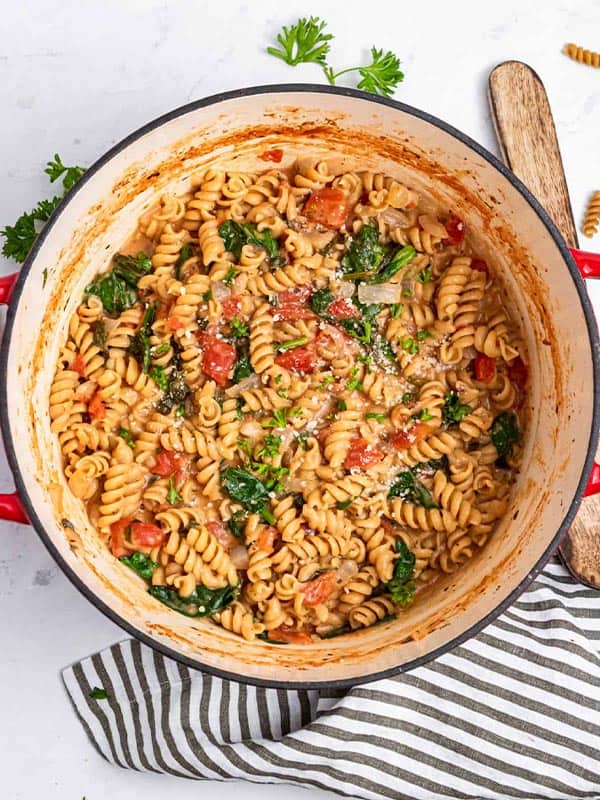 Creamy One Pot Pasta
True to its name, you only need one pot for this creamy pasta dinner! Toss all the ingredients in a pot and stir them together until they are done cooking. It's ready in just three simple steps and 20 minutes of cooking time. (via Lemons and Zest)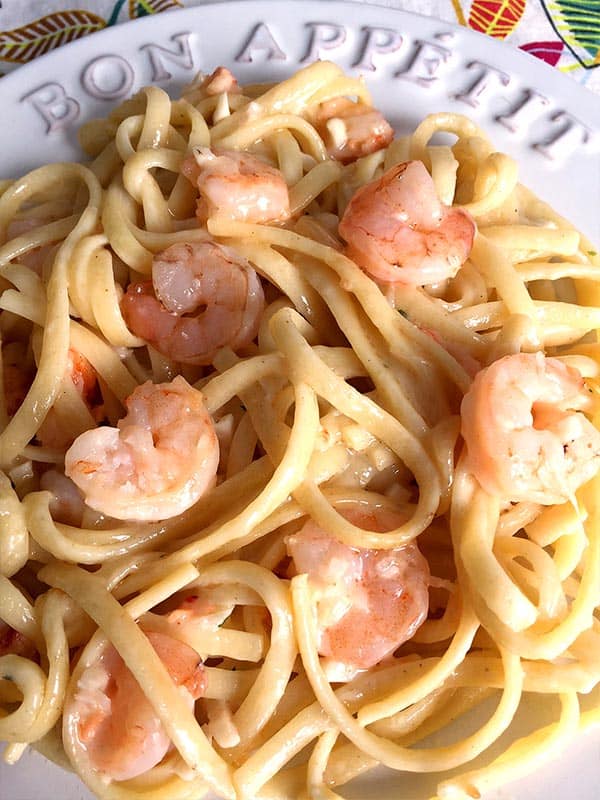 Easy Creamy Garlic Shrimp Linguine Seafood Pasta
Here's an easy pasta recipe with shrimp that's sure to be a family favorite! It's all about the creamy garlic sauce. The cream, parmesan, and garlic coat each bite and make a healthy meal in just a few minutes. (via Melanie Cooks)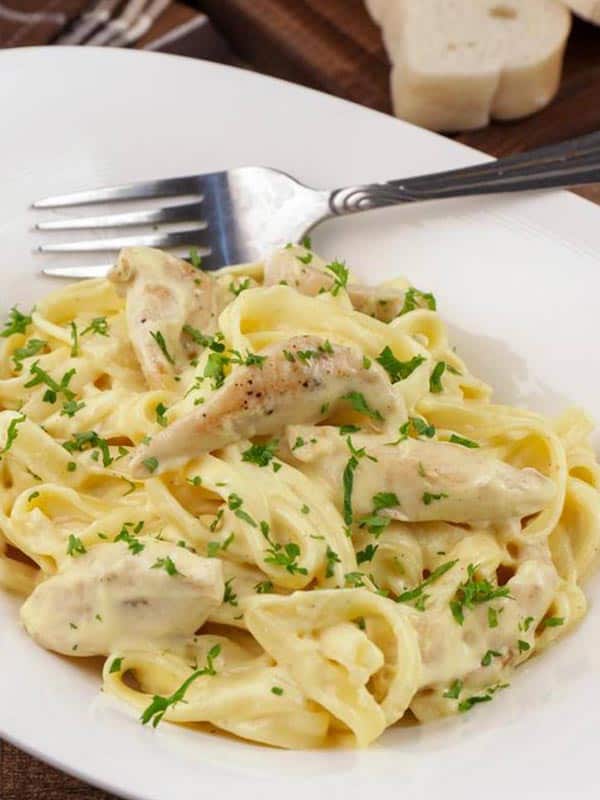 Easy Pasta Alfredo
My favorite easy pasta recipe with chicken is this 5 ingredient fettuccini alfredo – hands down! It's hard to go wrong when it only takes one pan, a handful of ingredients, and 15 minutes to make dinner. (via Kim Inspired DIY)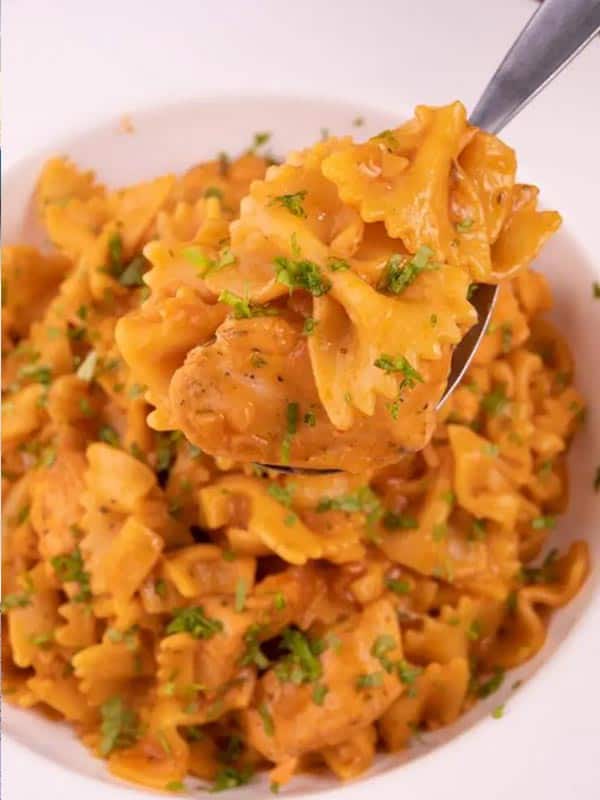 Best Homemade Chicken Parmesan Pasta
Is chicken parm your favorite dish to order when you eat out? Now you can take all those flavors and simmer them into a quick 20-minute pasta dinner! (via Create Yum)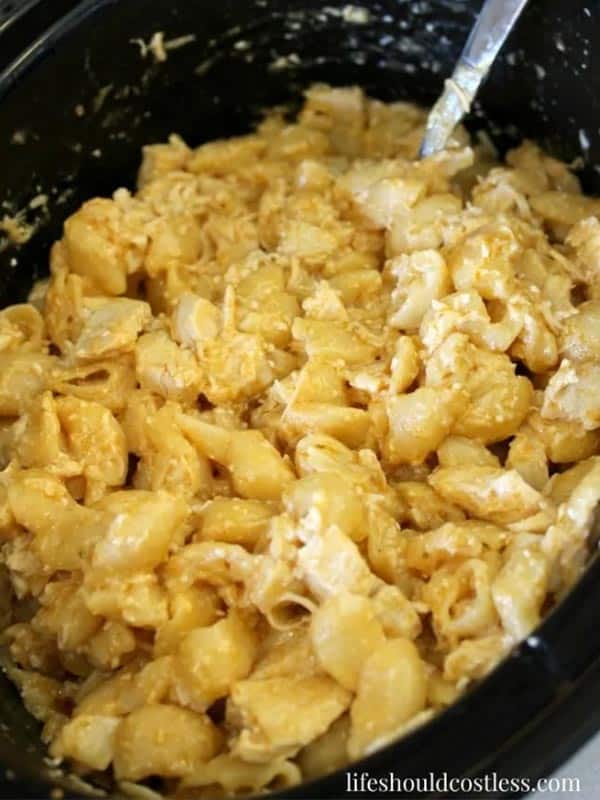 Easy Crock-Pot Buffalo Chicken Pasta
There are only 10 minutes of prep time for this easy slow cooker pasta recipe. Think you can handle that? Grab the 5 ingredients (plus water) and dump them in the crock-pot. Flick the machine on and go about your day until dinner-time! (via Life Should Cost Less)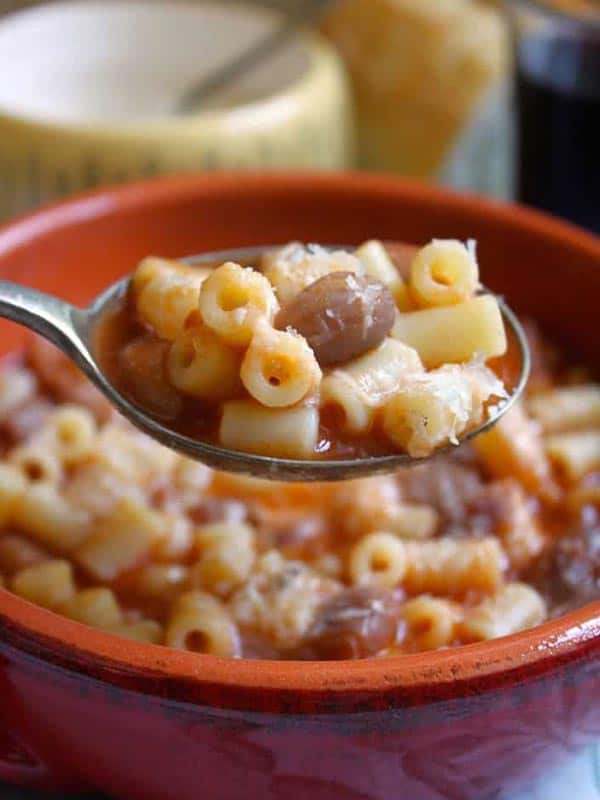 Pasta e Fagioli aka Pasta and Beans
Pasta e Fagioli is the ideal way to eat traditional Italian food on a budget. Don't let the name (or simplicity of the recipe) fool you! This is a legit, tried-and-true authentic Italian meal. Pasta + beans + sauce = dinner is served. Thank me later. (via Christina's Cucina)
More Easy Homemade Pasta Recipes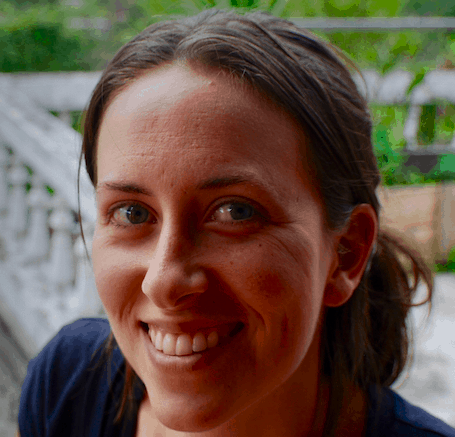 Meet Jessica Haggard
Jessica Haggard created Easy Homemade Life to share no-fail ideas with thrifty creative homemakers. As a busy homeschooling, homesteading, entrepreneurial mom herself, she strives to curate a collection of only the BEST tried-and-true homemade ideas so you can make memorable and meaningful things in your home.
Learn more about Jessica…