There's no excuse not to enjoy more homemade bakery goods when you have these easy no-knead bread recipes at your fingertips! From appetizers like Focaccia and Cheese and Bacon Rolls to artisan classics like Dutch Oven Bread and Sourdough, there's a bread for every meal.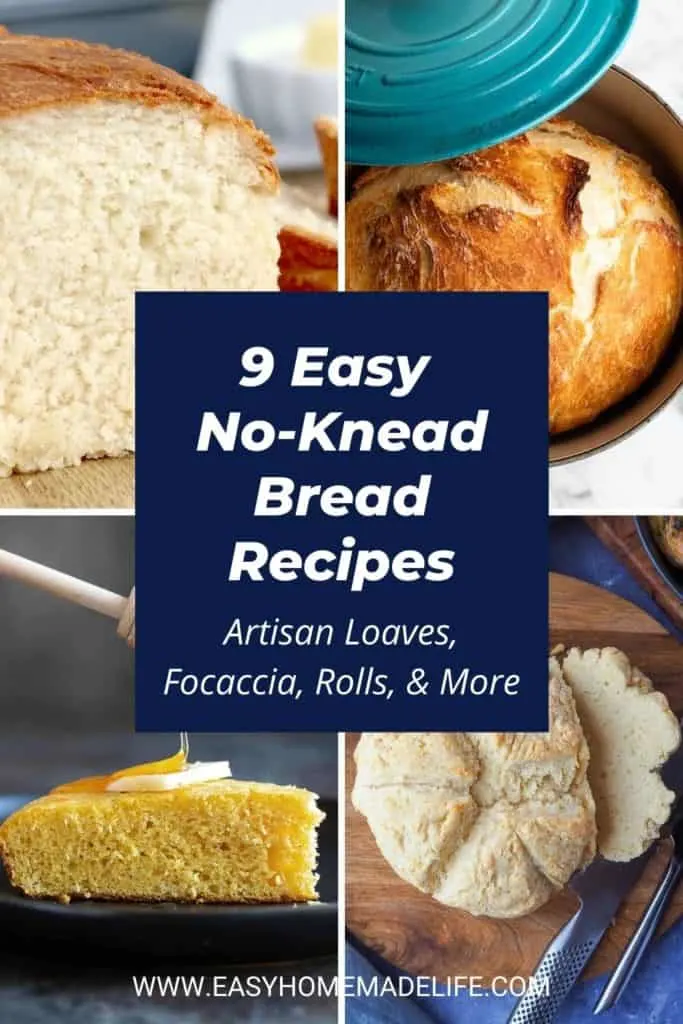 Homemade Bread is Best
There are many reasons to master these simple recipes and start making your own bread.
For starters, from-scratch recipes will save you money on your grocery bill.
You'll also know what ingredients are in your bread. When you make bread yourself, you control what goes in the recipe. Homemade options always avoid chemical preservatives, artificial flavors, and other food-like ingredients.
Top it all off with that old-fashioned feeling of self-sufficiency and good-for-you vibes that you made such delicious food all by yourself. Baking bread is a classic life skill that will never go out of style.
Serve with any of these breads with
How to Make No-Knead Bread
No-knead bread recipes have a few core methods in common.
First, mix the dry ingredients together.
Second, stir in water (usually warm) to activate the yeast.
Some recipes will say this dough needs to sit overnight to rise naturally. Other recipes are ready to bake right away. It all depends on what you're trying to do.
Next comes baking! A preheated oven is non-negotiable. It's worth waiting until you're sure the oven is hot enough before adding the bread.
Finally, remove your golden brown bread from the oven and let it cool slightly before slicing and serving.
See how easy home bread making is?
Save these recipes and add them to your meal plan app today!
You might like these frugal, but Healthy Slow Cooker Dinner Recipes too.
MORE EASY HOMEMADE BREAD RECIPES