Ready to make 3-Ingredient Peanut Butter Cookies? You will love having these treats on hand for an after-school snack or to quickly satiate a craving. They are quick and easy to make with only three everyday ingredients, so you'll have time to try them all!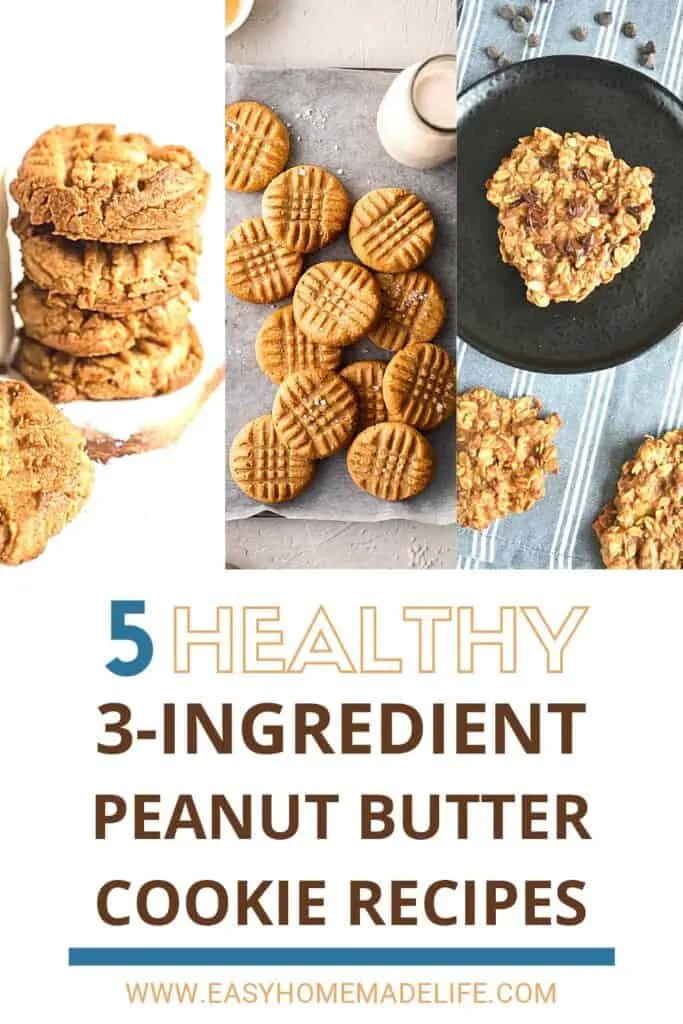 Easy Dessert Recipes with Few Ingredients
Celebrate life's last-minute special occasions with peanut butter cookies made in minutes with only 3 ingredients!
These recipes are perfect when you need a treat and you need it fast. Also, they are especially convenient because you probably already have these 3 ingredients on hand.
When your child comes home jazzed about acing a test, you'll have just the thing to share.
You can also dress up these simple cookie recipes with chocolate chips, raisins, or even make PB & jelly cookie sandwiches out of them.
If it's too hot to turn the oven on, why not make a no-bake peanut butter protein cookie dough instead?
Desserts aren't the only things that don't need a lot of ingredients. You can make 4-ingredient banana bread or easy 4-ingredient guacamole too.
How to Make Cookies with Three Ingredients
Make peanut butter cookies with, you guessed it…peanut butter. Although, you can use another nut butter as a substitute if desired.
Adding an egg or mashed banana helps bind the dough together.
Then, usually, a sweetener is mixed in the dough.
Recipes vary based on different tastes and diets. You'll find vegetarian, dairy-free, and gluten-free variations listed below.
Once you gather the three required ingredients, mix, mash, and voila! In about 10 minutes, you are ready to bake (or perhaps air-fry) your cookies.
Feel free to double the recipes and freeze the baked cookies or cookie dough. If you haven't gobbled them all up immediately, you can store 3-ingredient peanut cookies in an airtight container or sealable bag for 3-5 days.
The cookies are perfectly yummy just as they are, but if you are like me and tend to tweak recipes, you can add in chocolate, vanilla, dried fruit, or whatever your heart fancies.
Save these recipes and add them to your meal plan app today, so you can stay on track!
More 3-Ingredient Dessert Recipes