Do you want to keep your shower spotless in between seasonal deep cleans? This homemade shower cleaner without vinegar has got you covered. It's simple, easy to make, and effective at fighting soap scum build-up. You only need 3 ingredients and five minutes!
If you're in need of a general vinegar-free cleaner for other spaces, look no further than my All-Purpose Cleaner without Vinegar.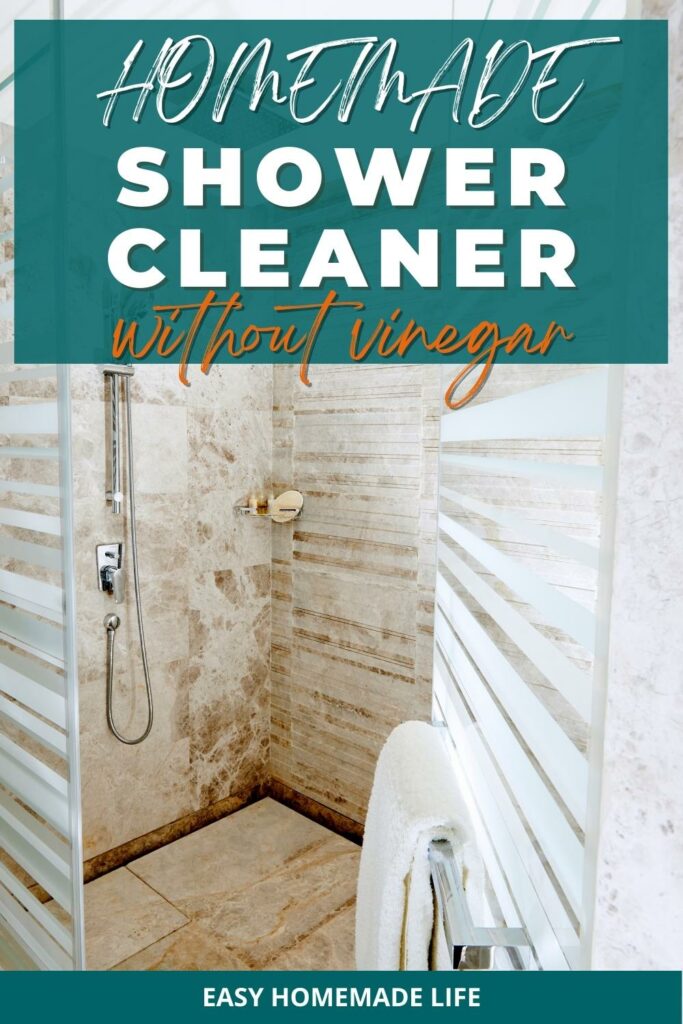 Alcohol and Hydrogen Peroxide Shower Cleaner
It's so satisfying looking at and enjoying a sparkling clean shower after a deep clean. However, before you know it, soap scum and grime buildup again. That's where using a daily shower cleaner comes in handy as it's the easiest way to clean showers without scrubbing.
However, commercial shower cleaners can be quite pricey. And those commercial shower cleaners tend to contain toxic chemicals like chlorine. Long-term exposure to even low levels of chlorine can lead to respiratory problems like bronchitis and shortness of breath.
One alternative to commercial shower cleaners is a DIY daily shower cleaner like this hydrogen peroxide shower cleaner. It's a non-toxic alternative to commercial chlorine-based shower cleaners. So you can use it around your kids without worrying about exposing them to toxic fumes. And the ingredients are quite cheap, so you're saving money.
As an added bonus, unlike many DIY daily shower cleaners, it doesn't contain distilled vinegar. Distilled vinegar, while being cheap and easy to find, has a smell that can be off-putting. And you can't use vinegar-based cleaners on sensitive surfaces like stone tiles.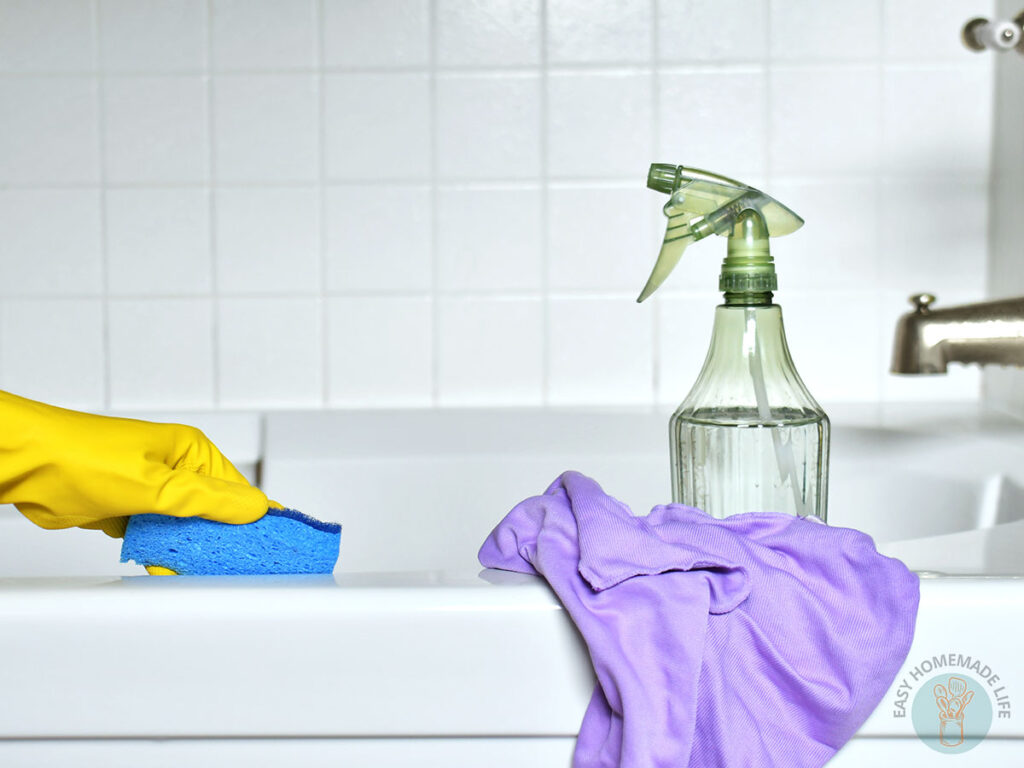 How to Make DIY Shower Cleaner with Hydrogen Peroxide
All you need to do is gather 3 ingredients, and you're halfway to making a DIY shower cleaner with hydrogen peroxide in just 5 minutes!
Tools
Spray bottle, opaque if possible
Measuring cup
Funnel
Materials
Rubbing alcohol (isopropyl alcohol 70% or stronger) – Rubbing alcohol is great for cleaning and disinfecting hard surfaces. That's because it's quite powerful against a broad variety of germs. You can substitute rubbing alcohol with vodka if necessary.
Hydrogen peroxide – Hydrogen peroxide is great for cleaning, removing stains, and disinfecting. That's because it has an extra oxygen molecule that oxidizes surfaces, killing germs in the process. Cleaning a shower with hydrogen peroxide results in a neutral smell, unlike cleaning showers with vinegar or bleach. You can use vodka instead of hydrogen peroxide for your homemade daily shower cleaner if you don't have hydrogen peroxide available. If you've run out of both rubbing alcohol and hydrogen peroxide, you can use vodka to replace both of these materials.
Water – This helps dilute the rubbing alcohol and hydrogen peroxide.
Essential oil (Optional) – If you'd like your homemade daily shower spray to have a scent, you can add essential oils. Lemon, lavender, and eucalyptus are nice oils that would work well with this homemade daily shower spray. You can add them individually or in combination with each other. These energizing essential oil blends work wonders in setting the mood to clean!
Wondering where to find the materials for this hydrogen peroxide shower cleaner. That can be as simple as raiding your bathroom cabinet. However, if you're missing the materials, you can make a trip to your local grocery store or pharmacy. Save time by shopping for essential oils online by using the affiliate links I provided above for your convenience.
Step-By-Step Directions
Follow these simple directions, and you can't go wrong!
In order to make this homemade shower cleaner without vinegar, add all the ingredients to a spray bottle, shaking well to combine. There you have it, your very own homemade shower cleaner without vinegar!
Since hydrogen peroxide degrades quickly in the presence of light, it's recommended to store your hydrogen peroxide shower cleaner in a cool, dark place such as a dark cupboard away from direct sunlight. Additionally, since hydrogen peroxide also degrades with time, it's best to use your hydrogen peroxide shower cleaner within six months for the best results.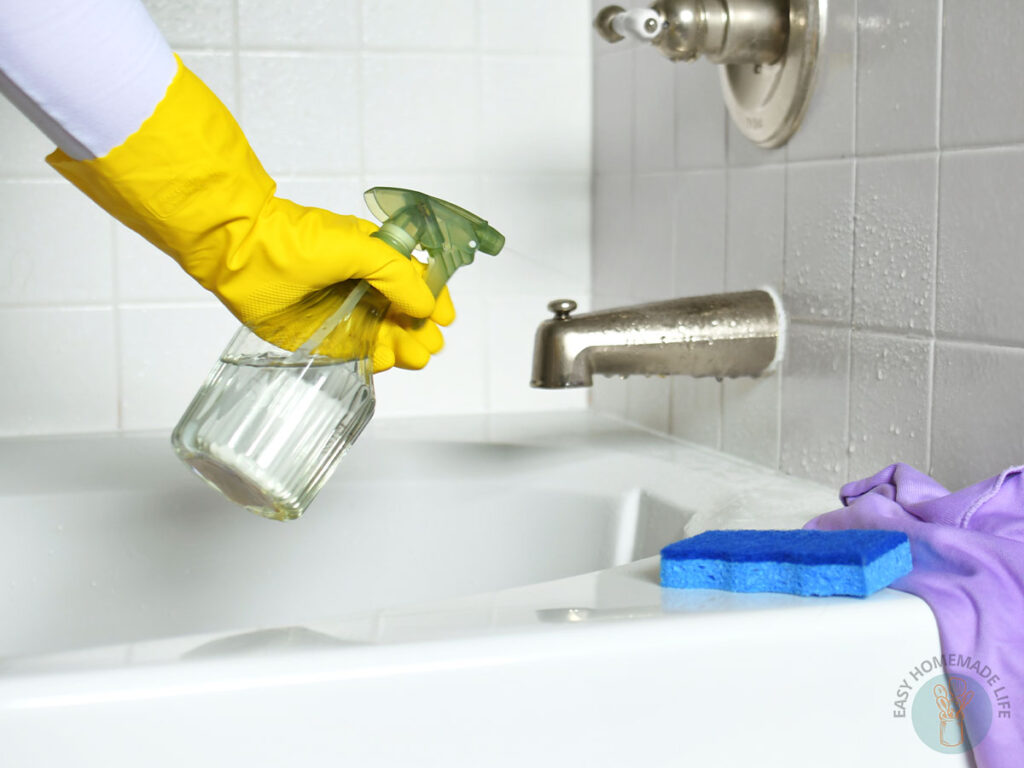 How to Use Homemade Daily Shower Spray
When using your homemade daily shower spray, shake well first. Then apply it to all parts of your shower including your shower curtain, shower grout, shower drain, and shower tile. You can even spray it on shower mold. Then let your homemade daily shower spray dry on its own. You don't need to rinse or wipe it off.
Because this homemade daily shower spray is made with hydrogen peroxide rather than vinegar, it's generally safe for all surfaces. This includes surfaces such as fiberglass, acrylic, ceramic/porcelain tile, vinyl, and glass.
Once you finish in the shower, give a few quick sprays of Clean Cotton Linen Spray on your bath towels for a fresh scent of just washed clothes.
WORD OF CAUTION: It's best to use caution if your shower has marble, granite, and stone surfaces. That's because hydrogen peroxide is slightly acidic, and this acidity may cause the breakdown of the finishes over time.
There's also a slight chance of discoloration. So it's best to test your homemade shower spray on a tiny spot before committing to cleaning a large area, or you can replace the hydrogen peroxide with rubbing alcohol instead.
Lastly, this hydrogen peroxide shower cleaner is best used on white and light color grout. If you use hydrogen peroxide on darker grout, the color may fade with time. Once again, if you're concerned, you can replace hydrogen peroxide with alcohol or vodka instead.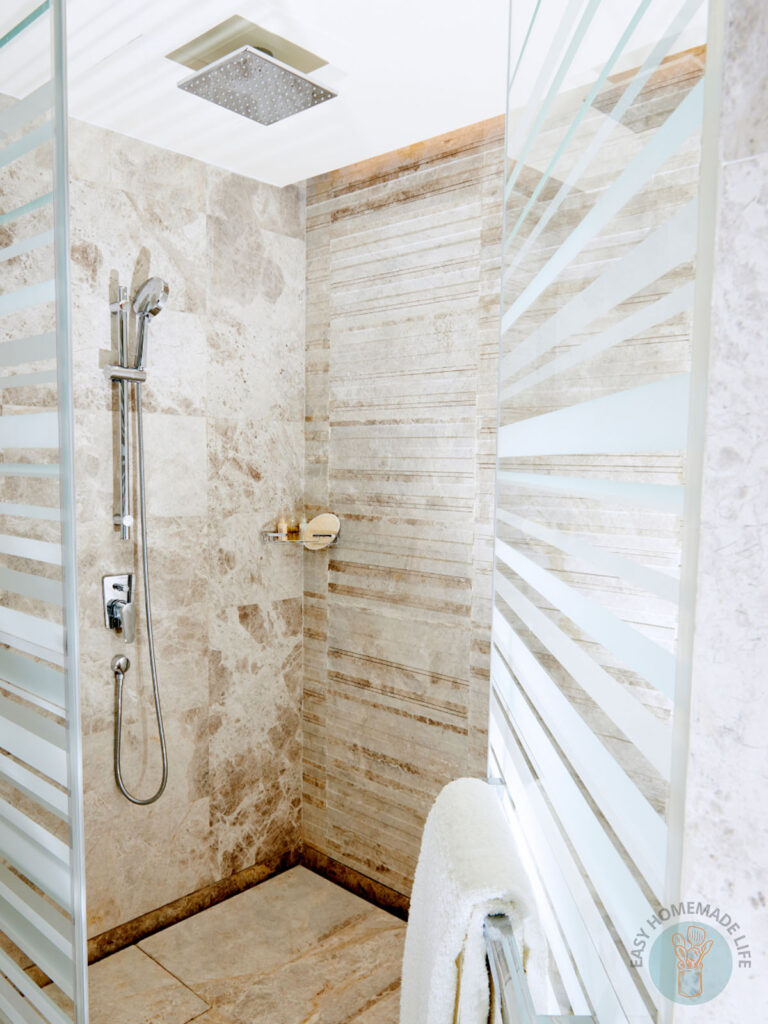 DIY Daily Shower Cleaner FAQ
Do daily shower sprays work?
Yes, daily shower sprays work well for maintaining the cleanliness of your shower (in between deep cleans) as long as they contain the right materials. This homemade shower cleaner without vinegar contains hydrogen peroxide which is an oxidizer. This makes it effective at cleaning and disinfecting shower surfaces.
Can you clean glass with hydrogen peroxide?
Yes, you can. Just spray some hydrogen peroxide on the glass surface and wipe it down with a microfiber cleaning cloth.
Does hydrogen peroxide leave a residue?
No, unlike other chemicals, hydrogen peroxide doesn't leave a residue.
How to clean acrylic shower?
To clean an acrylic shower, spray a non-abrasive cleaning liquid like hydrogen peroxide shower cleaner onto the shower. Then let it sit for about ten minutes. Finally, wipe it with a microfiber cleaning cloth and rinse it with hot water.
How to clean a walk in shower without getting wet?
To clean a walk-in shower without getting wet, turn on the shower head to get your shower surfaces wet before turning it off. Then spray down the shower surfaces with your cleaner.

Grab a bucket of clean water, and dip a broom (that you've reserved only for cleaning showers) into the bucket of clean water. Next, use the wet broom to clean the shower. Finally, turn on the shower head to rinse off the cleaner.
More Easy Homemade Cleaners