Keep it simple and have a blast with these boy birthday party theme ideas. From Legos to the Jungle and beyond, celebrate your child's special day with these easy DIY themes for invitations, decor, food ideas, and more!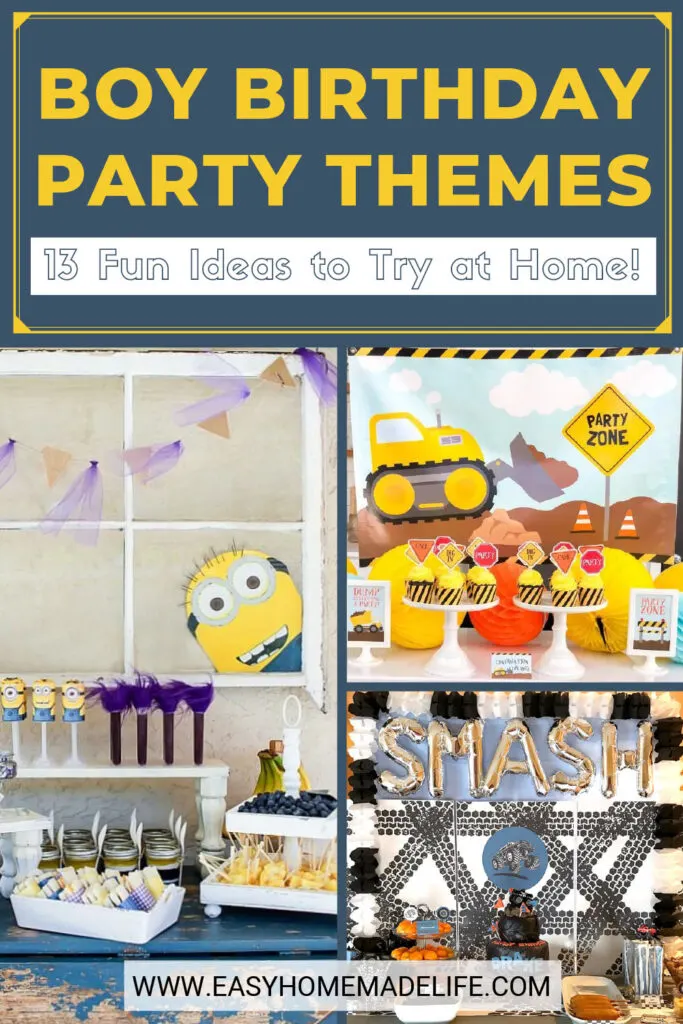 Make a Kid's Birthday Special at Home
I love to celebrate my kid's birthday at home because it's our warm and comfortable nest. I can give the party a memorable homemade touch when it's in my own space. That TLC isn't the same elsewhere.
We get to make all the food, games, and decor with love when the party is at home. Everybody is sure to feel it. It's my baby boy, after all, and he deserves it!
What should I do for my birthday boy?
Every party begins with the invitations, that's the big announcement! Happily, there are many free invitation printables linked below that help deliver the message with style.
Next, consider which decor will best set the mood. Look around your home and see what you already have available. You can gather everyday toys into a spectacular birthday theme with a bit of creativity.
For example, if you are neck-deep in legos, you have a boy who loves legos. In your case, a lego theme party is a choice! Stop stepping on all those little pieces and stick them on a cake instead (after you wash them of course!)
Suppose nothing jumps out at you; in that case, head to Walmart or the dollar store for decor on a budget. You don't need to spend much. While you're out, look for reusable decorations. Ideally, we use birthday decor repeatedly or at least repurposed it for another project later.
By now, you might know that people come to a birthday party to celebrate and play, not to eat (except for cake!). Lucky for you, food isn't a big focus for boys because they are busy running around with their friends having the time of their lives.
If there's one thing to do at your party, set up a tasty themed dessert table. Have fun using the menu ideas below as a jumping-off place for your own party.
Last on the list, but probably most important, are the party favors, fun, and games. These are best to prep ahead of time since no one wants to be put on the spot in the middle of a rowdy crowd of boys looking for something to do. Give the lads many reasons for running around and maybe throw in a rope or two to see what they do. Although I've never been to a party where we get to everything on the list, it's good to have ample ideas that keep the children engaged and focused.
Above all, keep it simple, mamas, and you'll enjoy the party even more. No matter what, wear a pretty dress and snap a few pictures for the memory book!
More Homemade Kids Birthday Party Ideas