Who knew there could be such diversity in 3-ingredient cheesecake recipes? Whether you try a traditional cheesecake baked in an oven, an easy Instant Pot version, or something even more straightforward, you will have fun pouring over the list of options found in this round-up. In any case, these easy homemade cheesecake recipes are all fabulous!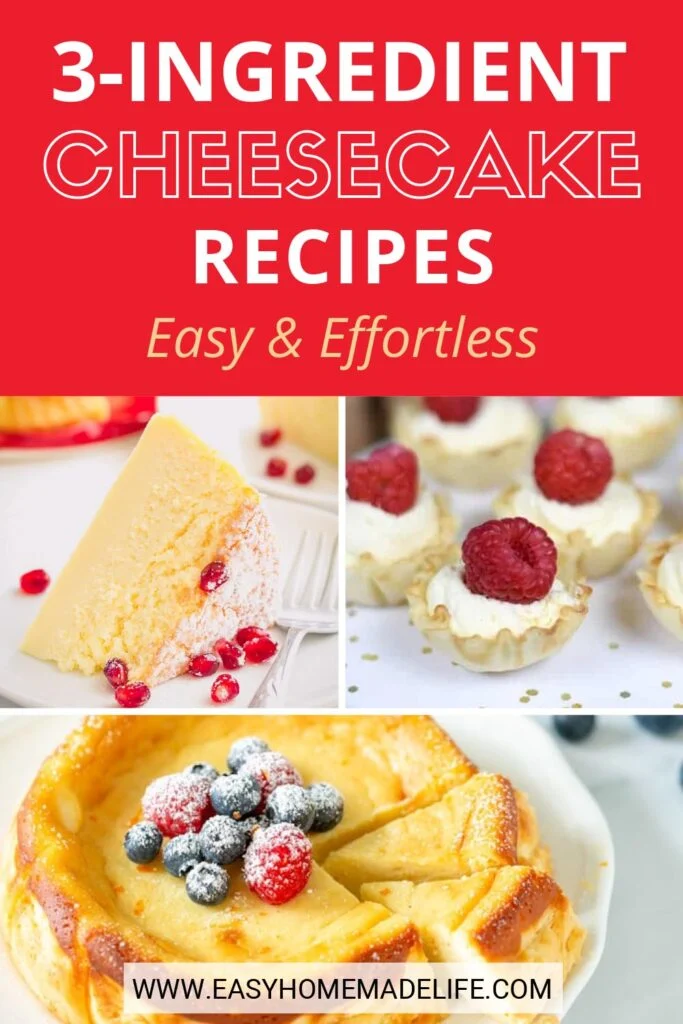 Easy Homemade Cheesecake
Even though cheesecake is my husband's favorite dessert, I avoided making it for years because I thought it was over my head.
Don't make the same mistake I did! Instead, choose one of these easy cheesecake recipes, and don't delay another day!
Enjoy the magic of whipping egg whites into peaks, folding them into the batter, and baking them into a delicious cheesecake!
How to Make Cheesecake with Three Ingredients
The cheesecakes in this round-up are delightfully varied. Each recipe has its unique approach.
Baked, no-bake, or slow-cooked, you choose the style you like best for these easy homemade desserts.
These recipes are best with an electric mixer. Otherwise, you can try your hand at whisking egg whites, but it's a workout! Hand whisking takes a while and doesn't always get the best results.
Look ahead and consider the final finish on your cheesecake. Do you like yours with berries or drizzled chocolate? Pick customizations based on individual recipe suggestions and have those ingredients on hand.
Cheesecake needs time to settle and cool, so plan for that before serving.
Once you have indulged to hearts delight, cheesecake keeps well in the fridge for 3-5 days in a sealed food storage container. Enjoy it as a snack or for breakfast, I won't tell!
Save these recipes and add them to your meal plan app today so that you can stay on track with delicious and easy meal prep.
More 3-Ingredient Dessert Recipes