Enjoy a tasty start to your day with this easy McDonald's Biscuit recipe. These classic breakfast biscuits are soft and flaky with a delicious buttermilk flavor. Serve them sweet with honey and jam or savory with breakfast sausage. Best of all, these biscuits are made in 25 minutes from start to finish, and you can easily double the recipe to feed a crowd!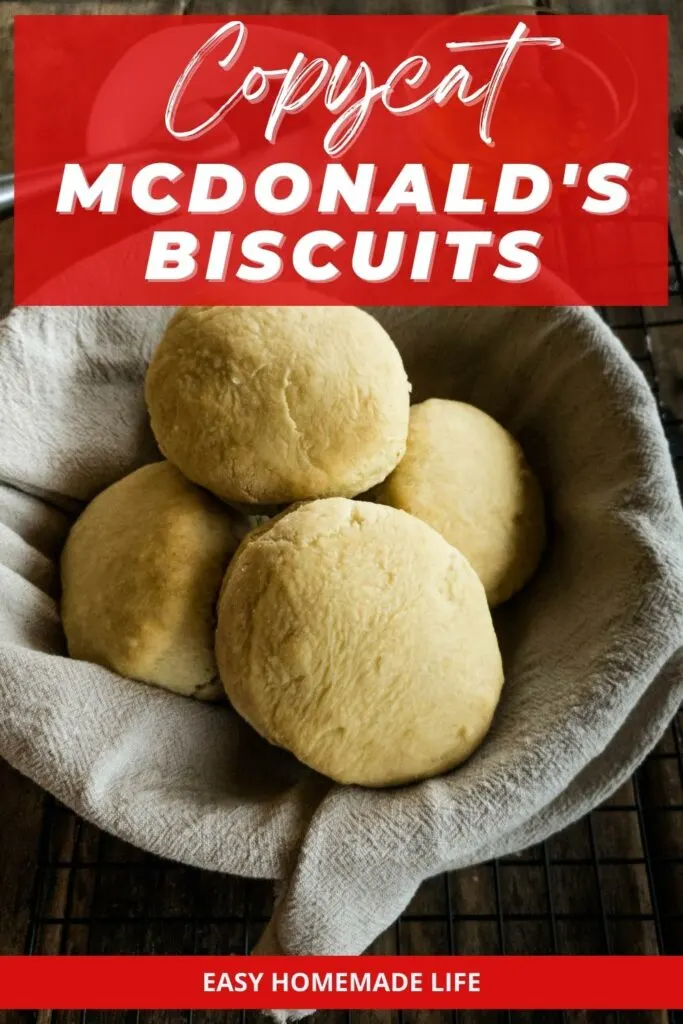 Is There a Recipe for McDonald's Biscuits?
Are you a fan of biscuits at Mcdonald's? I have great news for you – this homemade McDonald's biscuit version comes very close to the popular fast food chain biscuit. Save your money, skip the drive-thru, and make a batch of biscuits from home.
Plus, this copycat recipe is easily customizable, so you can double the recipe to satisfy a hungry crowd. And trust me, these pillowy soft, and perfectly chewy treats will go fast, so double that recipe!
If you love McDonald's copycat recipes as much as I do, make sure you try McDonald's Pancake recipe and their breakfast sauce that goes with just about anything.
But back to these ridiculously easy buttermilk biscuits. You don't need any obscure ingredients to make the biscuit dough. The process is simple: combine, knead, roll, and shape. And it's all done in under 10 minutes of prep time.
The best part is that you can serve them in whichever way your heart desires. Dress a McDonald's biscuit with jam, honey, or plain butter to keep things simple. Or tuck in breakfast sausage and a fried egg between two halves for a hearty and delicious breakfast. The options are endless, and with this recipe's simplicity, you'll be making these lovely homemade biscuits on repeat.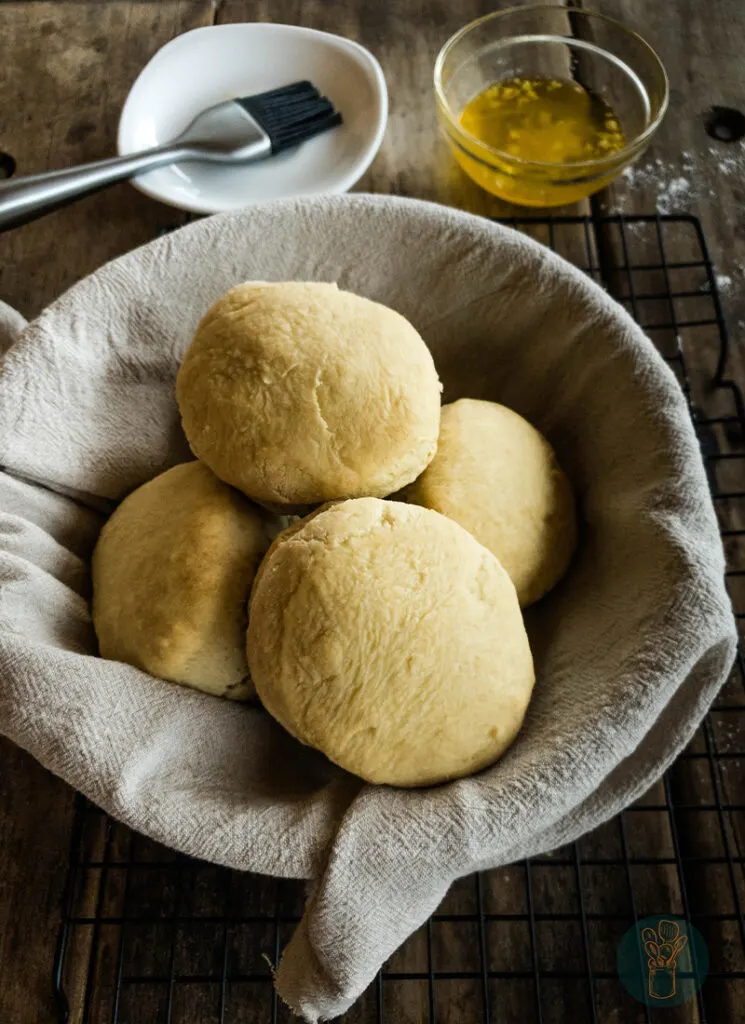 How to Make McDonald's Biscuits
Gather three main ingredients, plus sugar and salt, and you're halfway to making a McDonald's Biscuit Recipe in just 25 minutes!
You'll be surprised to learn how quickly this copycat recipe comes together. And you can easily double the recipe and store the biscuits in the fridge until ready to serve.
Besides a brief ingredient list, you'll need a few essential kitchen items. Grab your rolling pin, a 2-inch biscuit cutter, and a trusty baking sheet.
If you don't have a biscuit cutter, not to worry. Use a round cookie cutter or metal ring from a regular-mouth mason jar to cut into a similar biscuit size. Similarly, you can flip a drinking glass upside down to shape those biscuits into medium-sized rounds.
Lastly, if you need a different alternative, cut the biscuit dough into small squares using a pizza cutter. That is completely okay and gives a unique spin to this classic breakfast food.
The recipe comes together quickly when you have your ingredients and equipment ready. With only 10 minutes of prep time and 15 minutes of baking, you're on your way to a delicious homemade McDonald's biscuit!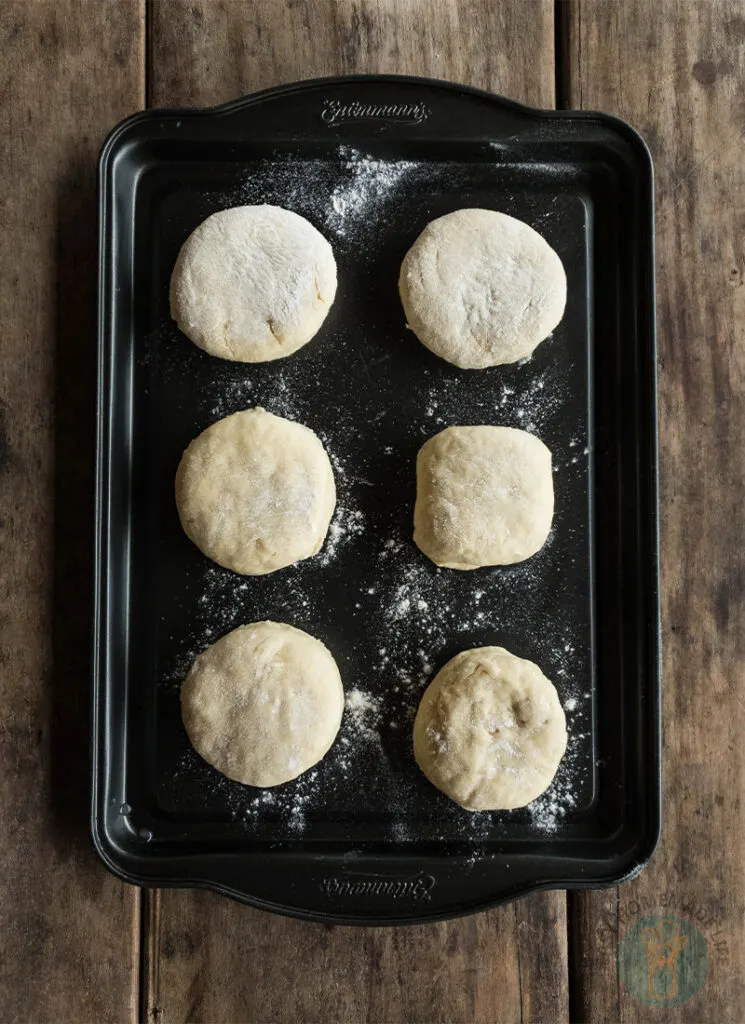 Copycat McDonald's Biscuits Ingredients
Bisquick baking mix – store-bought is fine but you can also whip up a batch of homemade Bisquick using the directions below.
Buttermilk – again, store-bought totally works and gives a deliciously tangy flavor to these biscuits, but you can just as easily make buttermilk at home using this recipe.
Butter – melted unsalted butter. We'll use some in the dough and the rest to top the biscuits after baking.
Granulated white sugar – just a few teaspoons are needed here.
Salt
Note on Bisquick Substitute: Skip the store-bought baking mix and make your own instead. Combine 2 cups of all-purpose flour, 1 tablespoon baking powder, 1 teaspoon salt, and add 5 tablespoons of cubed cold butter. Mix well and use that in this biscuit recipe instead. Alternatively, you can make a large batch of homemade Bisquick using My Baking Addiction's recipe and store it in an airtight container in your pantry.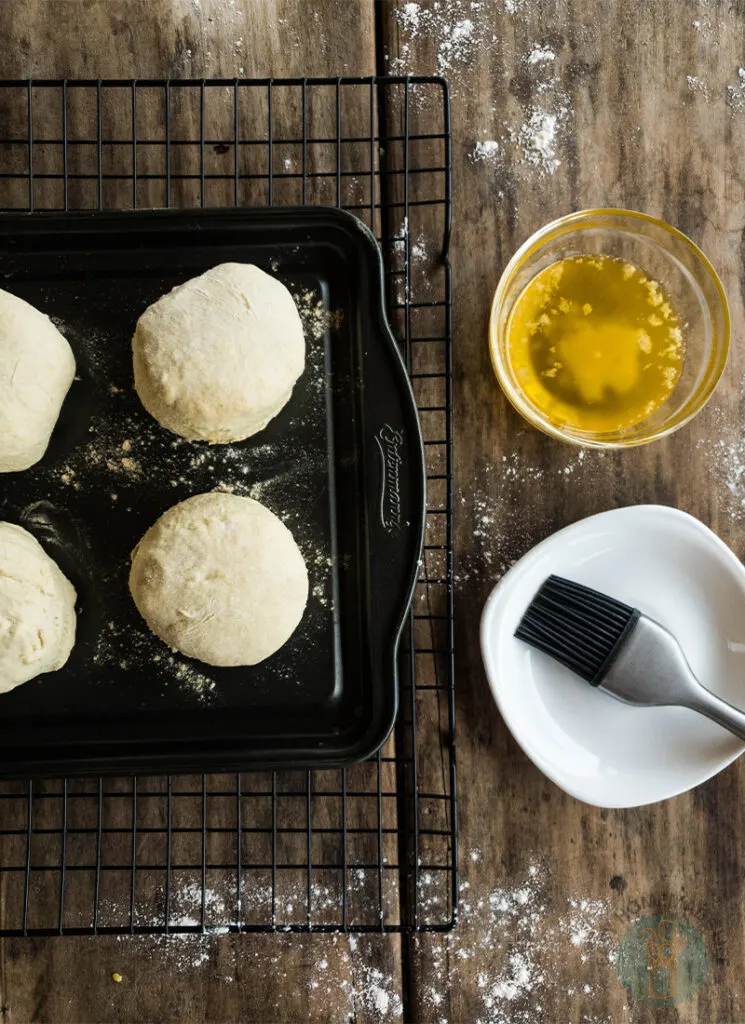 Step-By-Step Directions
Making homemade biscuits can seem intimidating but follow these simple directions, and you can't go wrong!
It's just a matter of mixing all the ingredients together, then rolling the dough out, shaping them into that quintessential round look, and baking them to golden perfection. Feel free to double or triple the recipe to always have them on hand.
Store McDonald's biscuits in an airtight container at room temperature for two days, then transfer them to the refrigerator for up to a week. You can easily reheat them in the toaster oven or microwave and enjoy them as if they were freshly pulled out of the oven.
Step one
Preheat oven to 450 degrees F (232 degrees C).
Step two
Mix Bisquick baking mix or a homemade alternative (see notes above), 1 tablespoon of melted butter, buttermilk, sugar, and salt in a medium mixing bowl.
Step three
Knead the dough for 30 seconds on a lightly floured countertop. Don't overmix. Roll the dough into a small rectangle, about ¾ inch thick.
Step four
Use a biscuit cutter to cut and shape 6 biscuits. Arrange them on an ungreased baking sheet and place them in the oven to bake for 10-15 minutes, or until the tops are golden.
Step five
Transfer the biscuits to a wire cooling rack and brush with the remaining butter. Serve warm.
McDonald's biscuits are a great breakfast treat or an excellent snack. They are also fantastic with your pasta dinner. There are so many different ways to enjoy these ultimate flaky buttermilk biscuits.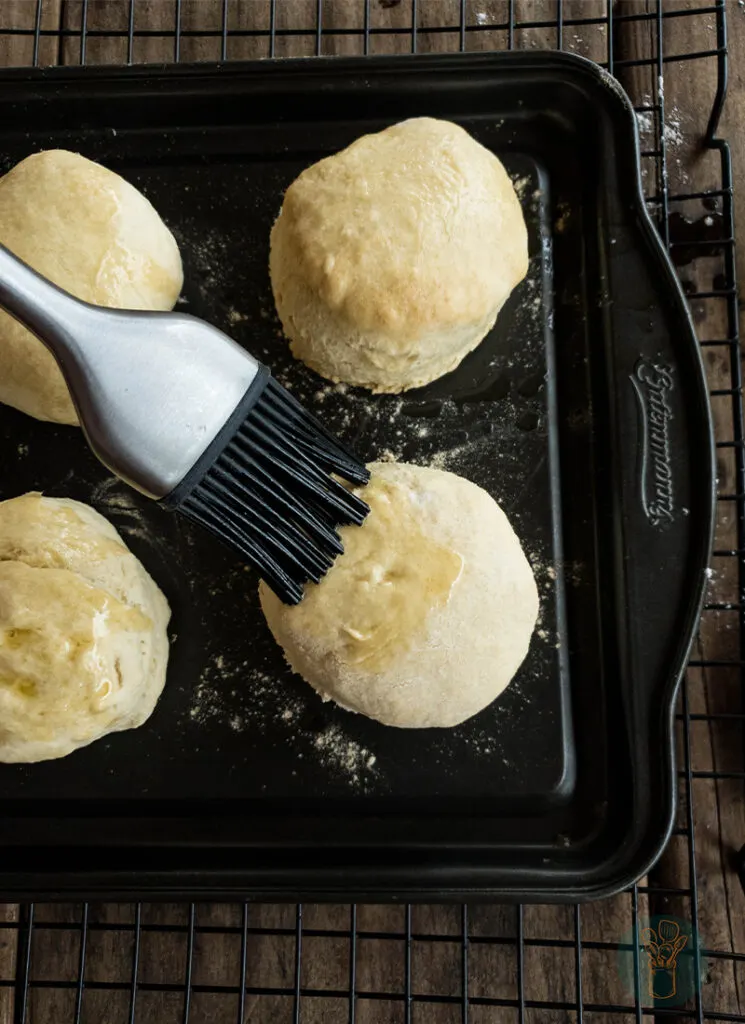 Buttermilk Biscuit Calories and Nutrition
There are 6 servings in this McDonald's biscuits recipe. It can easily be doubled or tripled to accommodate a large crowd.
A wonderful benefit to making this classic treat at home is that there are only 222 calories in a buttermilk biscuit. Conversely, McDonald's biscuit calories sit at 270 calories. (source) That gives you margin to use these biscuits in savory breakfast sandwiches or served sweet with a seasonal fruit jam.
Each serving contains:
222 calories
4 g protein
10 g fat
28 g total carbs
1 g fiber
Please note that the nutritional value will change if you substitute ingredients. Use a nutrition app like My Fitness Pal to recalculate and reflect your changes.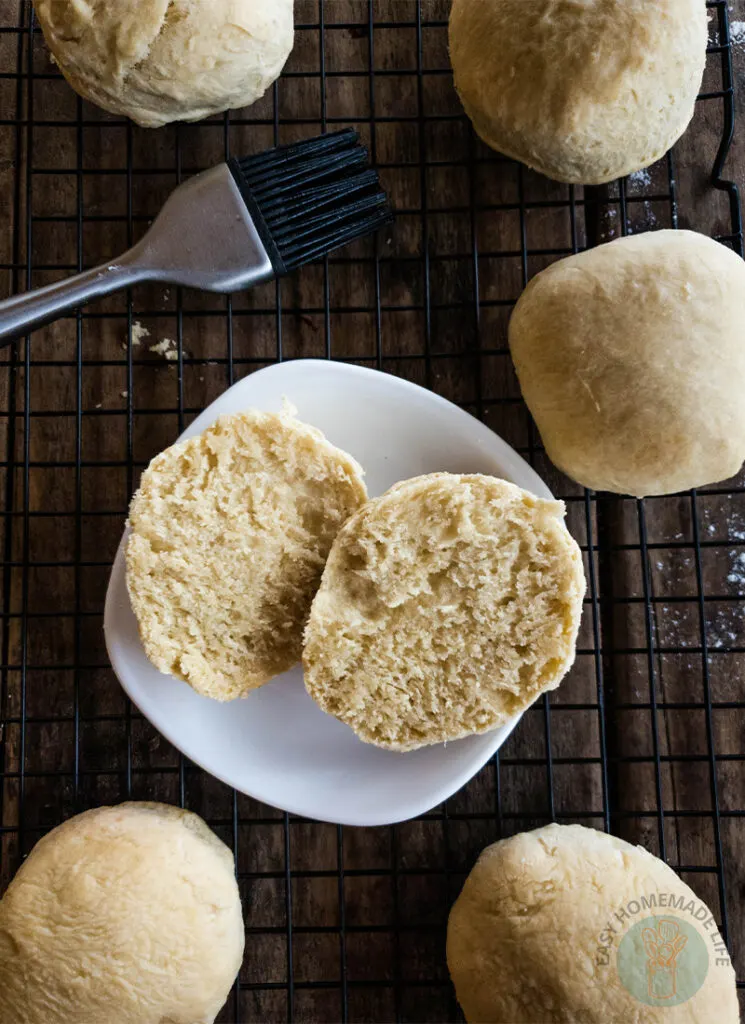 More Copycat Recipes and Easy Breakfast Ideas