Are you tired of limp asparagus stalks? Always underwhelmed with watery asparagus? Get ready to learn how to cook asparagus like a pro and say goodbye to tough and chewy or soft and mushy stalks.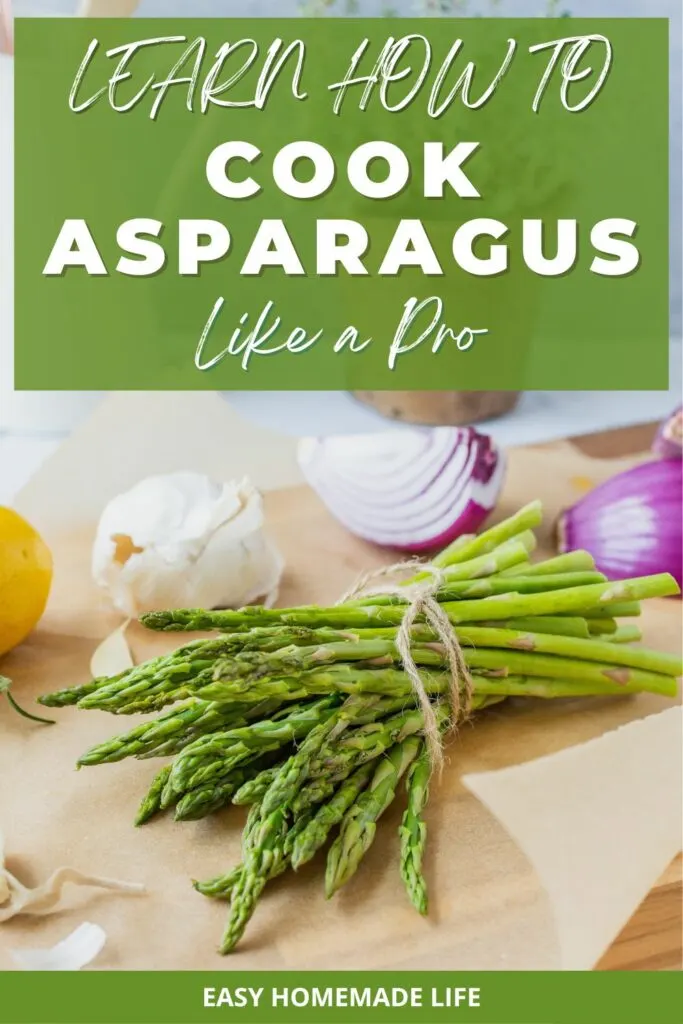 Asparagus is a delicious and nutritious vegetable that is easy to prepare and cook. You'll learn to cook asparagus to perfection with expert tips and tricks for getting the most out of this versatile veggie.
Asparagus is a delicious and very healthy vegetable that is an excellent addition to any meal. It's low in calories, and high in essential vitamins and minerals like folate, potassium, and vitamins A and C. These nutrients help support your body's healthy immune system, improve digestion, and promote healthy skin and hair. What's not to love?
But cooking asparagus can be tricky, especially if you're new to it. Cooking asparagus is easy once you know what you're doing, and it's very versatile. It can be grilled, sautéed, roasted, or steamed and pairs well with various flavors and seasonings.
Asparagus makes an excellent option for those looking for a healthy and easy-to-prepare vegetable to add to their meals. You can use it in many dishes, such as soups, salads, pasta, and omelets.
With its delicious taste, nutritional benefits, and versatility, asparagus is an excellent easy vegetable to include in your weekly cooking routine or special occasion meals like Mother's Day Dinner.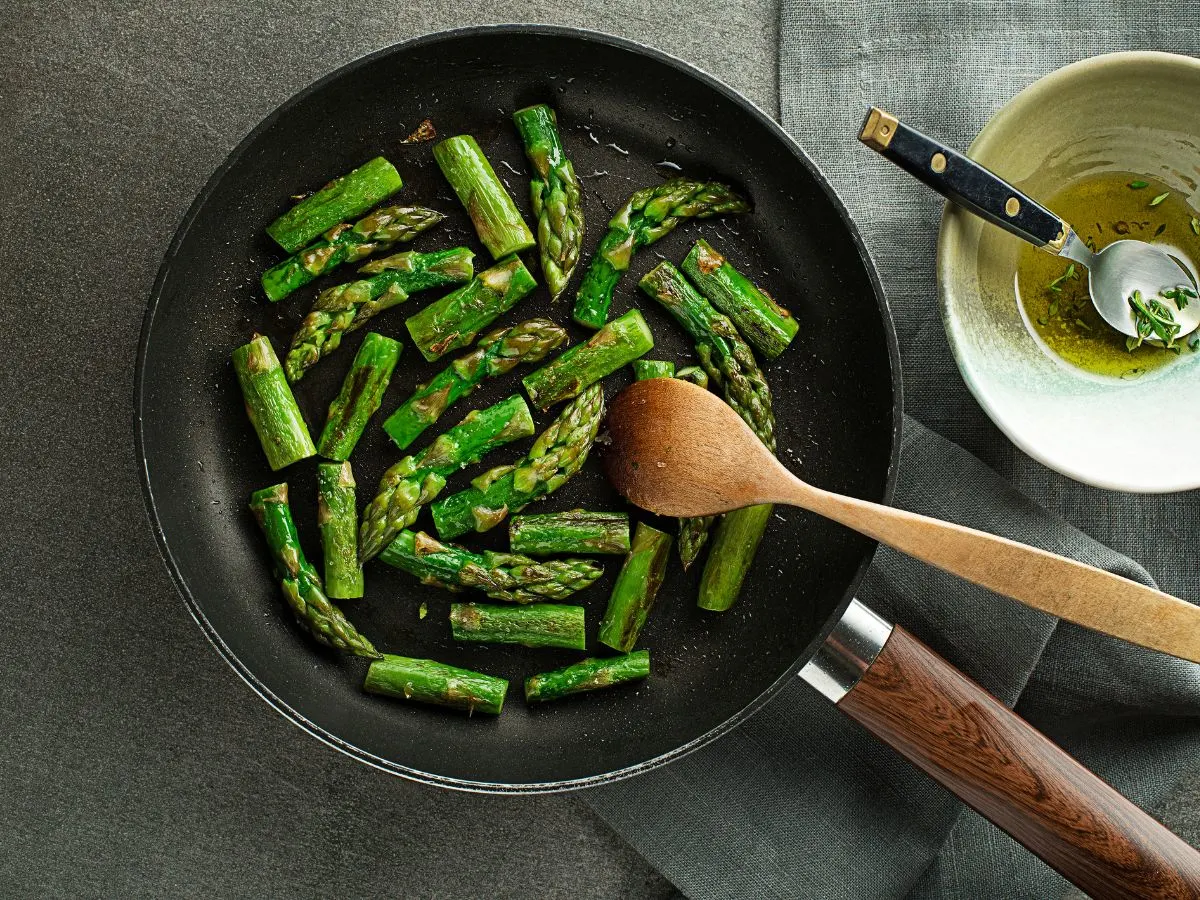 Preparing Your Asparagus
Before you start cooking, you'll need to prepare the asparagus. Here are the steps you'll need to take:
Clean your asparagus by rinsing it under cold running water, then pat it dry.
Snap off the rough woody end of the asparagus stalk by gently bending it until it snaps. (This is where the asparagus is naturally tough and inedible.) Throw away the woody ends.
Peel the skin off the remaining bottom half of the stalk if it's thick or tough.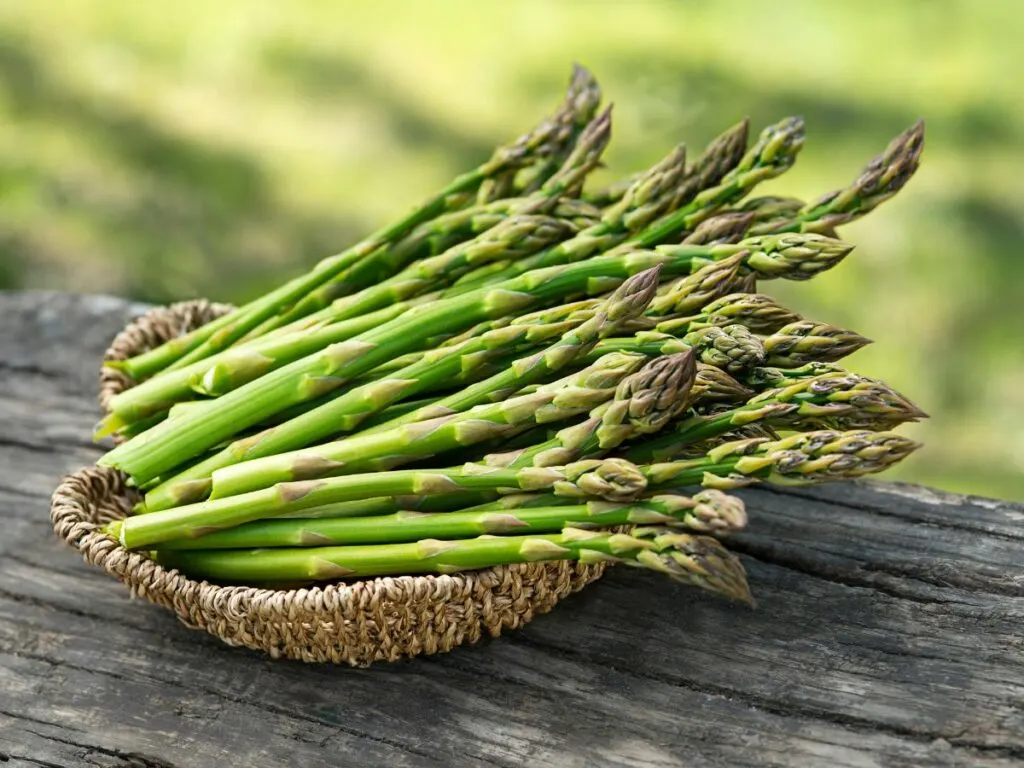 Cooking Asparagus
Now that you've prepped the asparagus and it's ready to go, it's time to start cooking! Here are five different methods you can use to cook asparagus, including air frying asparagus:
Boiling Asparagus
Bring a pot of salted water to a boil and add the prepared asparagus. Cook for 3–5 minutes, depending on the thickness of the asparagus. Drain and serve immediately.
Steaming Asparagus
Place the prepared asparagus in a steamer basket over boiling water. Cover the basket and steam for 3–5 minutes, depending on the thickness of the asparagus.
Grilling Asparagus
Preheat the grill to medium-high heat. Toss the prepared asparagus with a little oil and season with salt and pepper. Grill it for approximately 5–7 minutes, turning occasionally, until tender and deliciously charred.
Roasting Asparagus
Preheat your oven to 425°F (220°C). Place the prepared asparagus on a baking sheet and drizzle with oil. Roast for 12–15 minutes, until tender and slightly caramelized.
Air Frying Asparagus
Preheat your air fryer to 400°F (200°C). Toss the asparagus in olive oil, salt and pepper, and optional Parmesan cheese. Place the prepared asparagus in the air fryer basket and cook for 6–7 minutes.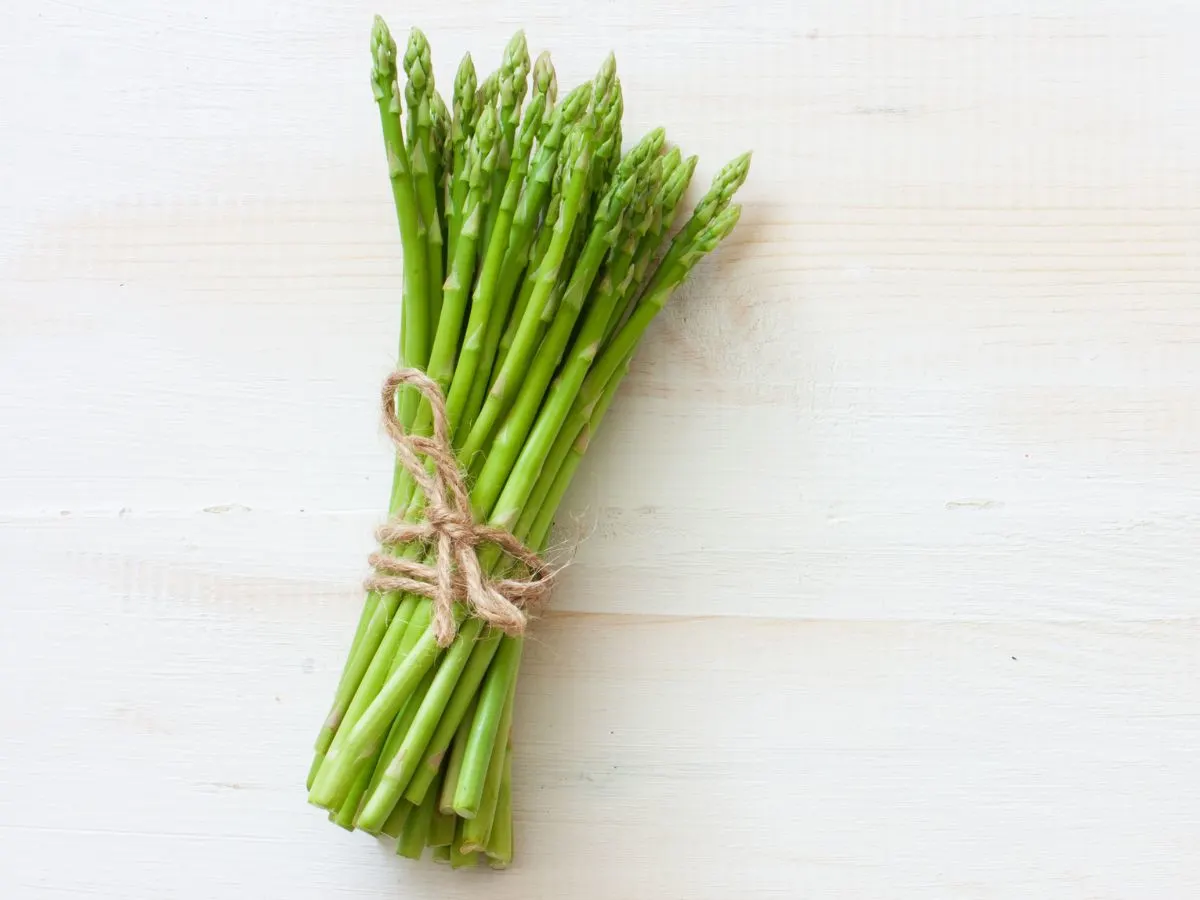 What To Serve With Asparagus
Ruth Chris Stuffed Chicken: Stuff chicken breasts with a rich blend of cream cheese, cheddar cheese, dry Ranch seasoning, and Worcestershire sauce, then bake until done. Serve with sautéed asparagus.
Grilled portobello mushroom steak: Grill portobello mushroom steaks and serve them with sautéed or roasted asparagus.
Homemade lentil and vegetable shepherd's pie: Make a lentil and vegetable pie filling and top it with perfect mashed potatoes. Serve asparagus on the side.
Pork chops: Grill, bake, or pan-fry pork chops and serve with a quick pepper gravy, homemade buttermilk biscuits and air fryer asparagus.
Grilled cheese sandwich: Make a classic grilled cheese sandwich and serve it with a side of sautéed or roasted asparagus.
Vegetable bhuna with asparagus: Cook butternut squash in a curry sauce made with a delicious curry base sauce and bursting with spices. Serve with a side of sautéed or roasted asparagus.
The Final Word
Cooking asparagus is easy and fun once you get the hang of it. By following the expert tips and tricks outlined in this article, you'll be able to cook perfectly crisp and tender asparagus every time. Try different methods of cooking asparagus to find the one you like best, and don't be afraid to experiment with other seasonings and herbs to add some extra flavor.
Mandy Applegate is the enthusiastic creator of the vegetarian website Splash of Taste; she makes meat-free cooking fun and easy. When Mandy's not cooking and writing, you can expect to see her traveling, exploring countries and cuisines, or spending time with her chihuahua. Download her free 5 x Easy Vegetarian Meals Ebook.
This article originally appeared on Food Drink Life.