Discover the benefits of a luxurious goat milk body scrub that will leave your skin feeling rejuvenated and silky smooth. Our DIY recipe uses nutrition-packed ingredients like goat milk, honey, and essential oils, and is easy to make at home. Say goodbye to rough, dry skin and hello to a radiant, glowing complexion!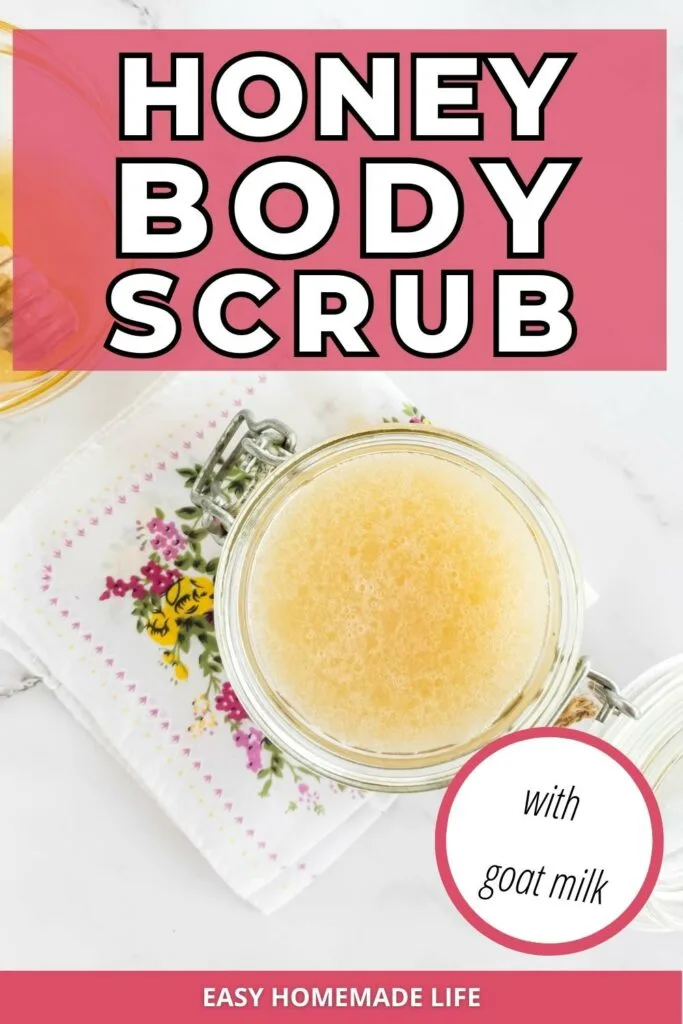 DIY Milk and Honey Body Scrub
If you're looking for a soothing treatment or a nice treat to pamper yourself with, this is the scrub to try!
When used together milk and honey create a luxurious treatment for our skin. Combining goat milk and honey with sugar into a soft scrub is no exception. Together, these natural ingredients gently exfoliate the skin and leave it silky smooth.
The sugar rubs off dead skin cells and promotes a fresh healthy glow while also moisturizing and facilitating skin repair. Use this scrub all over your body, and even on the face too. Thanks to the honey and oil, it's gentle enough even for the most sensitive skin. The ultra-moisturizing effects are very welcome on dry, cracked areas.
This milk and sugar scrub is completely natural, made from organic ingredients you can find at a local grocery store. This homemade scrub is an ideal option for anyone wanting to avoid harsh chemicals or questionable preservatives often found in store-bought products.
Making homemade beauty products is one easy step you can take to protect yourself from unwanted chemicals too frequently used in the cosmetics industry. A DIY alternative is an easy, simple, and affordable option that brings a lot of benefits to your beauty routine, so you can feel good about what you're buying and using on your skin.
I already love goat milk as a base in homemade Rose Soap and I love homemade sugar scrubs like turmeric scrub, whipped sugar scrub, and brown sugar lip scrub. So, I thought why not combine the two and try a goat milk sugar scrub?! The result did not disappoint.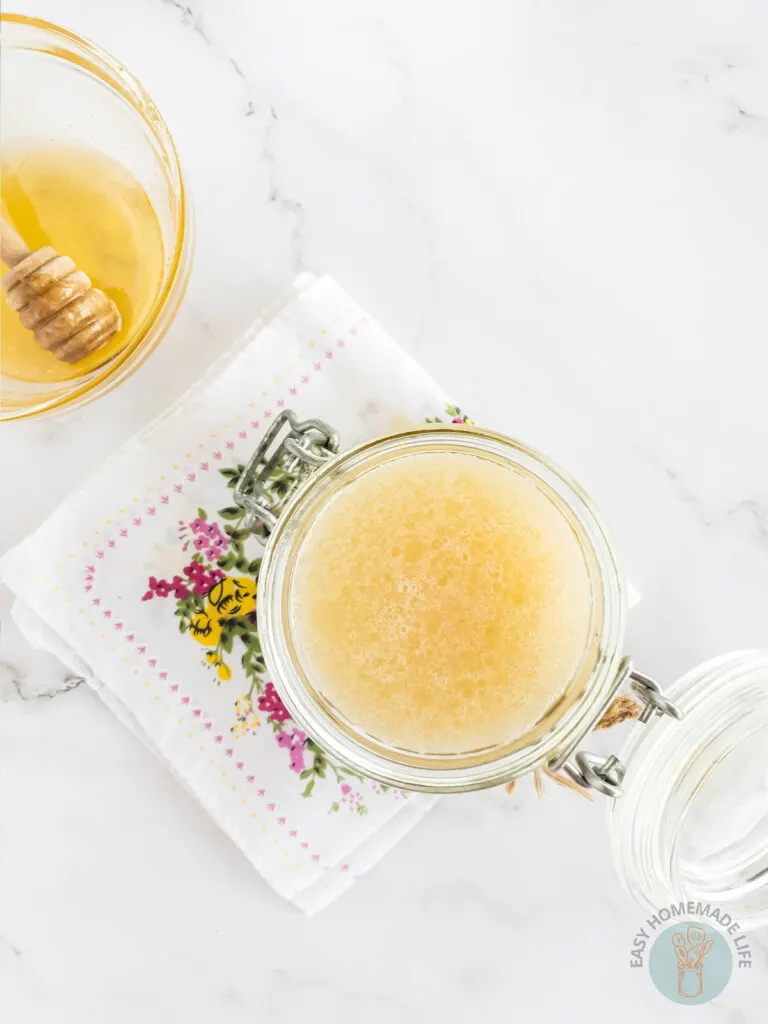 Milk and Honey Sugar Scrub Benefits
This DIY goat milk and honey sugar scrub can provide multiple benefits for the skin and leave you feeling great.
Sugar is a natural exfoliant that can help remove dead skin cells without being too abrasive. After scrubbing, your skin will be looking brighter and feel smoother. Additionally, milk contains lactic acid, which helps the exfoliation process and softens the skin, along with providing vitamins and minerals to feed the skin.
Both milk and honey are humectants, which means they can help draw moisture into the skin and keep it hydrated. This can be especially beneficial for seasonal dryness. Honey also contains antioxidants and antibacterial properties that promote skin health and fights against acne-causing bacteria.
On top of all this health-boosting goodness, a body scrub is soothing and calming. Particularly if you add aromatherapy benefits from essential oils. Paired with the natural properties of milk and honey, your irritated or sensitive skin will thank you!
Finally, it's an easy way of saving money! Professional spa treatments like body scrubs can be expensive and time-consuming to fit into your busy day. This recipe provides an affordable and convenient way to indulge in a spa-like experience at home. The simple ingredients and easy-to-follow instructions allow you to create a relaxing and pampering ritual whenever is most convenient in your life.
Milk and honey are commonly found in store-bought products, but there aren't many homemade milk and honey body scrubs online, so I'm happy to provide a good recipe.
How to Make Milk and Honey Body Scrub
This homemade goat milk body scrub is a vitamin-packed treat for your skin. Made with nourishing goat milk, sugar, and essential oils, this scrub is gentle and hydrating all at once. Our DIY milk and honey scrub will encourage increased cell turnover and give your skin a youthful glow!
It only takes five ingredients and five minutes to make, so get ready for healthier skin now!
Tools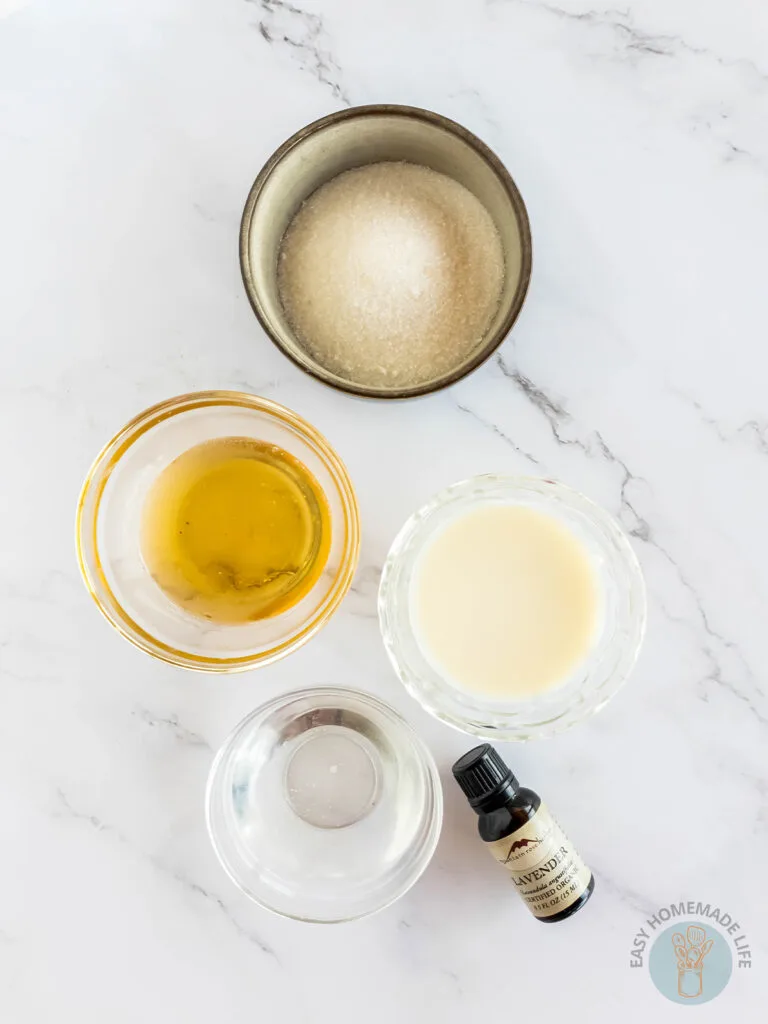 Materials
Goat milk – a soothing and nutrient-dense moisturizing liquid
Honey – acts as a natural preservative and promotes healthy skin; also the viscosity helps bind the ingredients together
White sugar – brings a needed texture to properly exfoliant and remove dead skin cells
Coconut oil – also brings moisture to the skin and is nutrient-dense
Essential oils – contain aromatherapy benefits that can uplift and calm the senses
If you need help finding tools and materials, I recommend visiting Mountain Rose Herbs. They provide excellent quality options with transparent sourcing and business practices. They remain my go-to resource for all things related DIY beauty and body care products after more than a decade.
Substitutions and Variations
Don't let allergies or sensitivities get you down! This recipe can easily be adjusted for these considerations.
Here are some possible alternatives you can substitute and still have a great scrub:
Goat milk – Use alternative liquids like cow's milk, nut milk, or coconut milk. These can still provide the same moisturizing and some nutritional benefits.
Coconut oil – Olive oil and jojoba oil are alternative carrier oils for homemade body scrubs.
Sugar – Granulated sugar is the first choice, but you can substitute it in a 1:1 ratio with brown sugar, cane sugar, or other granular sugar you have on hand.
It's important to note that different ingredients may have varying effects on the skin, so it's always a good idea to do a patch test before applying any new ingredient to the entire face or body.
When it comes to adding essential oils, you can't go wrong. Pick your favorite single oil or essential oil blend and mix it in.
Here are my top three suggestions to get you started:
Lavender essential oil – Its calming and soothing effects on the skin make it ideal for sensitive skin. Furthermore, lavender oil contains anti-inflammatory properties that can help reduce redness.
Tea tree essential oil – Do you have oily or acne-prone skin? Use tea tree oil! Its antibacterial and antifungal properties can help soothe and heal inflamed or irritated skin.
Peppermint essential oil – With a refreshing and invigorating scent, this oil will help "wake up" tired skin.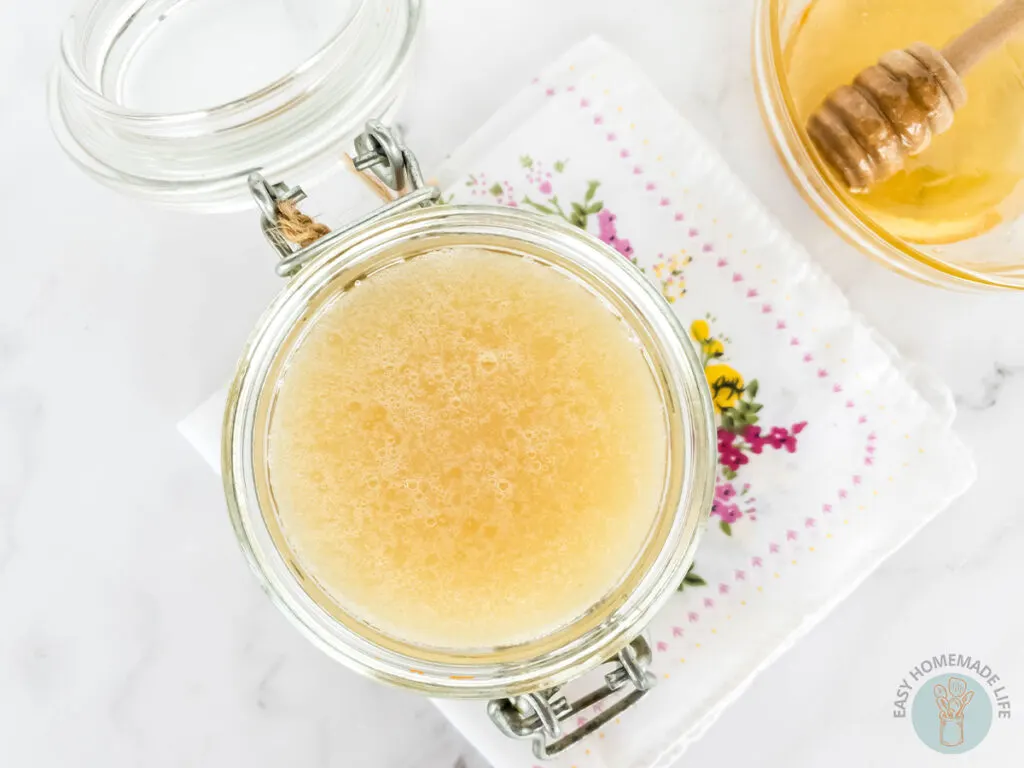 Step-By-Step Directions
Making a milk and honey scrub at home can be a fun and rewarding experience. Follow these simple directions, and you'll be scrubbing your way to softer skin in no time at all!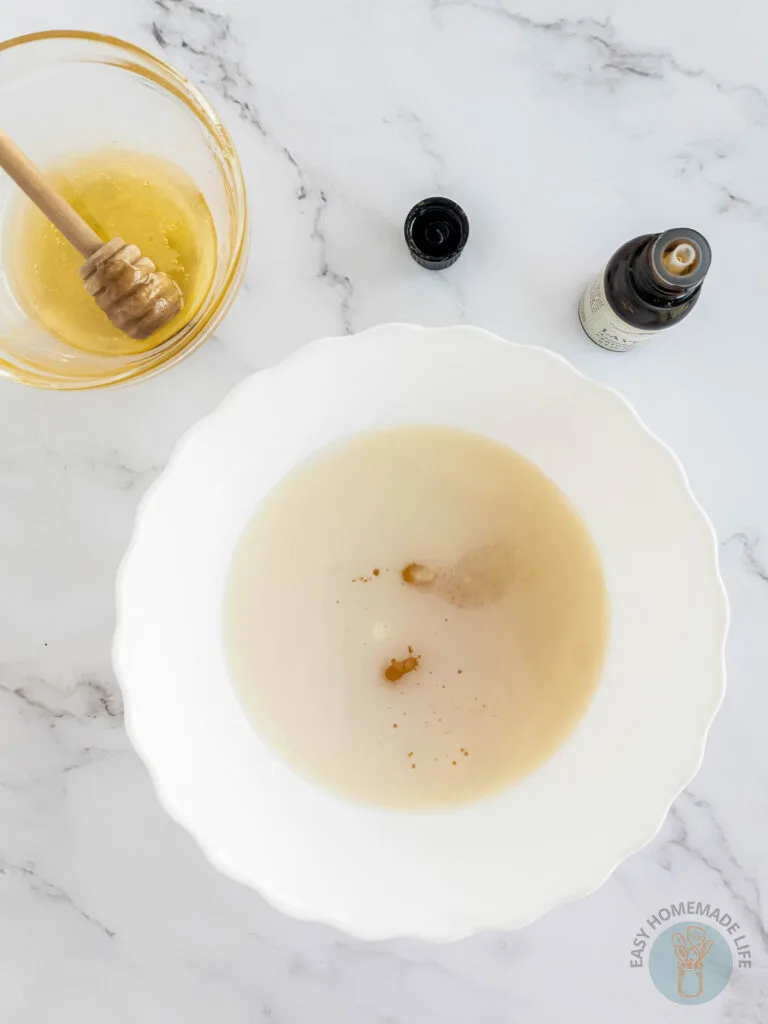 In a mixing bowl, combine the sugar, goat milk, honey, and melted coconut oil.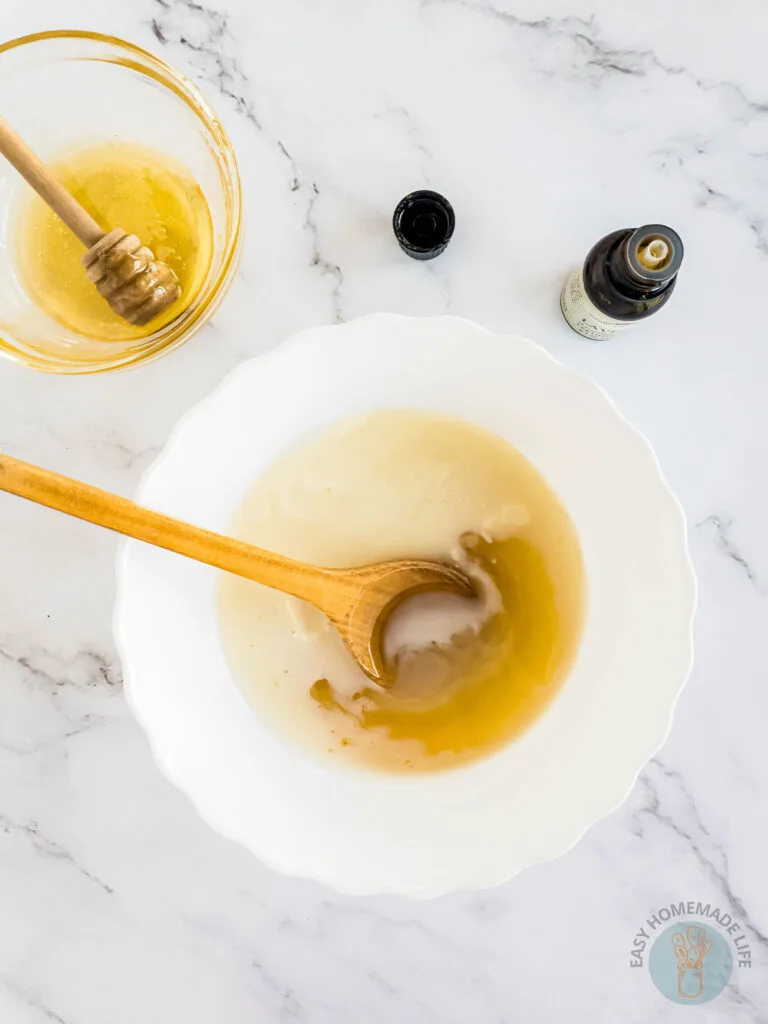 Mix well until all the ingredients are fully combined.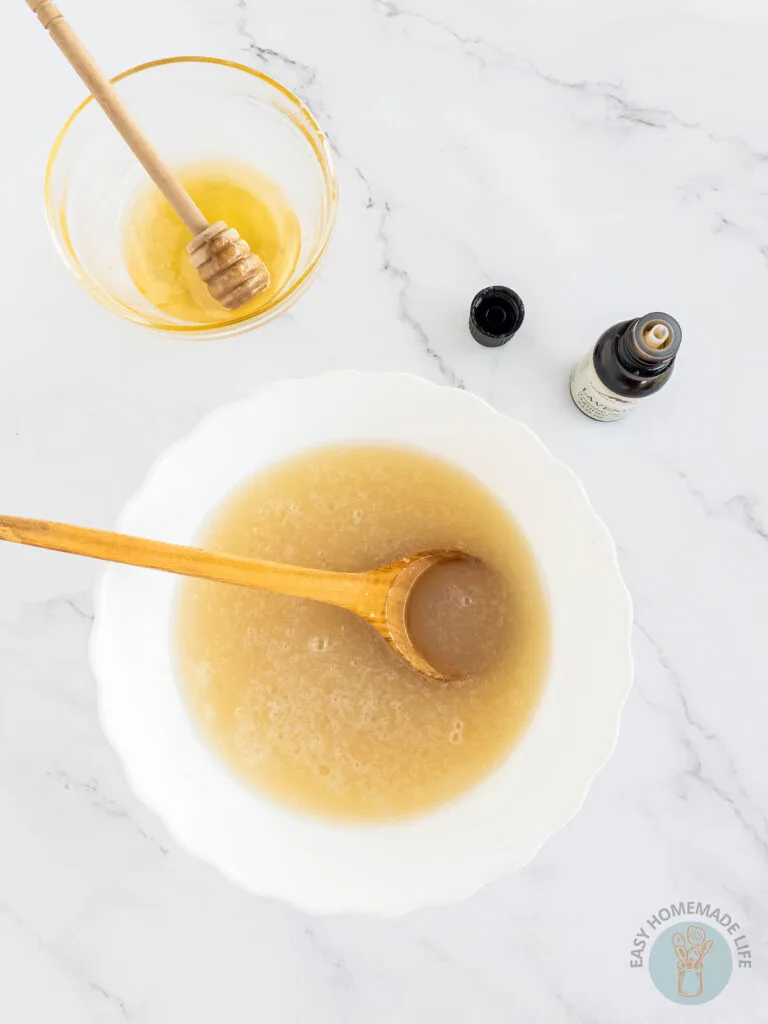 Add a few drops of your favorite essential oil (if using) and incorporate into the mixture.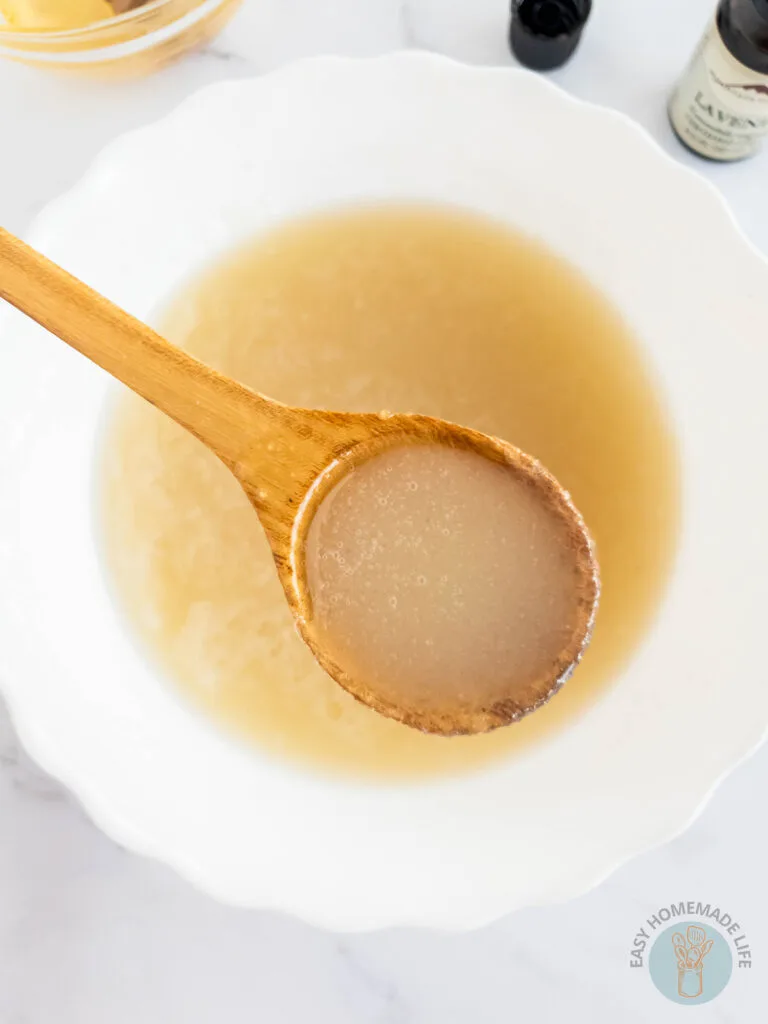 Transfer the mixture to a clean, airtight container, and keep refrigerated until ready to use. The coconut oil in the scrub will continue to set, becoming firmer as it chills.
How to Store Goat Milk and Honey Body Scrub
Using any type of milk, including goat milk, in a sugar scrub recipe will make it more perishable. Milk contains water, which can promote bacterial growth and spoilage if not stored properly. Honey and coconut oil are natural preservatives that help extend the longevity of this scrub.
This homemade honey scrub recipe will typically last for about two to three weeks when stored in the fridge. However, if the scrub is exposed to air or moisture regularly, or if it is stored in a warm, humid environment, it will spoil more quickly.
To get the longest shelf life of a DIY milk and honey exfoliant, follow these steps:
Store it in an airtight container in a cool, dry place. Best in the refrigerator.
Use an additional preservative if you plan to keep the scrub for longer than a few weeks. Adding a few drops of vitamin E oil or grapefruit seed extract to the recipe can help extend the shelf life of the scrub, but isn't necessary if you make a small batch to use over the course of a week or two.
Regularly check the product for any signs of spoilage or bacterial growth. If you notice any changes in texture, color, or smell, it's best to discard it and make a fresh batch. Since this honey and milk sugar scrub takes only five minutes, it won't be any trouble!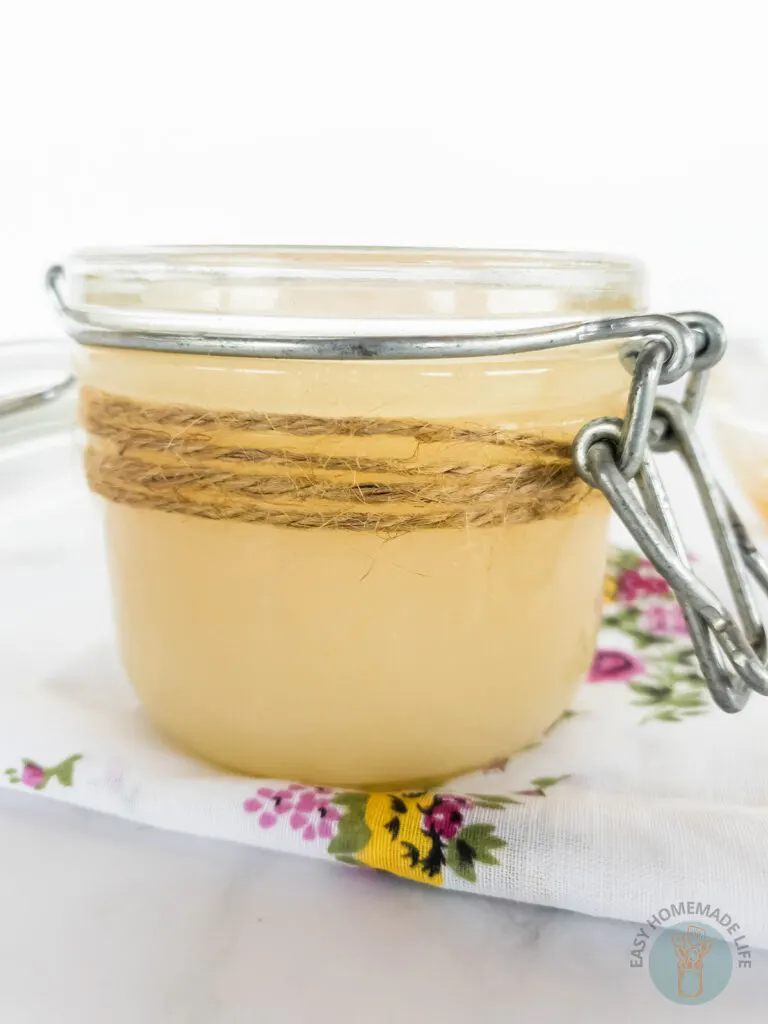 How to Use Goat Milk and Honey Body Scrub
Never used a body scrub before? Follow these easy steps to treat yourself, and your skin, to a truly luxurious experience.
Wet your skin – Before applying the scrub, wet your skin with warm water. This will help to open up your pores and prepare your skin for exfoliation. A bath or shower is a great time to indulge!
Apply the scrub – Take a small amount of the body scrub and gently massage it onto your skin in circular motions. Start from your feet and work your way up your body. Avoid scrubbing too hard, especially on sensitive areas like the face and chest.
Rinse off – After scrubbing, rinse off thoroughly with warm water. Make sure to remove all the scrub from your skin, so that it doesn't leave any residue or cause irritation.
Moisturize – After using the scrub, your skin may feel a bit sensitive, so it's important to moisturize your skin with body lotion or oil to lock in moisture.
Frequency – How often you use a body scrub depends on your skin type and sensitivity. Generally, it's recommended to use a scrub once or twice a week, but if you have sensitive skin, you may want to limit your use to once a week.
Each time you scrub, you remove dead skin cells and unclog pores, which can help to improve the appearance and texture of your skin. Additionally, the massaging motion stimulates circulation and promotes lymphatic drainage. This honey exfoliating scrub ticks all the boxes for firmer, healthier skin.