Unscented beard balm is an easy DIY recipe you can make for taming and moisturizing unruly beards. It's quick and easy with only 3 ingredients: beeswax, coconut oil, and shea butter.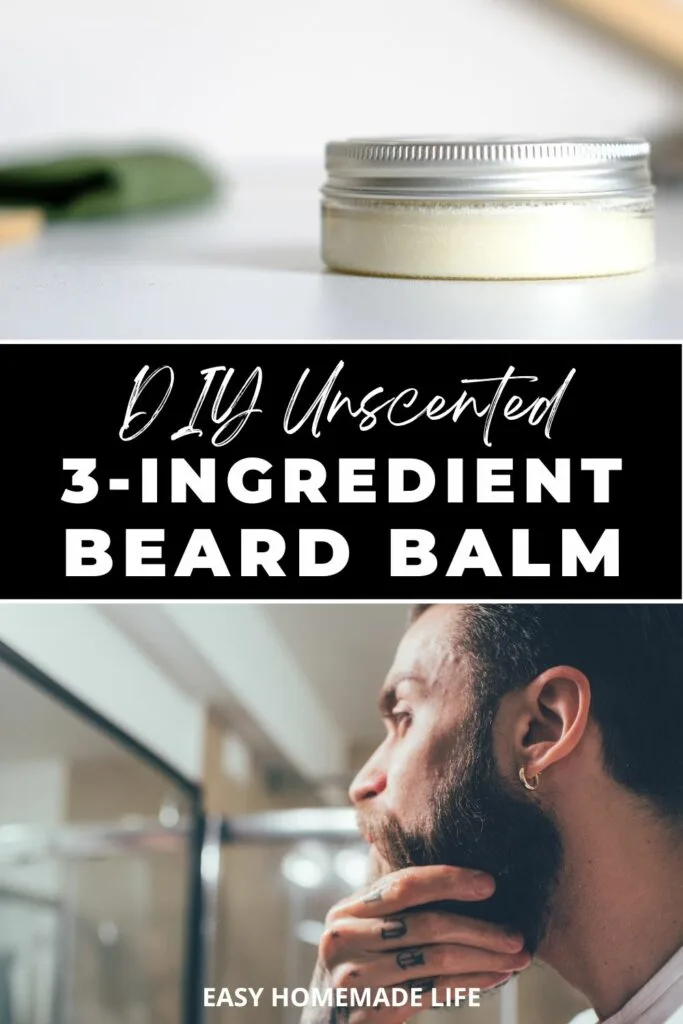 What is Beard Balm Used For?
Beard balm is often found in trendy beard grooming kits and sold online as an essential tool for beard care.
Exactly what does beard balm do? In essence, it's a hair product made for smoothing and straightening beard hair. Cosmetic oils and other ingredients mix into a semi-solid waxy product formulated to condition hair and skin. Furthermore, balm also gives some hold by helping shape the beard and keeping it in place.
Using beard balm is an excellent remedy for wild or bristly beards.
If you need a gift idea for men, I suggest this recipe for beard balm! It's all-natural, easy to DIY quickly, and makes a thoughtful (yet practical) gift for any husband, boyfriend, dad, brother, or friend in your life!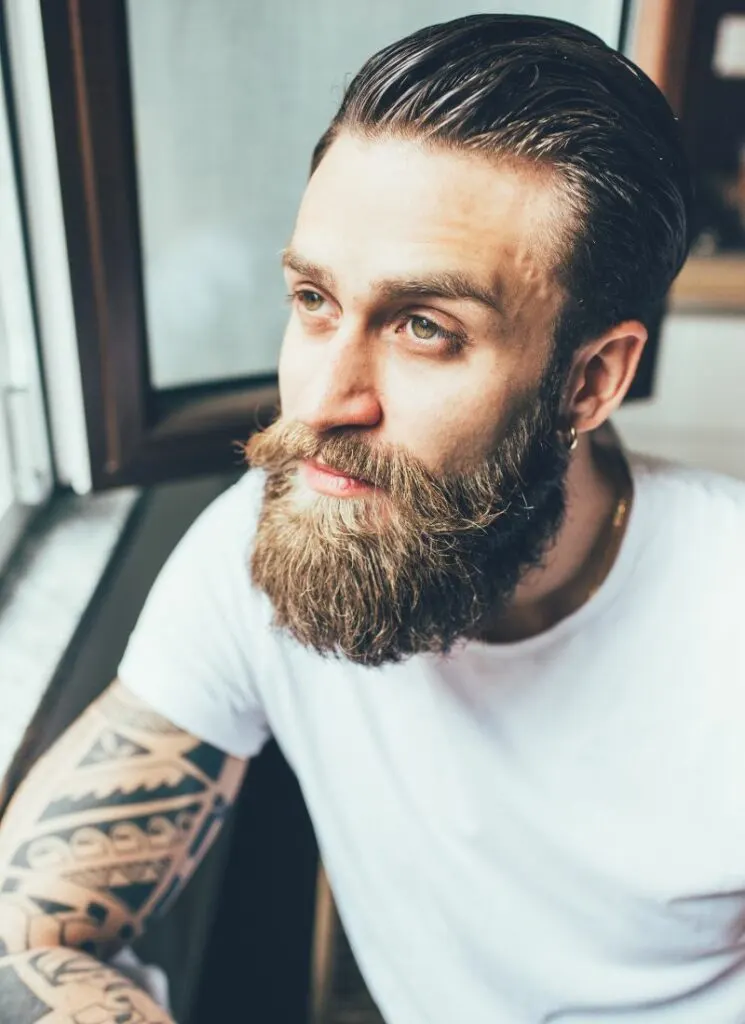 How to Make Beard Balm Recipe
Gather three ingredients and make homemade beard balm in 15 minutes or less!
Ingredients
This recipe is very similar to "Honest Amish Pure Unscented Beard Balm," which is a good alternative if you want to buy beard balm instead of DIY. I took inspiration from the Amish beard balm and simplified it to just the essential ingredients: wax, oil, and butter.
1 part wax – beeswax (bar or pellets) or candelilla wax
1 part oil – coconut oil, sweet almond oil, olive oil, avocado oil, apricot kernel oil, jojoba oil, argan oil (or a combination thereof)
1 ½ parts butter – shea butter, kokum butter, cocoa butter
That's the basic foundation of a natural beard balm. It's simple and unscented without essential oils.
I favor:
Beeswax – it's firm, organic, and smells like honey! Plus, it keeps hair in place and might encourage hair growth. (1, 2)
Coconut oil – great for eating and using externally; coconut oil will smooth and soften hair. (1, 2)
Shea butter – helps hold the beard and gives a beautiful shine. (1)
Overall, the balm will smell like shea butter, which has a subtly nutty scent, and honey. But it's mellow, and depending on how sensitive your nose is, you might not notice at all.
Equipment
Simple kitchen tools do well for this project.
Measuring spoons
Grater, optional, only if using solid beeswax but not for pellets
2 cup glass measuring cup
Small saucepan
4 oz cosmetic tin or mason jar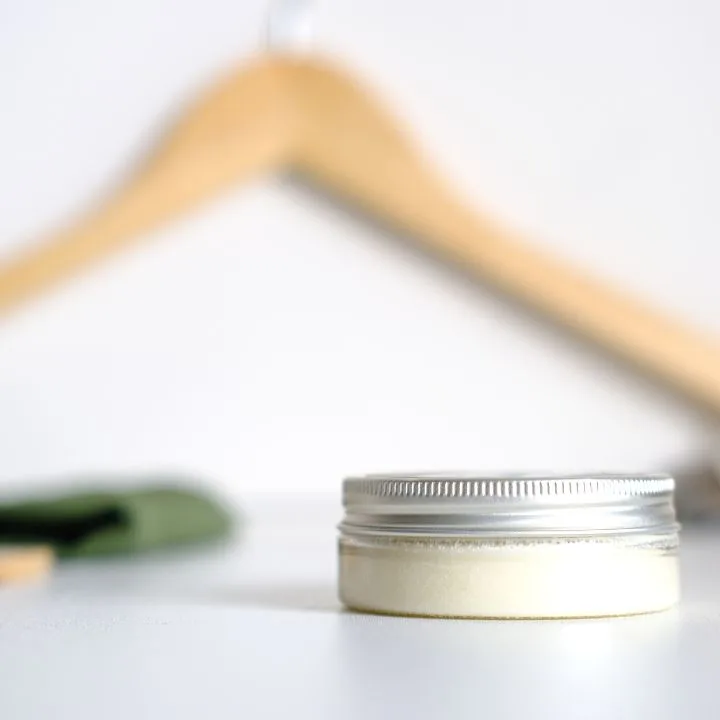 Step-By-Step Directions
Prepare ingredients. Measure the three ingredients carefully and add them to the glass measuring cup (or small bowl that rests over the saucepan). You'll need a grater for grating the beeswax, unless you use beeswax pellets that already come in small pieces.
Melt in a double boiler. Fill a small saucepan with a few inches of water and place over medium-low heat. Place the measuring cup directly in the water or insert a mixing bowl over the water and melt the ingredients. Keep over heat until all solids are fully liquid.
Stir well. Mix this shea butter bead balm well with a fork, spoon, or whisk.
Transfer to a storage container. Then, pour the liquid into a cosmetic tin or mason jar for storage. Be careful and use hot pads because the cup can be hot! Leave the balm to sit and cool for at least two hours. Finally, cover tightly with a lid and store for use.
All in all, the process takes about 15 minutes from start to finish.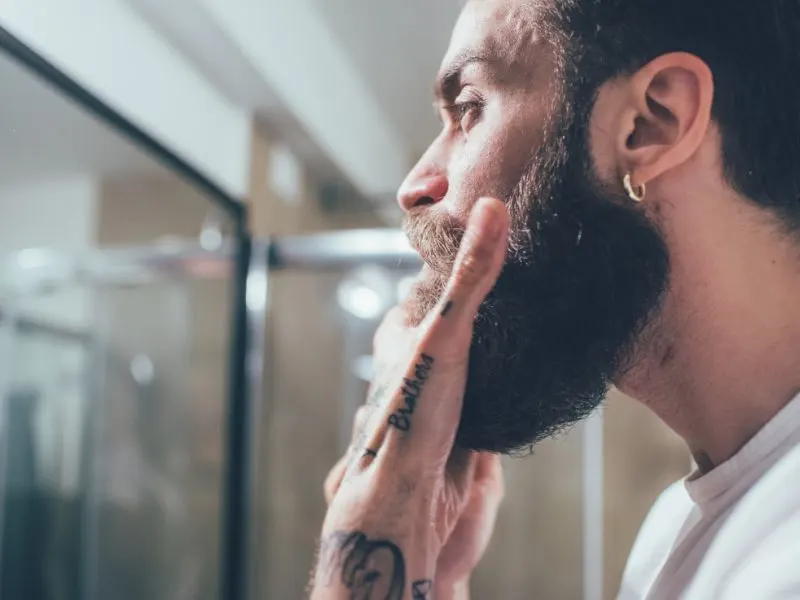 How to Apply Beard Balm
Now that you know how to make DIY beard balm recipe, the next question is: how to use beard balm?
Start by scooping a small portion from the jar.
Rub it between your palms until it's soft and melted.
Next, massage into the face where the hair and skin meet.
Then, pull your fingers downward and comb stray hairs together. Shape and style as you please.
Finish with attention to the bottom of the beard and rub oil into the ends.
Since your beard or facial skin will absorb all the oils, there's no need to wash off after applying. In fact, leaving it on will give more benefits. Rub extra balm from your hands into arms or other areas of your skin. It's a great moisturizer, after all!
When to Use Beard Balm
Add a step to your personal care routine and apply balm to your beard after drying it off from a shower.
Use either in the morning or at night. If you apply at night, you can use a double dose and let it work as a deep conditioner.
How Much Beard Balm to Use
The amount of beard balm you use depends on how long and thick your beard is. Lengthy beards need more than shorter ones.
For example, a pea-sized portion will suffice if your beard is short, however, you may need more if it's long. If you're unsure, begin with a dime-sized amount and go from there.
If you ever accidentally use too much, wiping the extra off with a towel is easy enough.
More DIY Personal Care Recipes