Simple DIY hairspray recipes are exactly what you need while looking for a substitute for hairspray. Ditch the store-bought chemical concoction and make a healthy hair spray at home instead! Not only will you minimize exposure to potentially hazardous ingredients, but you'll save money too.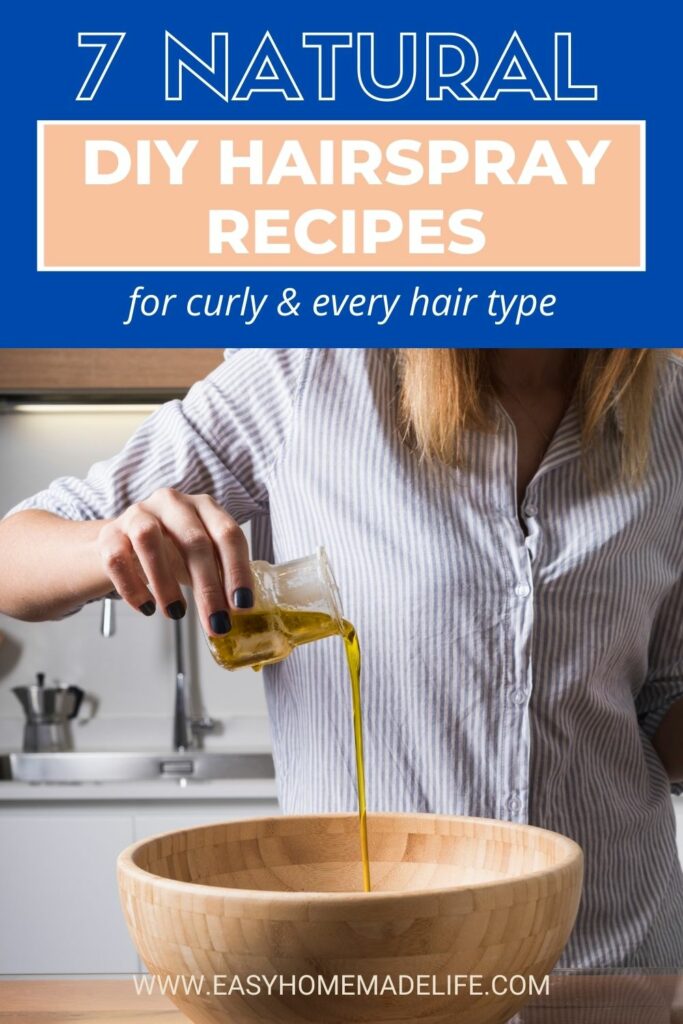 Is Hairspray Bad for your Hair?
This is an important question! Does hairspray damage hair? Yikes, if it does!
According to Leaf.tv, hairspray first came into fashion after World War II after adopting technology from the Department of Agriculture's use of insecticide spray. Fast forward a few decades and it is now completely normalized for men and women to spray their heads regularly.
Hairspray works by coating each strand of hair with a water-soluble polymer, polyvinylpyrrolidone (PVP), and other ingredients which absorb oil from the hair and form a seal. The hard coating holds hair in place for many hours.
While the upside is perfectly placed hair all day long, there may be a hidden cost to long-term beauty. There is an important conversation if hairspray is good or bad for your hair. Some say no, others say yes, and still, others fall in-between with an "it depends" answer. Bottom line: be aware of what's in your beauty products and opt for safe choices whenever possible.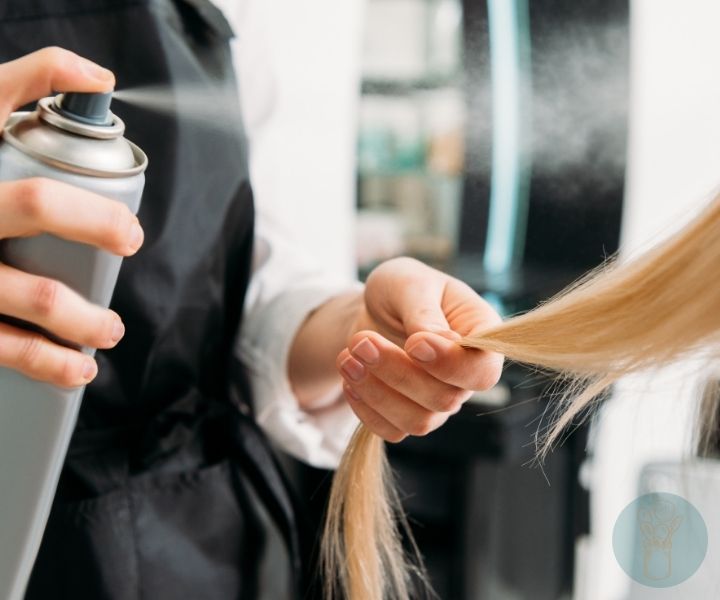 Why Use a Substitute for Hairspray
Over time hairspray leaves hard to remove buildup on hair and surrounding surfaces (read this step-by-step guide on getting it out)
Spray can weigh down naturally bouncy curls and leave them feeling crunchy
Even though this beauty product remains a big seller, there are many hairspray alternatives you can try when you want to hold back hair and calm wispy ends.
Various commercial hair products like texturizing spray, mousse, hair gel, hair paste, pomade, and hair wax work comparably to hairspray. However, read the ingredient list carefully; otherwise, you can end up in the same situation as with hairspray and be covering yourself with unnecessary chemicals.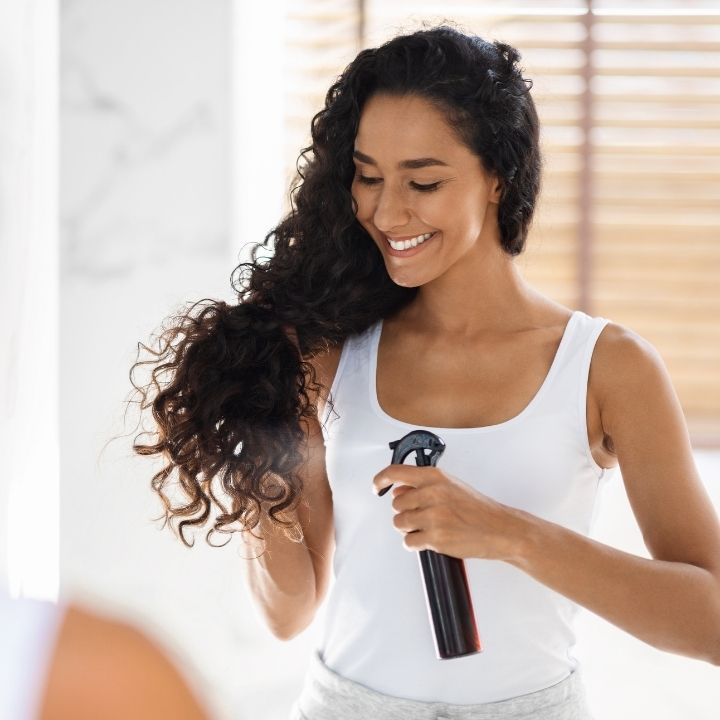 Best DIY Hairspray Recipes
Ready for a new hairspray alternative? While the delivery of these natural beauty recipes varies, the function is all the same. We're sharing ideas on how to keep hair in place with organic ingredients. They are all so easy, there's no reason not to try!
Sugar Spray
One of the most popular homemade hair care products, sugar spray is as quick as it is easy.
Ingredients
1 ½ cups water
2 tbsp sugar
1 tbsp vodka
5 drops essential oil, optional
Directions
Bring water to a simmer in a small saucepot over medium heat on the stovetop.
Whisk in the sugar, until completely dissolved.
Remove from heat and cool to room temperature.
Add vodka and optional essential oils, then stir well.
Store in a recycled pump spray bottle and use as often as you like. This blend typically lasts for up to two months, so label and date the bottle.
If you notice the spray bottle clogging, that means the sugar didn't dissolve enough. Place the pump under hot water to rinse clean and clear the blockage.
For an extra-strong hold, increase the amount of sugar until you get just what you're looking for.
Citrus Spray
Whip this up in a flash! Choose lemon for blonde hair and pair orange for darker hair.
Ingredients
Directions
Slice citrus fruit into thin slices.
Add citrus to the water in a small saucepot and bring to a simmer over medium heat on the stovetop.
Maintain a simmer until the volume reduces to ½ cup.
Strain and discard the pulp and rinds. Reserve liquid aside and let cool.
Mix in vodka and essential oil before transferring to an upcycled pump spray bottle.
Shake well before using. Store at room temperature, out of direct sunlight.
Aloe Vera Spray
Ingredients
Directions
Bring water to a simmer in a small saucepot over medium heat on the stovetop.
Add sugar and whisk until it dissolves.
Let cool to room temperature, then add the remaining ingredients.
Transfer to a pump spray bottle for storage. Shake well before using.
Shea Butter Mousse
Apply a nourishing oil-based mousse to hold and moisturize your hair. Hydrating hair with natural ingredients may help tame flyaways just by adding more nutrients to the ends and roots.
Ingredients
Directions
Mix the coconut oil and shea butter together in a mixing bowl using a hand mixer. Continue until the combination is light and fluffy.
Add the essential oil and whip for a few seconds longer, enough to mix well.
Apply to hair immediately or transfer to a storage container with a tight-fitting lid.
Store this mousse in the refrigerator. Rub a portion in the palms of your hands to warm it up slightly before reapplying to hair.
Gelatin Mousse
Gelatin is for more than eating, you can add it to your beauty routine too! What a suitable alternative to hairspray when you want a non-toxic solution to hold your hair back.
Ingredients
Directions
Bring water to a simmer over medium heat in a small saucepan on the stovetop.
Whisk in gelatin.
After gelatin dissolves, add optional essential oils. Whisk to combine.
Allow to cool completely before applying to hair.
Once the gel sets, apply to damp or styled hair.
If you need a stronger hold, add up to ½ tsp gelatin. Be sure to whisk well and fully dissolve the powder.
Sore in an airtight container in the refrigerator.
Aloe Gel
Aloe makes one of the best natural hair gels and also serves as a detangler. By combining the power of aloe with extra oil, we get a super hydrating mix.
Ingredients
Directions
With homemade aloe vera gel from scratch: Cut open the aloe vera leaf by laying it flat on the counter and running a knife from the wide bottom over to the narrow tip. Use a spoon and scoop or scrape the clean pulp off from each side. Place this gel in a bowl and blend with an electric mixer until smooth.
With store-bought pure aloe gel: Measure up ¼ to ½ cup gel and place in a bowl.
Add olive oil and drops of essential oils.
Blend until smooth.
Now style your hair! Store leftover in an airtight container in the refrigerator.
Apply a small amount of this gel to clean hair by spreading it evenly in your hands and then running your fingers through your locks.
Gently tousle hair and style loosely as desired. Distributing aloe gel evenly through hair will prevent frizz.
Flax Seed Gel
Ingredients
Directions
Bring water to a simmer over medium heat in a small saucepan on the stovetop.
Pour into a glass bowl, mixing cup, or jar and mix in flax seeds.
Set aside on the counter and leave to soak for 24 hours.
Strain the gel through a fine mesh strainer and discard the seeds.
Store flax gel in an airtight container in the fridge.
This gel doesn't spoil quickly and is great for taming unruly hair. It performs best if applied to hair before using a curling iron or straightener. You'll love the results!
Beeswax Pomade
Slick your hair back with an all-natural pomade! Less heavy than store-bought options, yet still a good hairspray alternative this is strong enough to last all day or use sparingly for touch-ups as needed.
Ingredients
Directions
Melt the beeswax and oil in a double boiler over low heat.
Mix in the clay and essential oil of choice.
Transfer to a small glass jar or cosmetic container and store at room temperature.
A little goes a long way, so you only need a small amount. Warm it up a little by rubbing a portion between your fingertips before applying to your hair.
Do you need something specific for holding beard hair in place? This Beard Balm recipe is the way to go!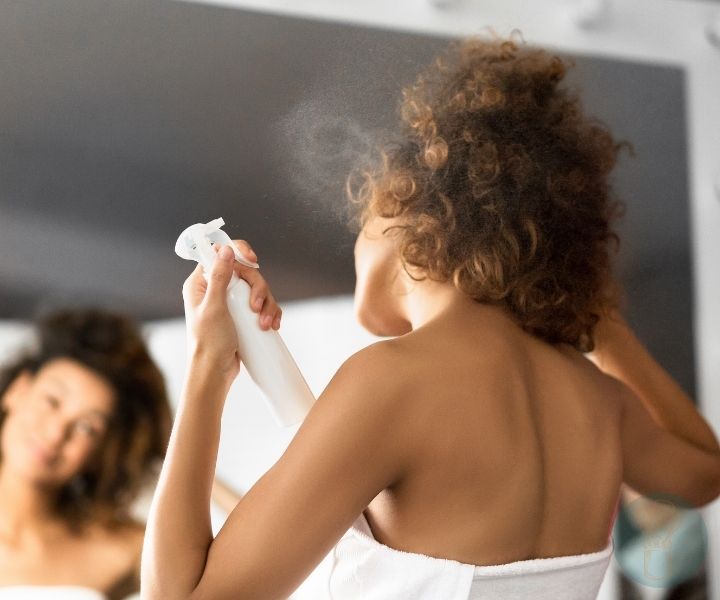 Natural Hair Spray FAQ
I understand you might have some questions, particularly if DIY hair spray is new to you or if you've never worked with homemade beauty ingredients before. So let me answer some common queries and clarify the process for you.
I don't have hairspray, what can I use instead?
Dry shampoo and DIY alternatives to hairspray like shea butter mousse, aloe vera gel and more work just as well at keeping hair in place by removing excess oil. The list above gives multiple substitution ideas with natural ingredients.
What are the best tips on how to keep hair in place?
In addition to the DIY hairspray recipes above, you can also employ a few key hair styling tools to help keep hair in place. Bobbie pins do wonders at holding back loose strands, plus they usually camouflage well so no one will know they are there. Other accessories like barrettes, headbands, wraps, and clips will also contain rebellious strands.
How long does hairspray last?
Unlike other products, hairspray typically remains stable for a very, very long time. Assuming it's kept in an area with a consistent temperature (not too hot nor too cold), commercial hairspray does not degrade quickly. A general rule of thumb is to use the product within 18 months. Interestingly, homemade hairspray recipes also last a very long time since they are preserved with vodka or in oil. Read each recipe carefully for the specific storage directions.
More DIY Beauty Recipes