Chewy matcha brownies with white chocolate frosting are a special treat with a unique matcha flavor and intriguing green color. They are moist with a perfect balance between sweet and earthy.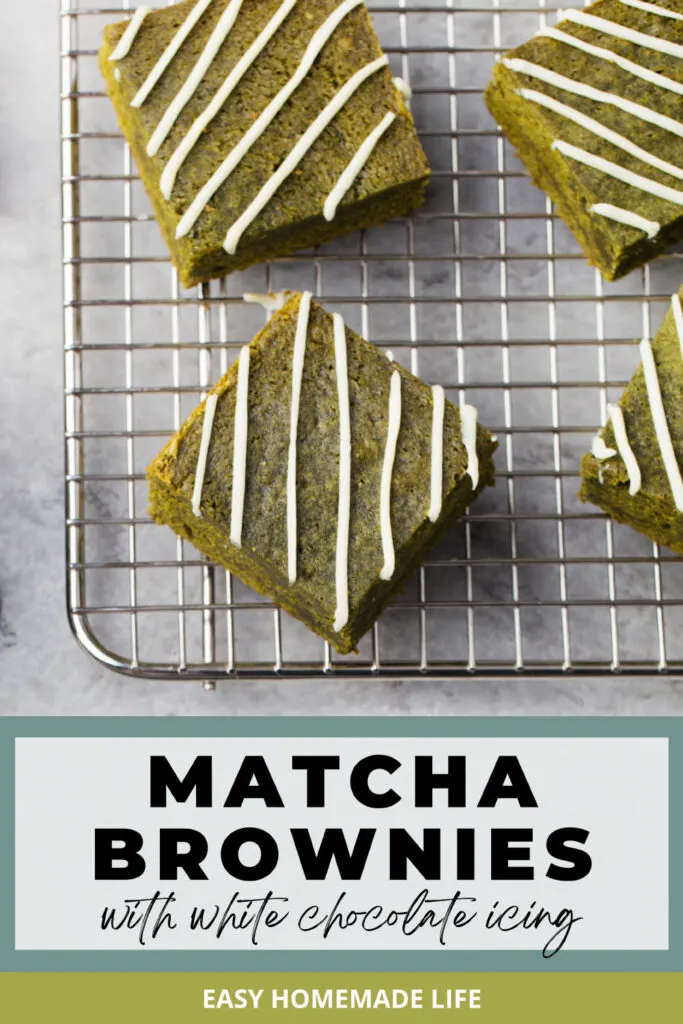 What are Matcha Brownies?
Think of your favorite chocolate brownie. Then swap out the cocoa powder in favor of matcha powder. That's all that's different between a typical brownie and a matcha brownie. It's the same chewy brownie texture but with matcha flavor.
If you are following the craze in Asian fusion cuisine, you've definitely come across matcha before. You can put green tea powder in so many different recipes and get tasty, show-stopping results. There's nothing else that gives food such a beautiful, natural green color!
Suppose you're wondering how to make green brownies, have matcha powder left over after baking matcha sugar cookies recipe, or love trying unique twists on family favorite recipes. In that case, these brownies are for you!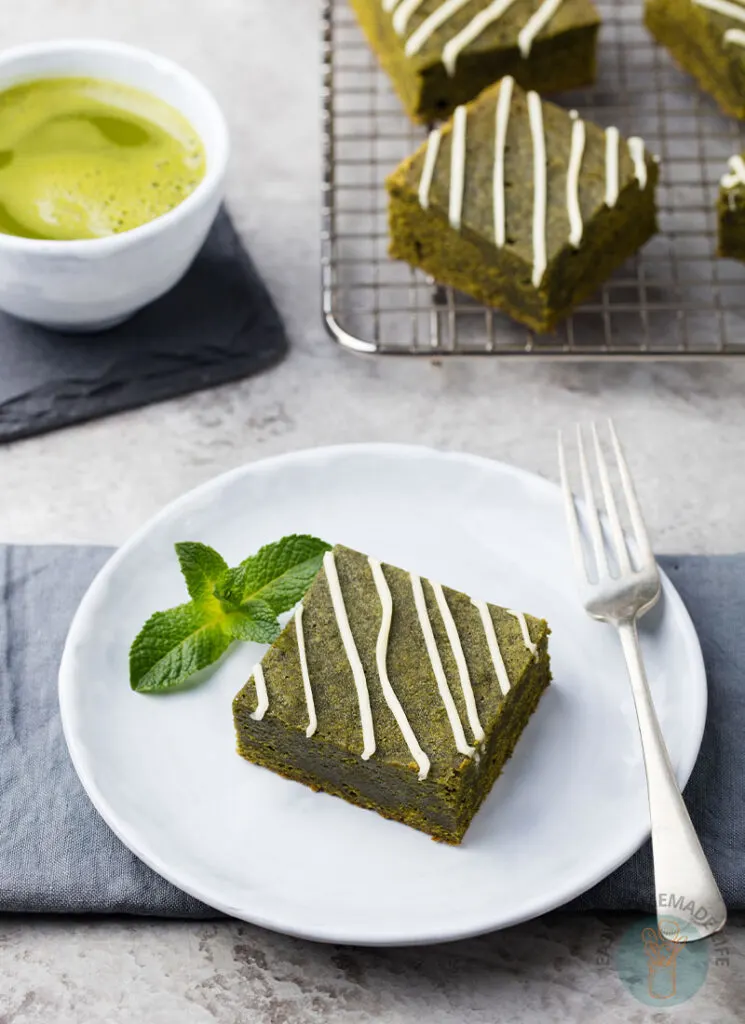 How to Make Matcha Brownies
Gather your ingredients, and you'll be baking matcha green tea brownies in a few minutes. Prepping the brownies and frosting together takes 20 minutes. The brownies by themselves only take 10 minutes before you can bake them in the oven.
Materials
Nothing fancy here, just regular baking equipment you probably already have in your kitchen.
If you want to pipe the frosting, you'll need a piping bag and tip. Want a DIY alternative? I make a paper piping bag with parchment paper instead.
For brownies:
Large and small mixing bowls
For frosting:
Ingredients
For the brownies:
Flour – Gently scoop all-purpose flour out from a bag or flour jar. Don't pack the flour in your measuring cup. Instead, keep it loose and fluffy. First, measure a round amount, then take a knife and scrape it level. Here's a video demonstration of this technique.
Sugar – regular granulated white sugar
Matcha green tea powder – there are different grades of green tea powder. I recommend this matcha powder.
Butter – Choose salted or unsalted butter and melt it before mixing in the batter.
Eggs – Large eggs give the best results.
Vanilla extract – because everything is better with vanilla!
For the frosting:
White chocolate – Pick your favorite white chocolate bar or use white chocolate chips.
Butter – Again, either salted or unsalted butter is fine.
Powdered sugar – Push powdered sugar through a sifter and Powdered sugar is notorious for getting lumpy in the pantry. Make it perfectly smooth by pushing through a sifter before mixing with the rest of the ingredients.
Vanilla extract – just ½ tsp for a delicious flavor
Milk – Add one tablespoon at a time and thin the frosting as needed.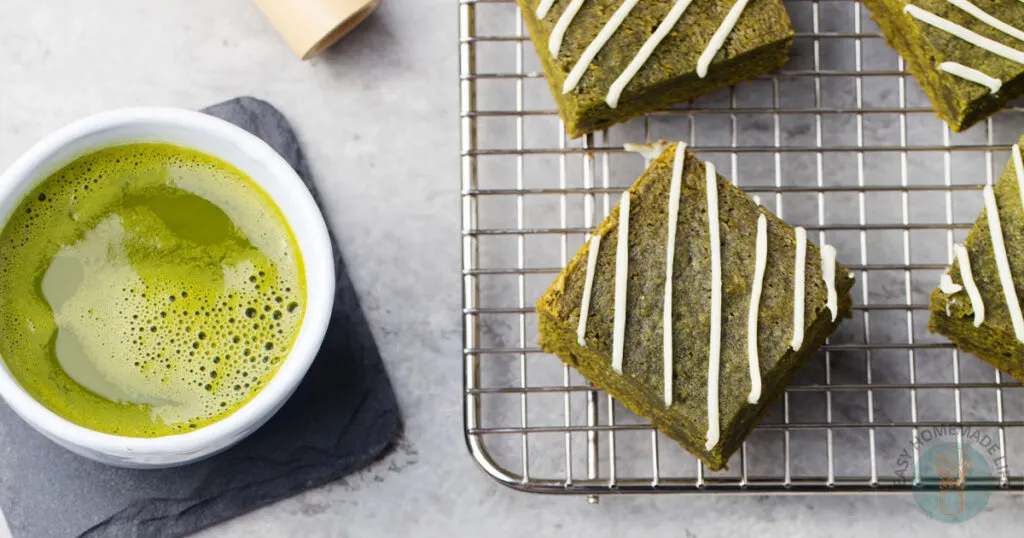 Step-By-Step Directions
Preheat and prep.
Preheat the oven to 350°F (177°C). Then, line an 8×8-inch baking dish with parchment paper. You can cut the paper extra wide so it hangs over the sides of your dish as handles. This makes it very easy to remove after baking.
Mix dry ingredients
Combine the flour, sugar, and matcha powder in a large bowl.
Mix wet ingredients
Beat melted butter, eggs, and vanilla with an electric mixer in a second bowl. Stir in the dry ingredients.
Combine into batter
Pour the batter into the baking dish. Use the back of a spoon or spatula to spread the batter evenly.
Bake until done
Bake for 35-40 minutes, until you can prick the center with a toothpick and it comes out clean. Remove from the oven, place on a cooling rack, and leave brownies to cool completely in the pan.
Prepare frosting
First, melt the white chocolate in a double boiler, then set it aside to cool slightly. Next, beat the butter with an electric hand mixer until fluffy. Then, sift in the powder sugar and beat again. Finally, add the melted white chocolate, vanilla, and milk. Mix well to combine. Set aside until brownies are cool enough to cut.
If the frosting needs adjusting, thin the frosting with another tablespoon of milk or add more powdered sugar to thicken it.
Decorate and serve
Once the brownies are cool, lift the parchment paper and brownies out of the pan. Pipe frosting over the brownies as shown in my photographs or spread in a thin uniform layer with a frosting knife (technically called an offset spatula or icing spatula) or rubber spatula.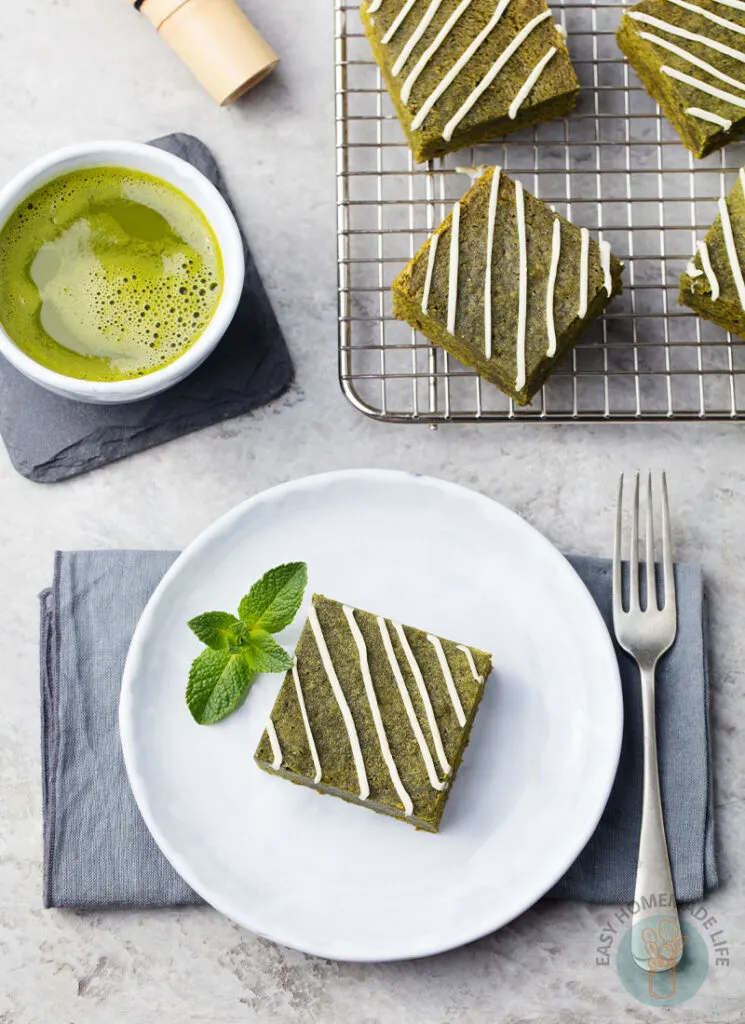 Nutritional Value in Matcha Brownies
This recipe yields 9 brownies. Each brownie contains:
545 calories
5 protein
32 fat
61 total carbs
1 fiber
60 net carbs
Please note that the nutritional value will change if you substitute ingredients. Use a nutrition app like My Fitness Pal to recalculate and reflect your changes.
More Easy Homemade Desserts