Are you longing for alluring sun-kissed skin this summer but feel lost in the sea of options? Fear not and keep reading for insider tips to understand tanning oils, choose the perfect product, master the application and ensure safe sun protection, all while enjoying long-lasting bronzed skin.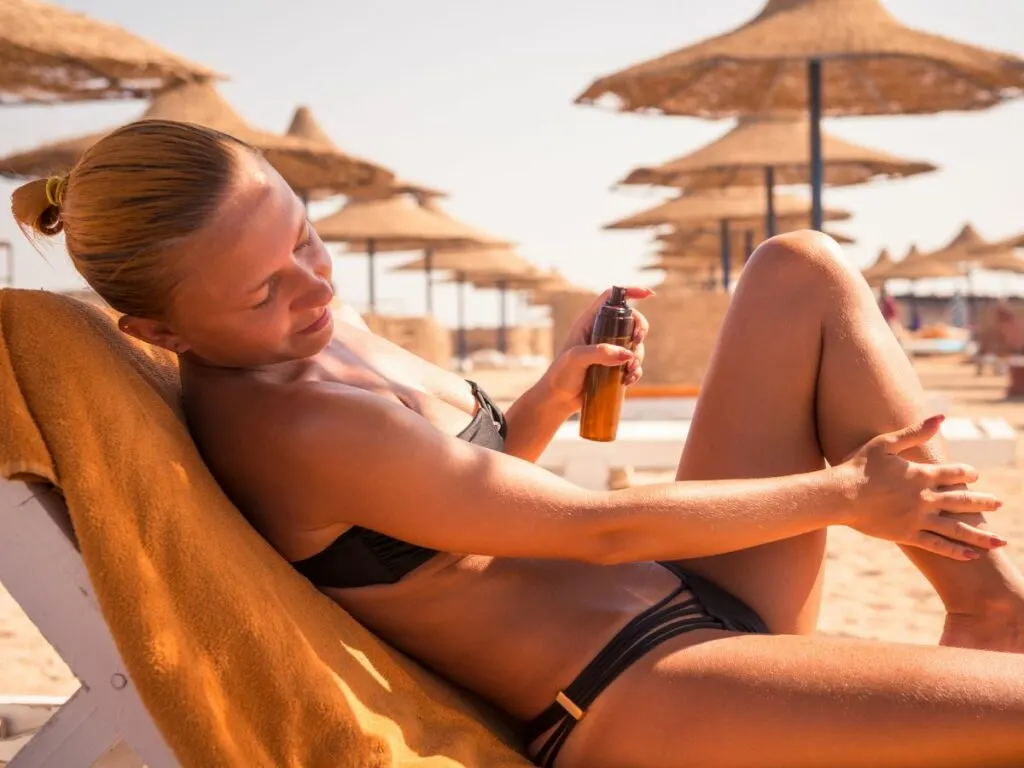 What Does Tanning Oil Do?
Tanning oils are a beauty secret with specific formulations to help skin tan quickly and more deeply than it would otherwise.
Unlike tanning lotions, which offer more general protection, tanning oil usually combines an oil base with moisturizers and emollients that accelerate the tanning process by helping the skin absorb UV rays better and generate melanin faster.
You can benefit from tanning oil in a number of ways because it helps with:
Quick tanning
Moisturization
Epidermal nourishment
Of note, tanning oils are best for outdoor tanning unless they specifically indicate being safe for an indoor tanning bed. Salon and personal tanning beds are made of acrylic and are very sensitive to lotions and oils.
You shouldn't apply tanning oil before using a tanning bed. Acrylic can negatively react with the chemicals in oils and degrade over time, which is one reason why tanning bed owners carefully choose tanning bed cleaners.
How to Select the Best Tanning Oil for Your Skin
Consider your unique needs before finding the best tanning oil that matches your skin.
There are traditional oils, hybrid combinations with sunscreen and tanning oil, dry tanning oil, bronzing oils, natural formulas for sensitive skin and spray oils. But which is right for you?
First, determine your skin type: dry, oily, sensitive or normal. Second, decide if you want SPF protection and, if so, how much. Third, review the ingredients. Avoid anything that might irritate your skin or cause allergic reactions. Finally, determine a realistic budget range for your purchase and stick to it.
"Got fair skin? Start with a low SPF and work up to protect your skin. Darker skin tones? Choose a higher SPF to keep that flawless complexion looking great. And if you're prone to clogged pores or skin bumps, choose a non-comedogenic or oil-free option.

Remember, different oils come in different intensities, so choose the one that best suits your goal. Some work gradually, while others give you an instant wow effect!"

— Harman Awal, Your Girl Knows
Don't be shy about asking for help from someone in your life, like a friend or tanning salon owner with experience with various tanning products, so that you can make an educated choice based on your specific needs.
A bottle of tanning oil is small and compact. Once you find your perfect match, you'll want to bring it on vacation, to the pool or keep it in your beach bag for frequent use.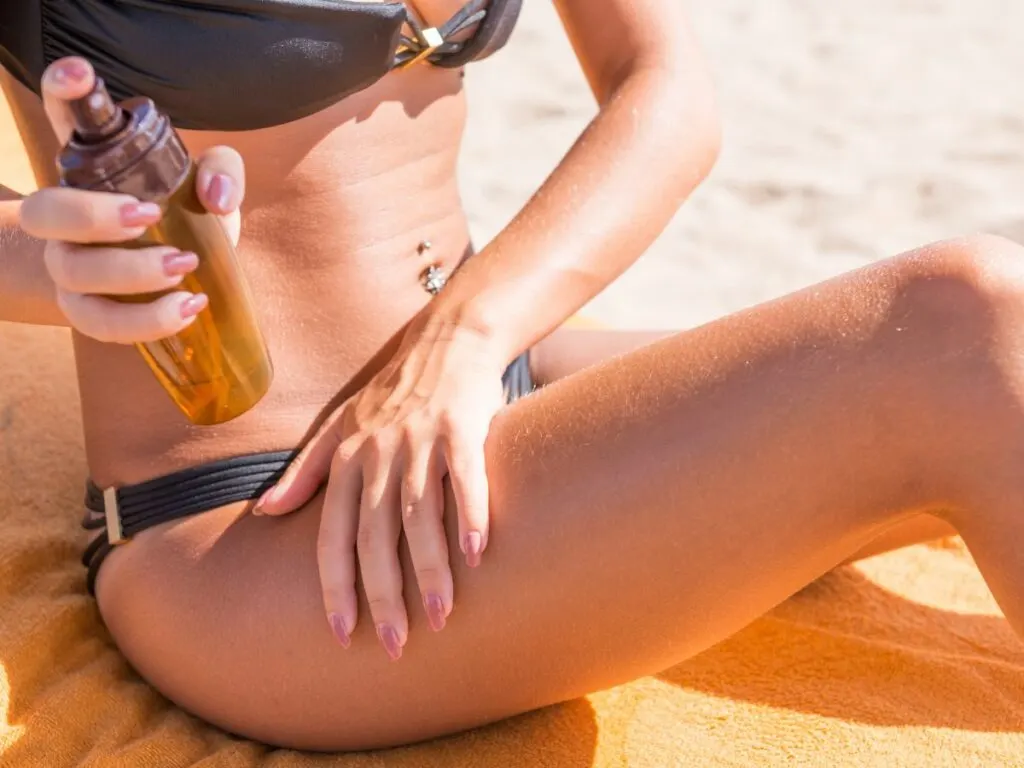 Foolproof Techniques for an Even Tan
Maximize your tanning efforts with these simple techniques.
Prepare Your Skin Before Tanning
Get a head start on your tan before stepping out in the sun by exfoliating the skin with particular attention to your target areas.
Use an Epsom salt scrub or something similar to remove dead skin cells and rough patches before tanning. You can exfoliate with just one to two tablespoons of scrub on dry or damp skin in the shower or outside by the pool. Massage the scrub gently into the skin using circular motions, then rinse with warm water.
This simple step helps generate a smooth and even foundation for the oil to rest on and is important to tan evenly.
Apply Tanning Oil Effectively
Follow these step-by-step instructions to achieve a perfect bronze with tanning oil.
Dry your skin thoroughly.
Apply a small amount of moisturizer to any dry areas so the tanning oil doesn't cling to the skin unevenly.
Add a small portion of oil to your palm.
Rub your hands together to spread the oil and begin applying it to the legs in circular motions. Start at the ankle and work up to the thigh. Keep the oil in a thin layer. Focus on blending it into the skin evenly.
Continue using the same circular motions over the abdomen, chest and shoulders. Then apply oil to the arms and back. You might need to ask for help to access the hard-to-reach spots.
Review for streaks or uneven patches and amend them.
Finally, wash your hands and let the oil dry and absorb into the skin before getting dressed or touching towels, chair cushions and other materials that oil stains could damage. If the oil touches the fabric, you can remove an oil stain the same way as a lotion stain.
Reapply tanning oil every two to four hours or more frequently if you are in contact with water.
Safety Precautions and Sun Protection Tips
Follow through with adequate sun safety precautions for the best long-term results while using tanning oil.
Apply a broad-spectrum sunscreen with UVA and UVB protection formulated SPF 30 or higher before applying the tanning oil, if desired. Usually, tanning oils don't have SPF, so you'll want to use that separately if it's important to you.
Then, after the initial application. Reapply sunscreen every two hours or more and immediately after swimming or getting wet.
The sun is the strongest between 10 am and 4 pm. Be mindful of this if you're out during these hours, and adjust accordingly. Periodically seeking shade might be more important for you during these hours.
Taking frequent breaks in shaded areas gives your skin time to rest and protects it from overexposure. Go inside for a break, blend a copycat Bahama Mama Tropical Smoothie, or get lemon water from the refrigerator to cool off and refresh yourself.
Simple summer wear like wide-brimmed hats and lightweight long-sleeved shirts will also provide sun protection when needed.
Finally, stay hydrated. Be intentional about consuming water, especially when you spend extended periods in the sun.
Maintenance Tips for Post-tanning
Treat your skin with post-tanning strategies for nourishment and care while preserving your gorgeous glow for as long as possible.
Moisturize regularly: Intense sun exposure, wind and chlorine can lead to dry, flake skin and a post-tan peel. Balance these effects by intentionally moisturizing to keep your skin in tip-top shape.
Chill your favorite body hydrating product: Pop the bottle in the refrigerator ahead of time so it is chilled once you are ready to use it. The cold contrast on warm skin feels especially welcome after a period outside in hot summer weather.
Follow best practices around sun exposure and skin care: Be smart about your time outside, so you can reap the benefits of summer and enjoy a bronze glow all season long.
Do you struggle with being bitten by mosquitos during your tanning sessions? Prevent the nasty bites with a homemade lavender lotion.
The Final Word
By understanding how tanning oil works, knowing how to find the right oil for you and mastering an effective applicate technique, you can embrace a healthy approach to tanning. With these insights, you can confidently navigate the world of tanning oil, achieve a beautiful sun-kissed look and prioritize responsible and healthy sun exposure practices.
This article originally appeared on Food Drink Life.