This creamy, tangy Popeye's coleslaw recipe tastes just like what you would order at the popular American fast food restaurant. Zesty raw cabbage, carrots, and onions tossed with a creamy mayonnaise-based dressing makes a delicious side dish with only 15 minutes of prep time.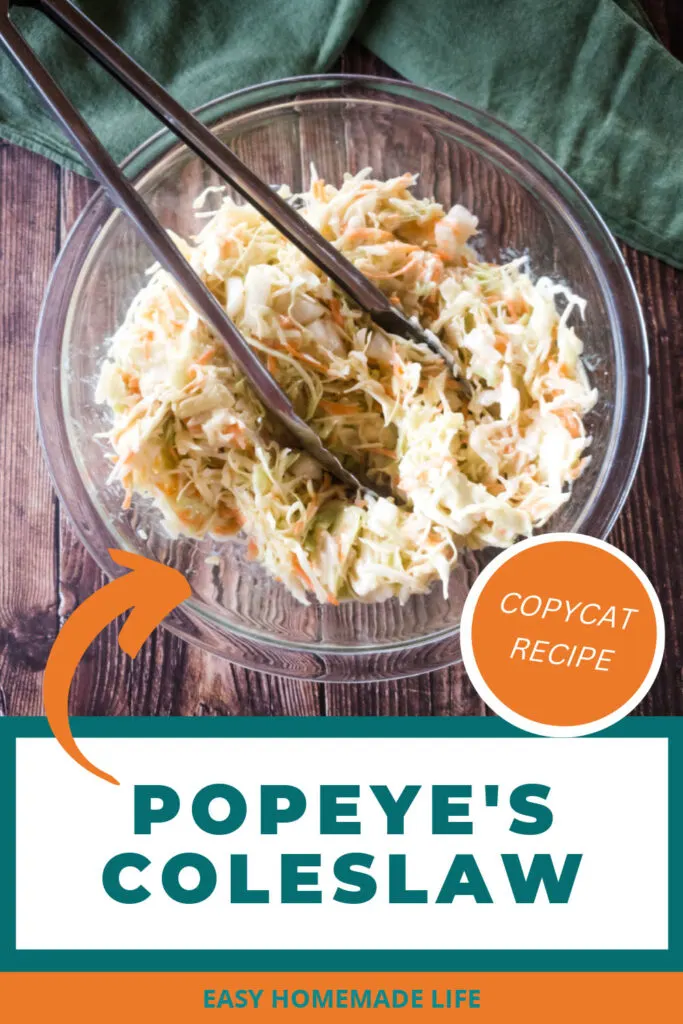 Does Popeye's Have Coleslaw?
Popeye's Louisiana Kitchen, most commonly known as just Popeye's, is known for its buttermilk-battered chicken sandwiches.
However, those chicken sandwiches wouldn't be what they are today if it weren't for coleslaw accompanying them. Coleslaw is perfectly creamy and tangy with just the right amount of sweetness that pairs so well with fried chicken.
But Popeye's coleslaw isn't just great with chicken. It's a perfect accompaniment for any protein, like ribs, pork tenderloin and smoked tri tip. It's especially tasty with anything that includes BBQ sauce.
This Popeye's Coleslaw recipe can easily be recreated at home – so you can enjoy this delicious side dish with your choice of meat without hitting the drive-thru.
It's worth making it at home, especially considering it takes only 15 minutes of hands-on time and just a handful of ingredients.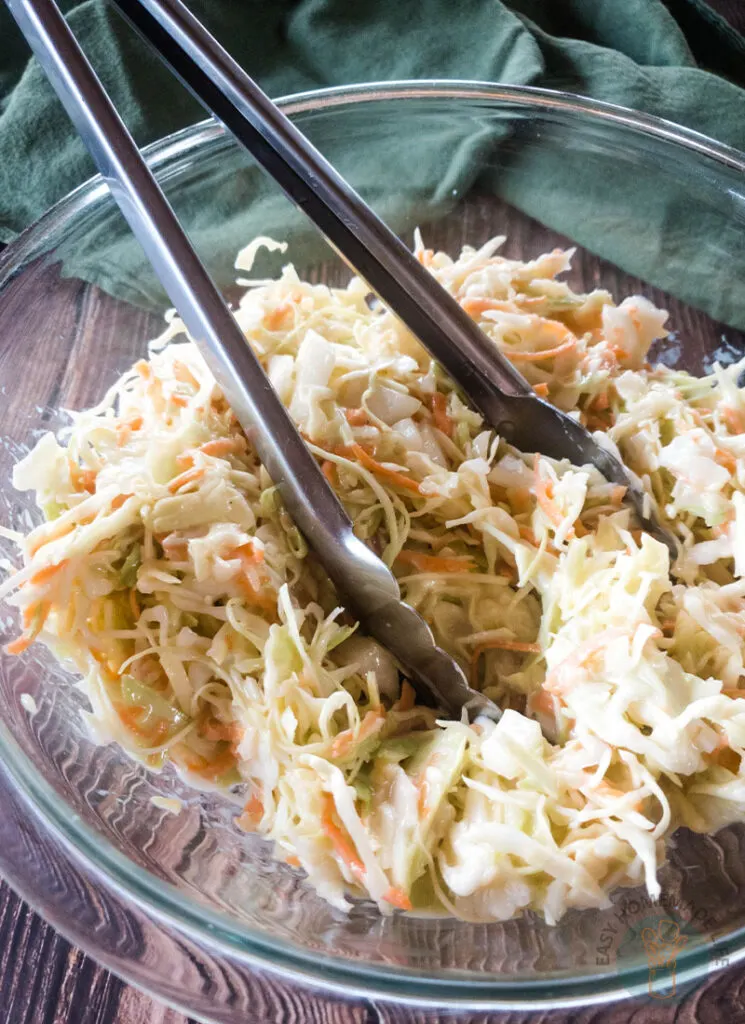 How to Make Popeye's Coleslaw
Gather just a few essential ingredients, and you're already halfway to making a copycat coleslaw recipe in just 15 minutes! This Popeye's copycat recipe comes together effortlessly because it's quick, easy, and tastes great when made ahead of time.
I suggest making this the day before your event and letting it marinate in the fridge. Coleslaw usually needs time for all the flavors to meld together, so it's a perfect dish for meal prep. Not to mention, it smells heavenly when all the flavors can mingle together.
Since this recipe uses only real food ingredients, you can feel good about serving it to your family and any guests that come to visit.
Popeye's Coleslaw Ingredients
For the dressing:
Mayonnaise – This is the base of the dressing, so make sure you get good quality mayonnaise or make your own. Alternatively, you can use Greek yogurt as a leaner option.
Sugar – We prefer organic sugar, but you can even use honey for a healthier coleslaw dressing.
Apple cider vinegar – If preferred, you may use white vinegar but don't skip this ingredient as it adds great tangy flavor to the coleslaw.
Extra virgin olive oil – As with mayonnaise, get good quality olive oil that is not cut with other oils.
For the salad:
Green cabbage – Finely shredded raw green cabbage makes the best coleslaw.
Carrot – Pick fresh carrots and shred them yourself for the best flavor and texture.
Yellow onion – This adds great flavor, and you can easily run it through the food processor after cabbage and carrot.
Step-By-Step Directions
Follow these simple directions, and you can't go wrong!
This recipe literally takes 15 minutes of active prep time. And remember, coleslaw gets better with age, so consider making it the day before serving.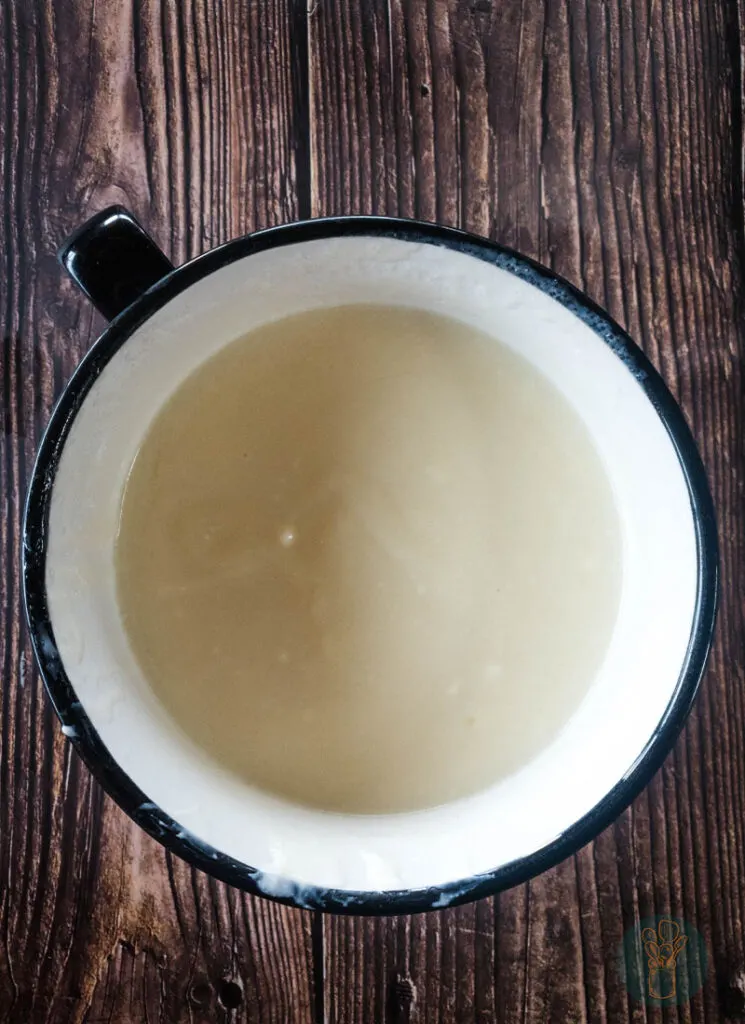 Step one: Make dressing
Whisk mayonnaise, sugar, apple cider vinegar, and extra virgin olive oil in a small mixing bowl and set aside.
Substitute with Popeyes spicy mayonnaise if you're a Popeyes super fan and love spicy!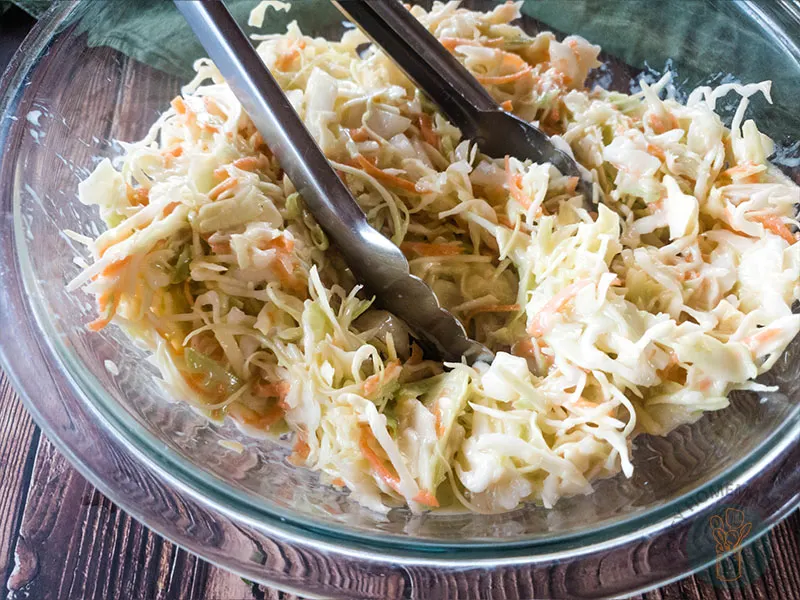 Step two: Make salad
Add shredded cabbage, carrots, and onions to a large bowl and toss to combine. Pour the dressing over, and mix well with a pair of tongs until the dressing coats everything evenly.
This coleslaw is a perfect recipe for turning to the food processor for help – it makes all the shredding a breeze!
I used a ¼" slicing disk on my food processor to generate thin, even slices. The uniform cabbage ribbons also make the coleslaw look nice and professional. And since the food processor was out already, I shredded the onion too.
If you choose to shred by hand, watch this tutorial on cutting cabbage for coleslaw and check out those knife skills first.
Step three: Chill and marinate
Cover the bowl with plastic wrap or a lid and transfer to the refrigerator to chill for at least 2 hours before serving.
Serve chilled straight from the refrigerator. Popeye's Coleslaw pairs well with fried chicken, ribs, or any other meat.
If you have leftovers, they can be stored in an airtight container in the refrigerator for up to 3 days.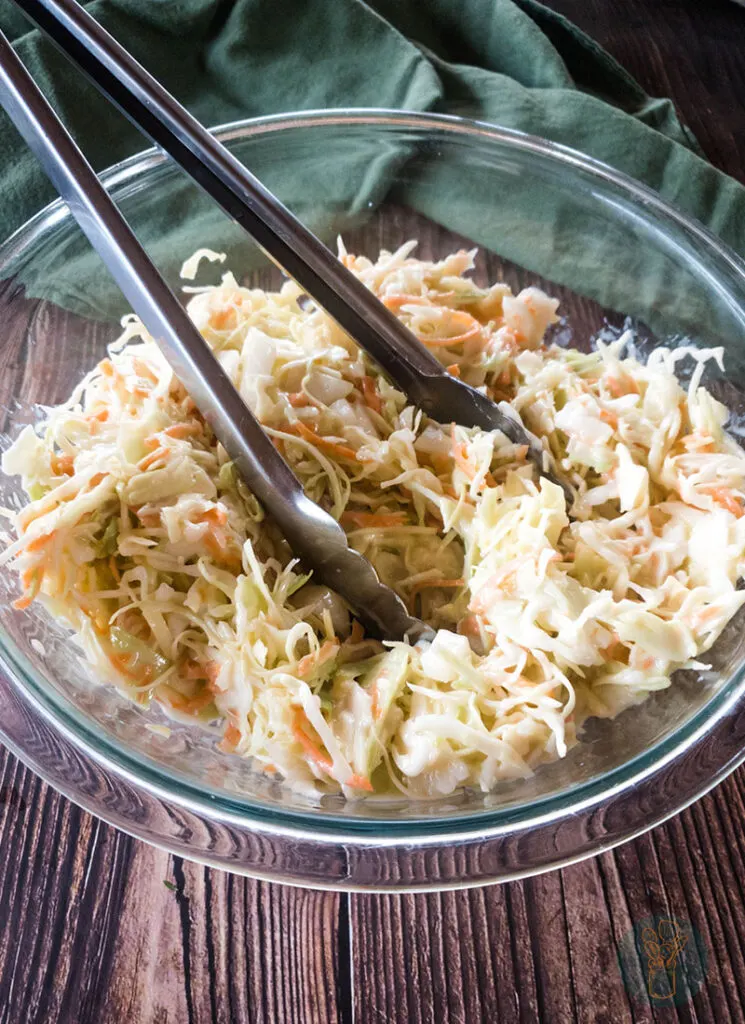 Nutritional Info for Popeye's Coleslaw
There are eight servings of this Copycat Popeye's Coleslaw recipe.
Each serving contains:
274 calories
24 g total fat
14 g total carbs
3 g fiber
2 g protein
Please note that the nutritional value will change if you substitute ingredients. Use a nutrition app to recalculate and reflect your changes.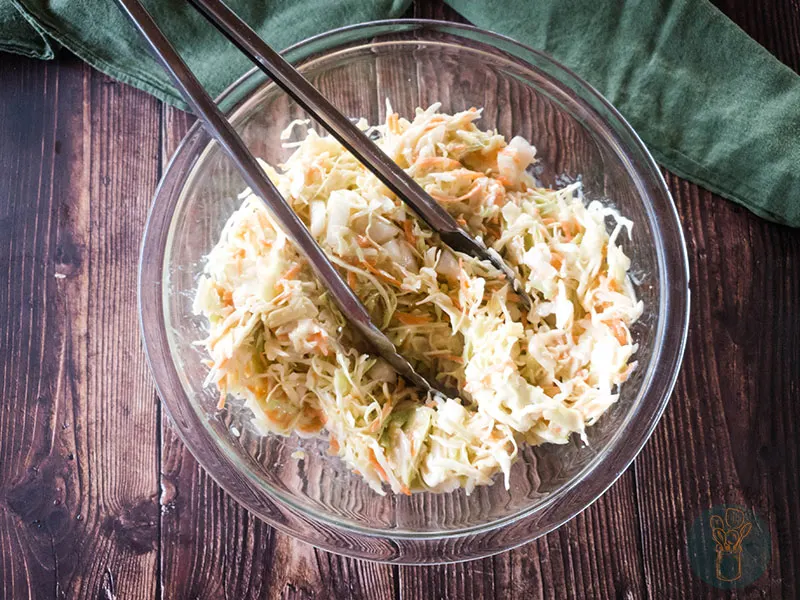 Popeye's Coleslaw Recipe FAQ
Is Popeye's coleslaw good?
I far prefer this homemade version as a healthier and more affordable choice. It's the same great flavor but made with real food and unprocessed ingredients. Coleslaw is a classic dish for summer BBQ, potlucks, and picnics. This recipe is great!

Is Popeye's Coleslaw Keto?
No, Popeye's Coleslaw is not keto or low carb as it has a high content of carbs per serving due to the sugar. You can modify this copycat recipe by substituting the sugar with equal parts of a keto sweetener instead. The rest of the ingredients are keto-compliant.

How many carbs in Popeye's coleslaw?
For comparison, check out the nutrition facts for Popeye's coleslaw from the restaurant. Notice the difference in the carb count compared to this homemade copycat recipe. There are 306 calories coming from 21 g fat, 27 g total carb, 3 g fiber, and 2 g protein.

Nutrition facts are calculated by [CarbManager].
More Easy Copycat Recipes