Dehumidifiers are great for keeping homes clean and healthy. They're especially beneficial if you experience excessive moisture in your home that can lead to mold spores. However, you can't reap its benefits if you don't know how to clean a dehumidifier properly.
Lucky for you, you don't need to have this problem. Follow the step-by-step guide on how to clean a dehumidifier, ensuring optimal performance and a healthier living environment.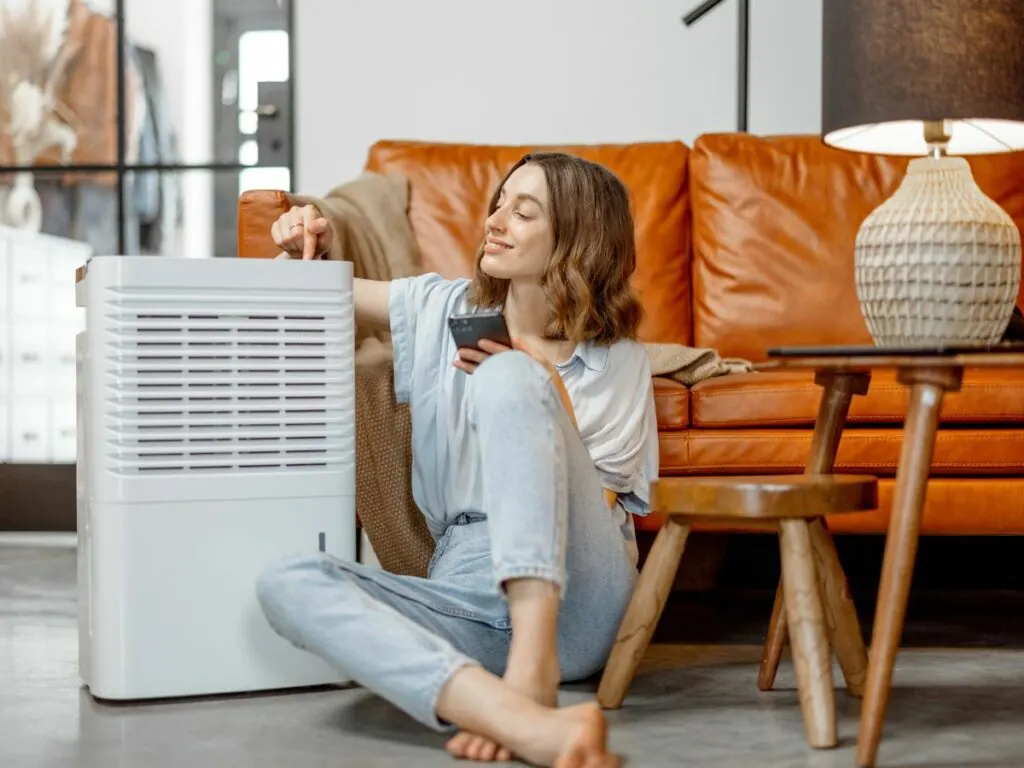 How to Clean a Dehumidifier
To keep your dehumidifier running smoothly, you'll need to clean it at least once every three weeks when you're giving it regular use. Fortunately, this is a simple chore with basic cleaning supplies that take only 10 minutes of active time. Just follow these easy steps.
Turn Off and Unplug Your Dehumidifier
As the first thing, make sure your dehumidifier is unplugged. You wouldn't want to experience any electrical shocks while cleaning it, right?
Wipe Down the Outside
Next, take a soft cloth and wipe down the exterior of the dehumidifier with a soft cloth. The most important part is the air intake grille. It's where air and moisture get sucked into the appliance.
Consequently, it can get filthy with dust and lint, blocking smooth airflow. If wiping it with a dry cloth isn't enough, you can also use a vacuum cleaner here.
Remove and Clean the Filter
Third, remove the dehumidifier filter behind the air intake grille. You might find it nasty and covered with dust, lint, hair, or fur.
You can choose to vacuum the filth off or wash the filter under running water. Continue until you have a clean filter. Wait until the part is completely dry before returning it to the machine.
Clean the Coils
Then, it's time to clean the coils. You'll find these somewhere close to the filter. Clean dehumidifier coils matter because they also get dirty and can cause overheating problems if you don't do regular maintenance.
To clean, you can use a vacuum cleaner or a microfiber cloth. You can also use a damp cloth and scrub brush to be more thorough and work against stubborn dirt.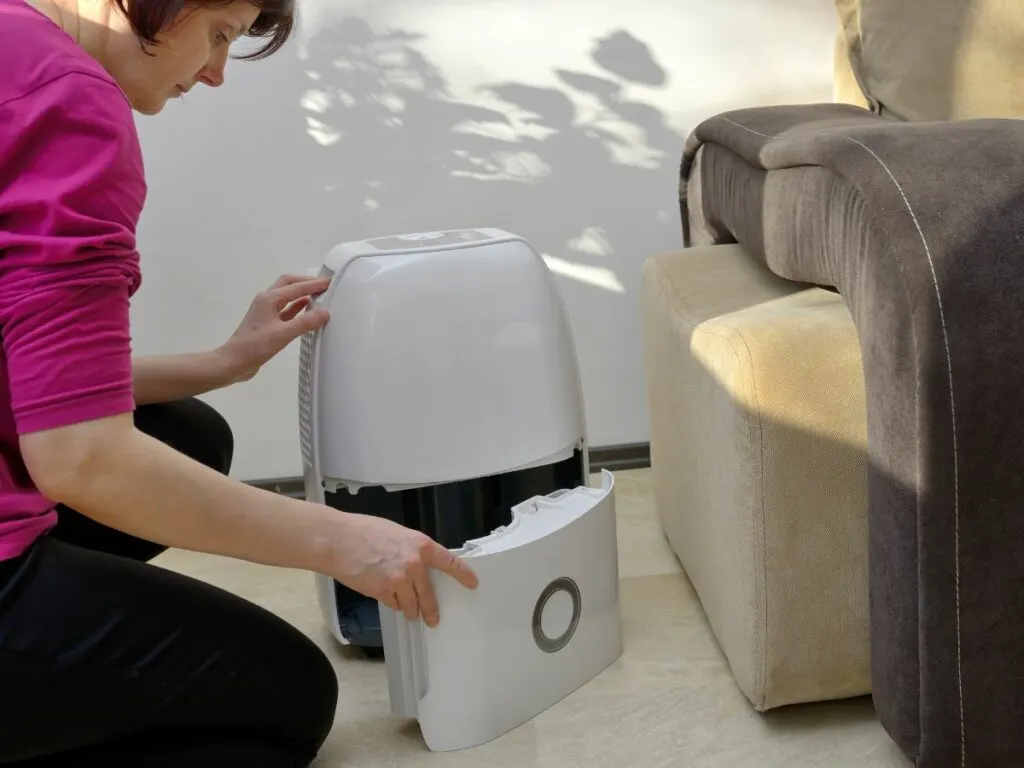 Empty the Basin
The basin is a water collection bucket where the appliance dumps all the excess water it gathers. You should empty it on a regular basis to prevent it from overflowing and collecting bacteria.
Clean the Basin with Vinegar or Mild Soap
If you haven't emptied and cleaned the water reservoir for a while, you may need an extra step to disinfect it. You can wash it with a cleaning solution of dish soap and warm water or vinegar.
Dish soap is milder and good at removing dirt and grease. On the other hand, white vinegar is effective in killing mold build-up.
If you're using soap, first fill the basin with warm water. Then, put a few drops of soap in it. Swirl the warm soapy water around to make bubbles before scrubbing the inside of the water bucket with a sponge.
With vinegar, just fill the water tank with a mixture of warm water and one cup of vinegar. Let the mixture soak for at least 10 minutes before scrubbing the basin with a sponge or soft brush.
Alternatively, you can use rubbing alcohol, hydrogen peroxide, or bleach to clean the dehumidifier bucket.
Use the same directions I gave for cleaning with vinegar when using these other solutions.
Rinse the basin well and dry it thoroughly with a soft cloth before placing it back in the dehumidifier.
Reassemble Your Machine
Once you've cleaned everything up and all the pieces are sufficiently dried, you can put them back. Double-check that everything is assembled correctly and secured in place.
Lastly, plug in your dehumidifier, turn it on and enjoy the clean air!
What Happens If You Don't Clean Your Dehumidifier?
Since a dehumidifier is sucking moisture from the air, it must put all that material somewhere. That somewhere is in its attached basin. Eventually, the excess moisture adds up, and mold, mildew, or mineral build-up may become an issue.
You may even notice unpleasant smells in the room because of a dirty dehumidifier. These issues are more than just gross. They can keep your dehumidifier from working how it should.
Dirt and dust can gather in the machine's coils and air filter, which can cause your dehumidifier to perform poorly or malfunction.
Here are the common problems that can happen if you don't clean your dehumidifier:
Bacteria and chances of mold growth
Mineral deposits
Poor performance
Your dehumidifier may have a shorter lifespan
Bad odors spread in the room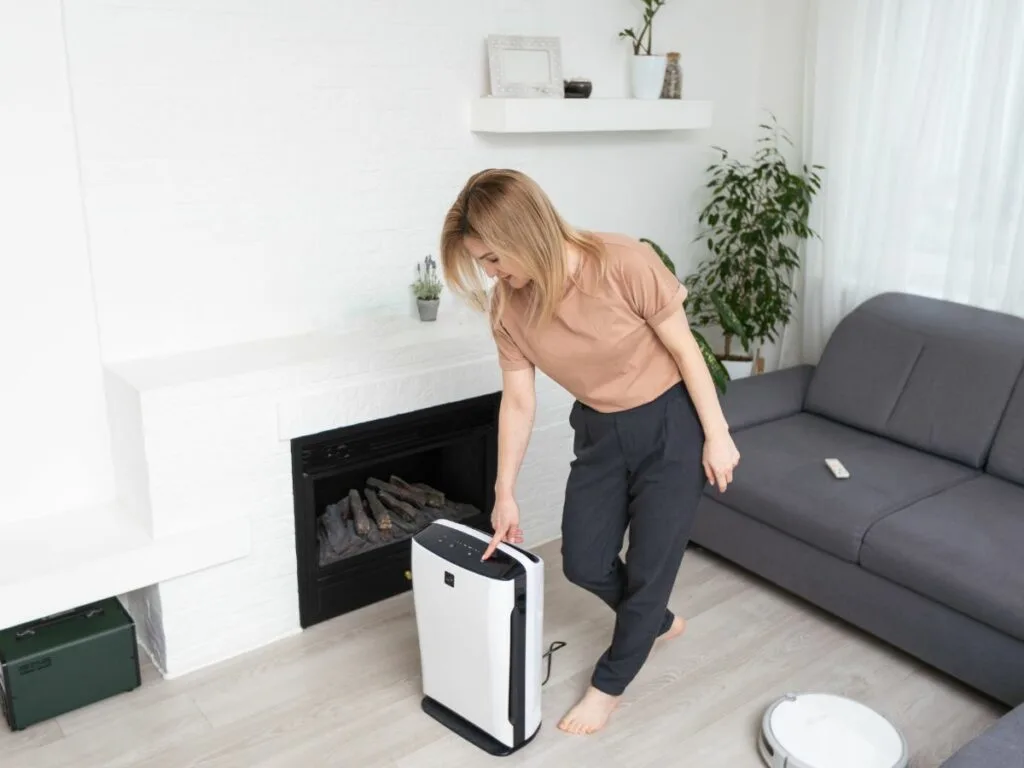 Frequently Asked Questions
Do you still have questions about the cleaning process or wondering what your best option is? Let me address some common concerns.
Can I soak my dehumidifier in vinegar overnight?
White vinegar is a very effective, natural cleaner. It can remove mold, mildew, and mineral build-up from your dehumidifier. Usually, soaking the basin with white vinegar and clean water solution for 10–20 minutes is enough to disinfect it.
However, if the build-up is more severe and you can't clean it up after 20 minutes, you can soak it for a few hours or overnight.
How often should I clean my dehumidifier?
If you use your dehumidifier almost every day, you should clean it at least once every three weeks so it can run at maximum efficiency. You can clean it less often when you only use it a few times a month.
Do all dehumidifiers have filters that you need to clean?
All dehumidifiers have filters, but you don't always have to clean them. While most dehumidifiers come with permanent filters, some may have disposable ones.
You don't have to clean a disposable filter. You can simply throw the dirty filter away and replace it with a new one.
Do you need to clean the dehumidifier coils?
Yes, it's a good idea to clean the dehumidifier coils. The coils play a crucial part in a dehumidifier's system. Humid air passes through the cold coils, resting as condensed water droplets.
Since air passes through the coils, it can start to collect dirt and dust over time. If you don't clean the coils regularly, dirt can clog them and keep the dehumidifier from working at its best.
Conclusion
Dehumidifiers need constant cleaning to keep them working efficiently. Just follow the simple steps outlined in this article for the easiest way to clean your dehumidifier. Enjoy the improved indoor air quality of your home!