Only a few other spills can be more pesky than a gasoline spill. Whether you've had a mishap at the gas station or your husband was unfortunate enough to pour gasoline on himself while doing car repair at home, getting rid of the smell remains a top priority.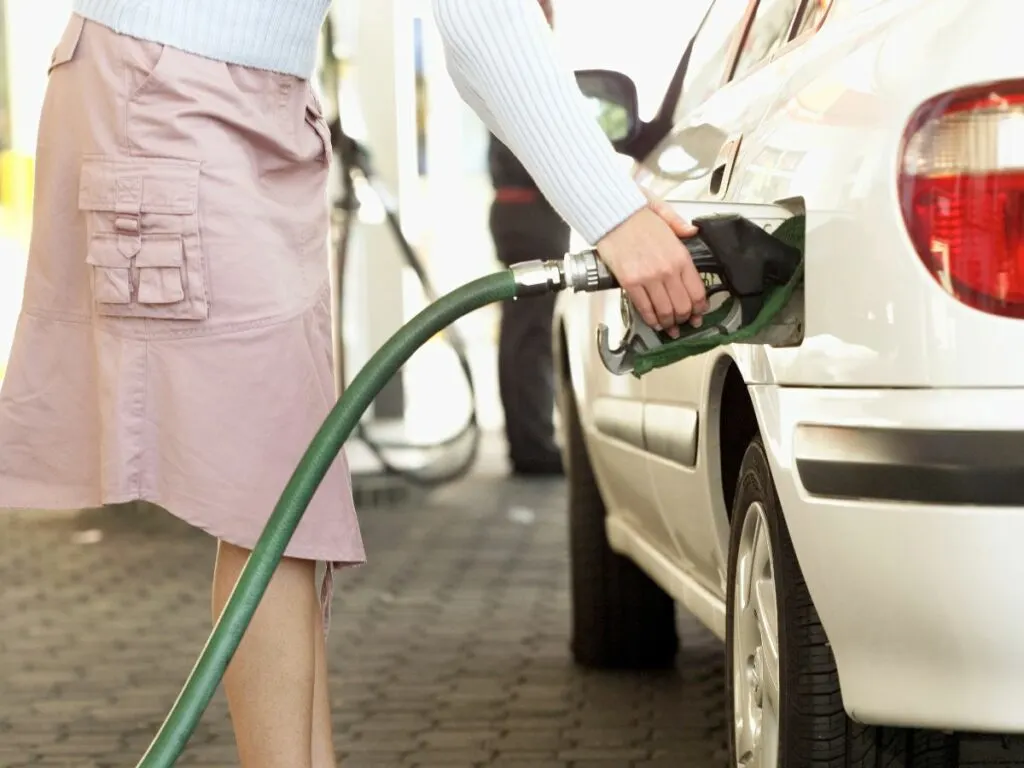 The problem is that gasoline odors are stubborn and can linger for a few days. With such a pungent smell, that's a long time! Don't fret about it, though.
In this article, I'll show you how to get rid of the gas smell on your skin using six effective methods. These simple home remedies are the best ways to attack the issue with basic household items. So, stick around for all the details.
Why Does Gas Smell Linger So Long?
My husband rebuilt his 1982 GMC Jimmy and was constantly drenched in the scent of gasoline. Finding simple ways to deal with the smell was a necessity. Why does the strong oder of gasoline linger for such long periods of time?
Benzene is the culprit behind the strong gas smell. As you might know, gas is a petroleum-derived liquid. It consists of various organic compounds—around 150 different hydrocarbon chemicals—and other additives.
One of the former is benzene, a volatile cyclic hydrocarbon compound with a highly pungent odor. Only 60 parts of benzene per million parts of air are enough for most people to recognize benzene's smell. It's that strong.
That's why it can take days or even weeks to get rid of gasoline spillage on human skin or any other material.
How Do You Get Rid of a Gas Smell on Skin?
To get rid of the gas smell, the first thing you need to use is an anti-grease substance, like a dish or hand soap, to eliminate oily residue. Following that, use an odor-eliminating product to prevent the gasoline smell from lingering any longer on your skin.
Here are some effective solutions to help you achieve that.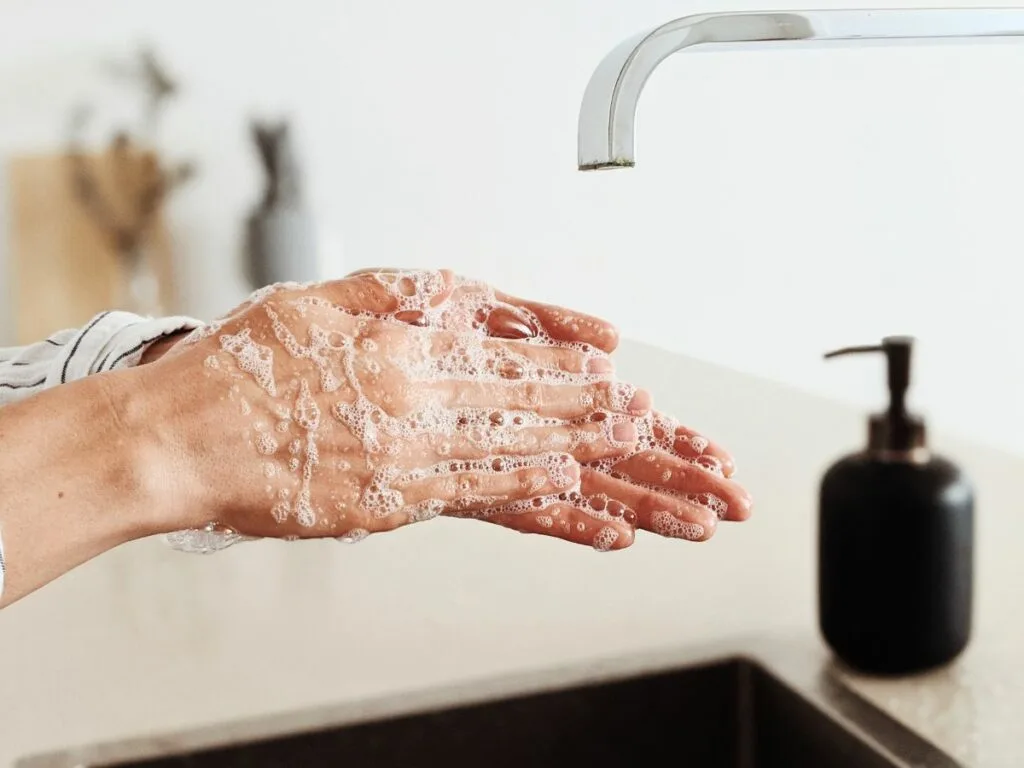 Dish Soap and Water
Using soap and water is probably the easiest way to remove gas from your skin. And nothing can help you remove grease better than good old dish soap.
So, how does dishwashing liquid work its magic?
Soap consists of two parts: a hydrophilic head (water-loving) and a lipophilic tail (oil-loving). The former are molecules that love water, while the latter aren't fans of it, like oils. When mixing soap with water, the lipophilic tail is attracted to the grease on your skin and dissolves in it.
As for the water-loving portion of soap, it dissolves in water. As a result, they join the greasy gasoline mess on your skin with water, which disappears once you rinse them off!
Simply add two drops of dish soap to your skin and mix it with hot water. Try to use dish soap with a fresh smell, like lemon or other citrus fruits.
Continue rubbing until you get a simple solution of soapy water. Rub it thoroughly over the surface of your skin; you can use a soft brush to help with that task. Then rinse your skin with warm water, and you're done.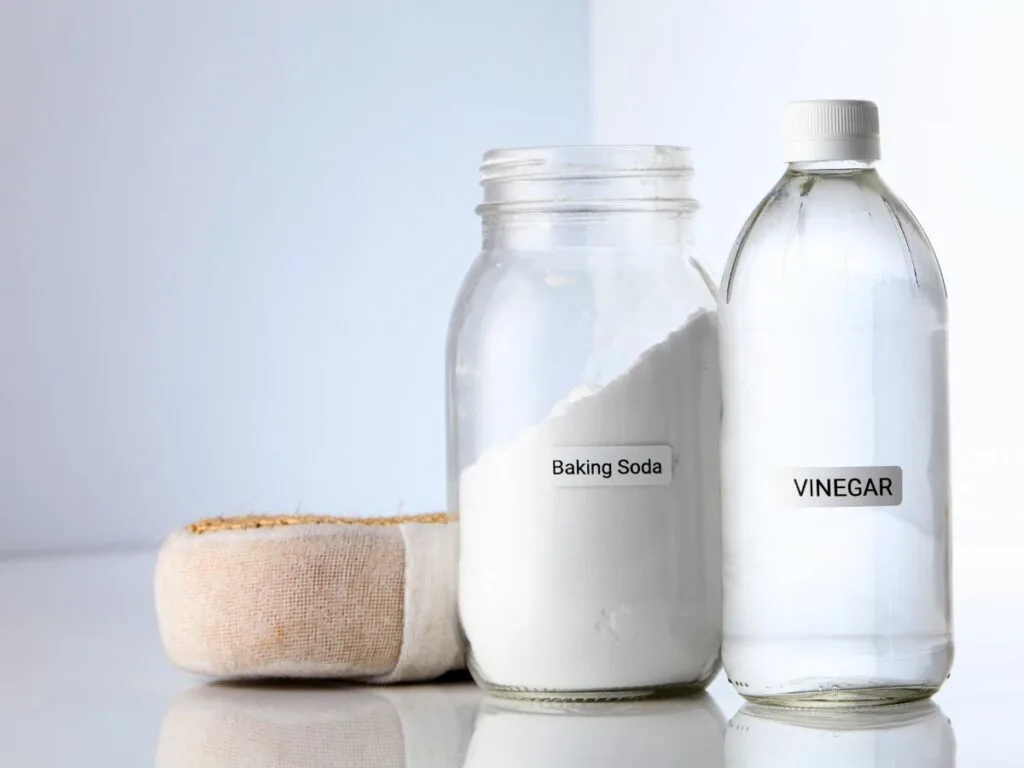 Baking Soda and Vinegar
For any DIY enthusiast, baking soda and vinegar are the ultimate solutions for any hard-to-clean surface. However, interestingly, those two chemical compounds cancel each other out.
What Happens When You Mix White Vinegar and Baking Soda?
Baking soda is a base, a compound that produces a negative hydroxide (OH) ion when dissolved in water. Vinegar, as most of us know, is an acid. Once added to water, it releases a positive hydrogen ion, which interacts with the negative ion, producing H2O, aka water.
But what about the fancy bubbly stuff?
That's just carbon dioxide gas evaporating. The former reaction occurs in two steps. Vinegar gives hydrogen to baking soda, forming carbonic acid (H2CO3).
That compound is unstable. Consequently, it decomposes into water and carbon dioxide. Once the latter escapes, you're only left with water, sodium ions, and acetate, which have no cleaning effect.
Only the mechanical movement of CO2 gas, the bubbles, is efficient at cleaning. So, make sure to use the mixture when it's still fizzing.
Here's how to make use of this reaction to clean gas:
Apply one part of baking soda to your skin.
Add two parts of white vinegar.
Using a soft brush, rub the mix thoroughly until all the bubbles fade.
Rinse with water, and you're done.
You can also substitute white vinegar for apple cider vinegar if that's what you have instead. I use vinegar for cleaning and in the kitchen for recipes like coleslaw and tangy breakfast sauce. It's a good thing to buy in bulk and store in the pantry.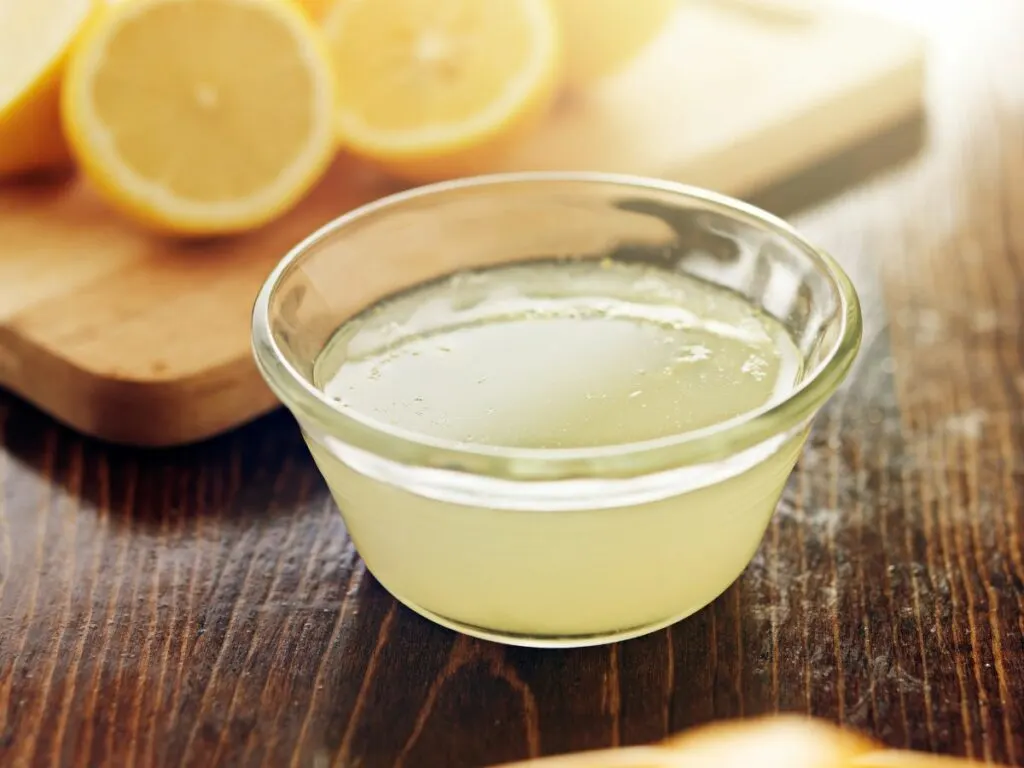 Lemon Juice
Use lemons to get the best of both worlds: a degreaser and an uplifting scent. Lemons contain citric acid, which can cut through the oils, helping remove the sticky ickiness.
Moreover, lemon juice has antimicrobial properties thanks to its low pH of around 2. That can help kill harmful bacteria, fungi, and other pathogens. Your skin will also smell fresh, which is perfect for covering up the gas smell.
Having said that, acids generally aren't strong fat removers. So, you might need to wash your hands with soap before using the citrus fruit.
Simply squeeze some lemons into a bowl and soak a clean rag in the juice. Apply the damp cloth to the affected skin area and leave it for a few minutes before washing it with water.
It's worth mentioning that you should not use this method if you have sensitive skin, irritations, or cuts, as it might irritate the surface or open wound.
Hydrogen Peroxide
Hydrogen peroxide is another disinfectant agent that can help remove the gas smell from your skin. It's helpful to keep in your home for shower cleaner and other purposes. Like water, this chemical is a polar compound. That means it can't dissolve in oils.
However, the former product is a strong oxidizing agent. So, it can react with hydrocarbon compounds, like gasoline, and oxidize them to different organic compounds—a reaction that helps clean petroleum-contaminated soils.
Most over-the-counter hydrogen peroxides, however, are diluted. While they won't help dissolve grease, the OTC disinfectant can help reduce the unpleasant smell of gasoline.
To use hydrogen peroxide, all you do is apply it to a cotton ball and then wipe it over your skin. Wash completely under a running faucet afterward because hydrogen peroxide can cause skin irritation and troublesome side effects if left on too long. Additionally, don't forget to moisturize your skin once you're done. Applying a lotion bar to your hands is all you need before going on with your day.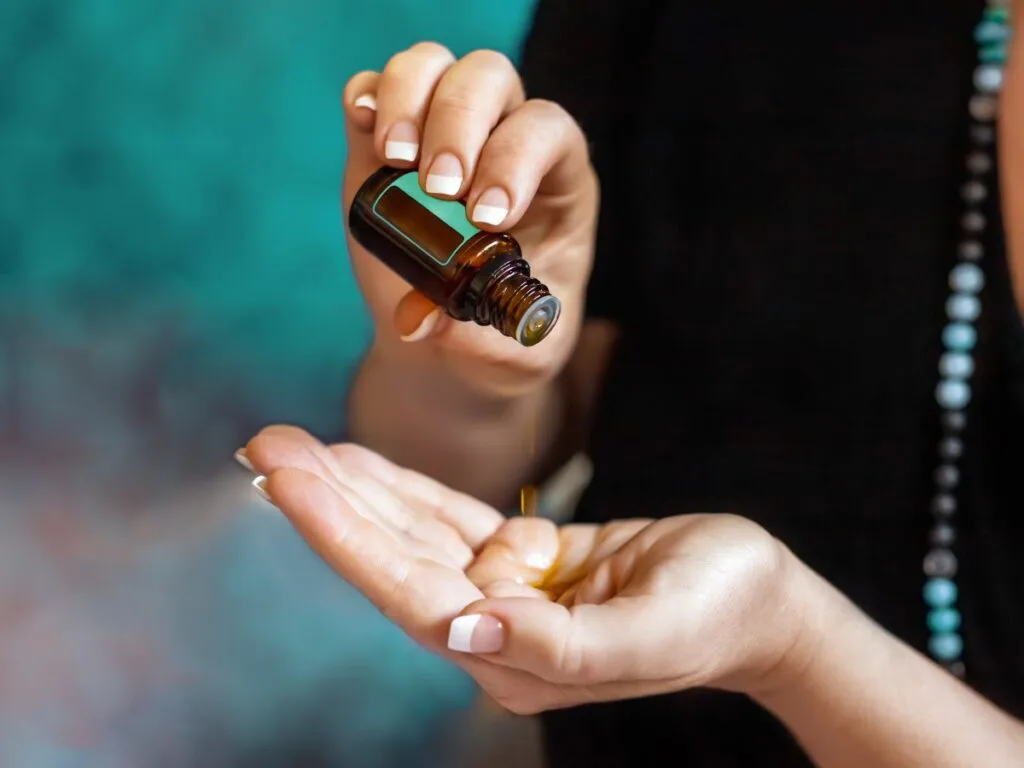 Essential Oils
Ever heard of the expression "like dissolves like"? It is a term chemists use to predict how compounds dissolve in one another.
Simply put, compounds of the same nature, like oils, will dissolve each other since both are nonpolar. Likewise, polar compounds such as water will dissolve other polar molecules, like salts.
Essential oils are terpenes, organic compounds consisting of hydrogen and carbon atoms, among other elements. Since they're similar to gasoline, such oils can remove the stickiness from your skin; you don't necessarily need to wash with regular soap before using those compounds.
Not only that, but these oils are fragrant, and they come in various scents that will mask the gas smell. Pour a small amount of carrier oil into the palm of your hands, add a few drops of essential oil, and then rub it on the affected area. You can also premix the ingredients in a small bowl. A little bit goes a long way when it comes to essential oils, so start with a single oil or, at most, two and go from there.
Examples of aromatic essential oils include:
Get started with an essential oil kit for beginners, and you'll have all the basics you need.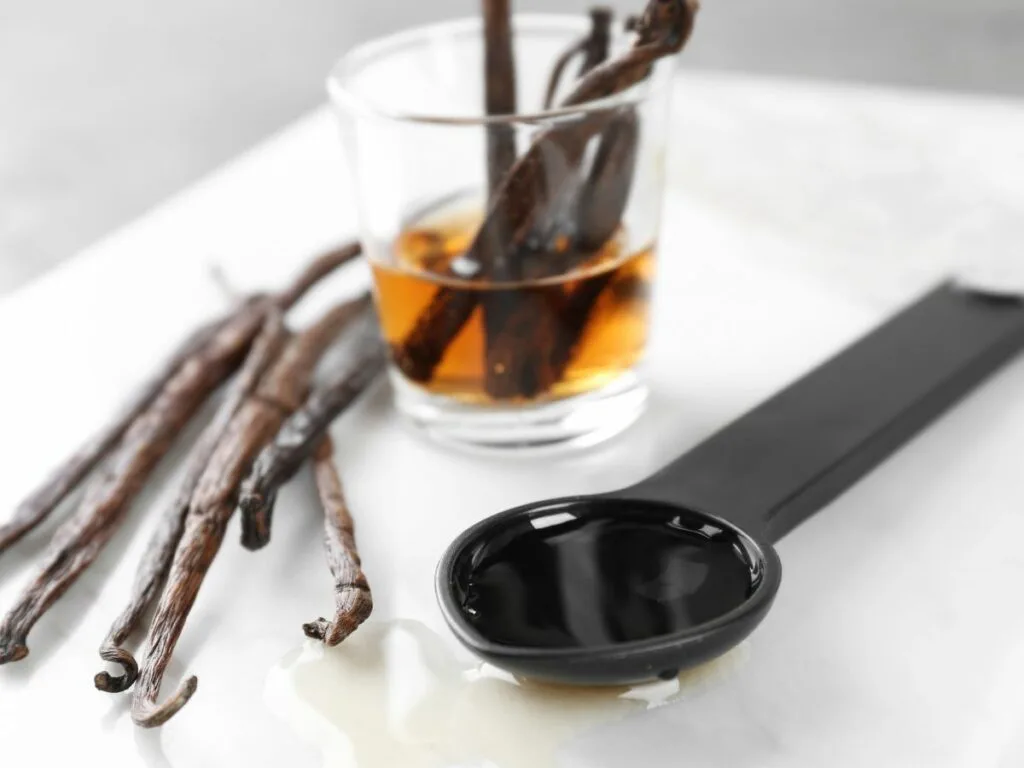 Vanilla Extract
Who says vanilla extract is only good for baking? Thanks to its sweet, nutty aroma, you can use vanilla extract to easily mask the gas odor, leaving you with a pleasing smell. You can use other fragrant extracts, like rose, almond, or coconut if you do not like sweet scents.
While these compounds contain alcohol, they don't have anti-grease properties. So, you can only use them to remove the smell after removing any grime.
Here's how:
Pour half a cup of water into a cup or a bowl.
Add a few drops of vanilla extract.
Pour the mixture over your skin and rub it with your hands or a soft brush.
Continue the former process for around a minute until you no longer smell gasoline.
Wash the area with soap and water, and you're done! Enjoy the luscious smell of vanilla over stinky gas fumes.
Wrapping Up
Although challenging, knowing how to get rid of the gas smell on your skin can save you from the discomfort of lingering odors on your body after any gas spill.
All you need to do is use dish soap and water or baking soda and vinegar to eliminate the sticky mess. Then, follow up with natural deodorizers like lemon juice, vanilla extract, and essential oils if the smell persists.
You can also use hydrogen peroxide for added disinfection. However, it may irritate the skin so, make sure to wash it off thoroughly. Always use cleaning solutions that works best for your skin type.
With these tips, you can bid farewell to the gas smell on your skin while enjoying a fragrant aroma of natural alternatives you probably already have on hand! Remember them for next time, or get to cleaning off the gas stains right now.