These ultra-easy homemade yeast-free bread recipes are here to stay! Gone are the days of long rise times, overnight prep, and finicky dough tests. This collection is perfect for beginning bread makers and everyone tired of over-complicated bread recipes.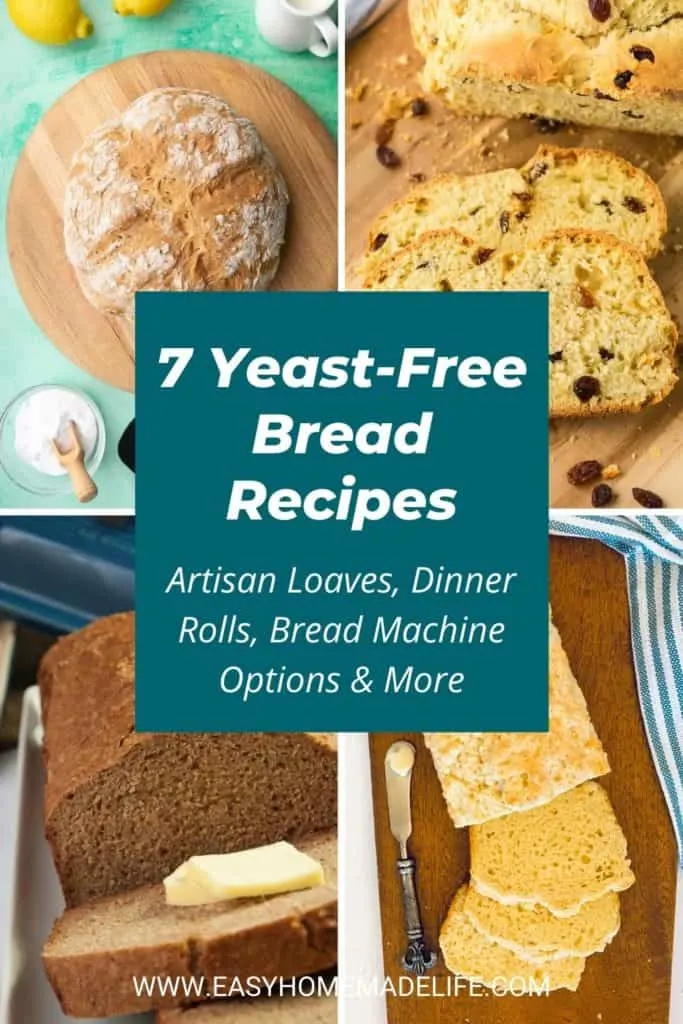 Why Try Bread Recipes without Yeast?
The main reason to bake bread without yeast is, so you don't have to wait for the bread dough to rise. Just combine all the ingredients and bake!
Bread without yeast does have a different texture. It's more dense and compact. There's also a slight difference in flavor, but each recipe has its own spin.
There's a place for everything, so if you prefer to bake without yeast, these homemade recipes are for you!
Serve sliced bread with soups and stews or for breakfast with butter and jam.
Leftover bread makes perfect homemade croutons! Watch this 60-second video tutorial and learn how.
How to Make Yeast-Free Bread
Making homemade bread without yeast is as easy as mixing a few simple staple ingredients and baking in the oven.
First, combine a bowl of dry ingredients.
Second, mix a bowl of wet ingredients.
Third, blend the two together.
Next, transfer the dough to a loaf pan and place it in a preheated oven.
Finally, bake until done!
Once the crust is crispy on the outside and golden brown on top, the bread is done.
See how easy yeast-free bread recipes are?
Serve with any of these breads with:
Save the recipes and add them to your meal plan app today!
You might like these frugal, but Healthy Slow Cooker Dinner Recipes too.
MORE EASY HOMEMADE Bread RECIPES