Maybe your dog ate something bad and couldn't help himself. Or perhaps you're potty training your kid, and things went south. Either way, accidents happen, and knowing how to clean diarrhea out of carpet fibers can help you save the day.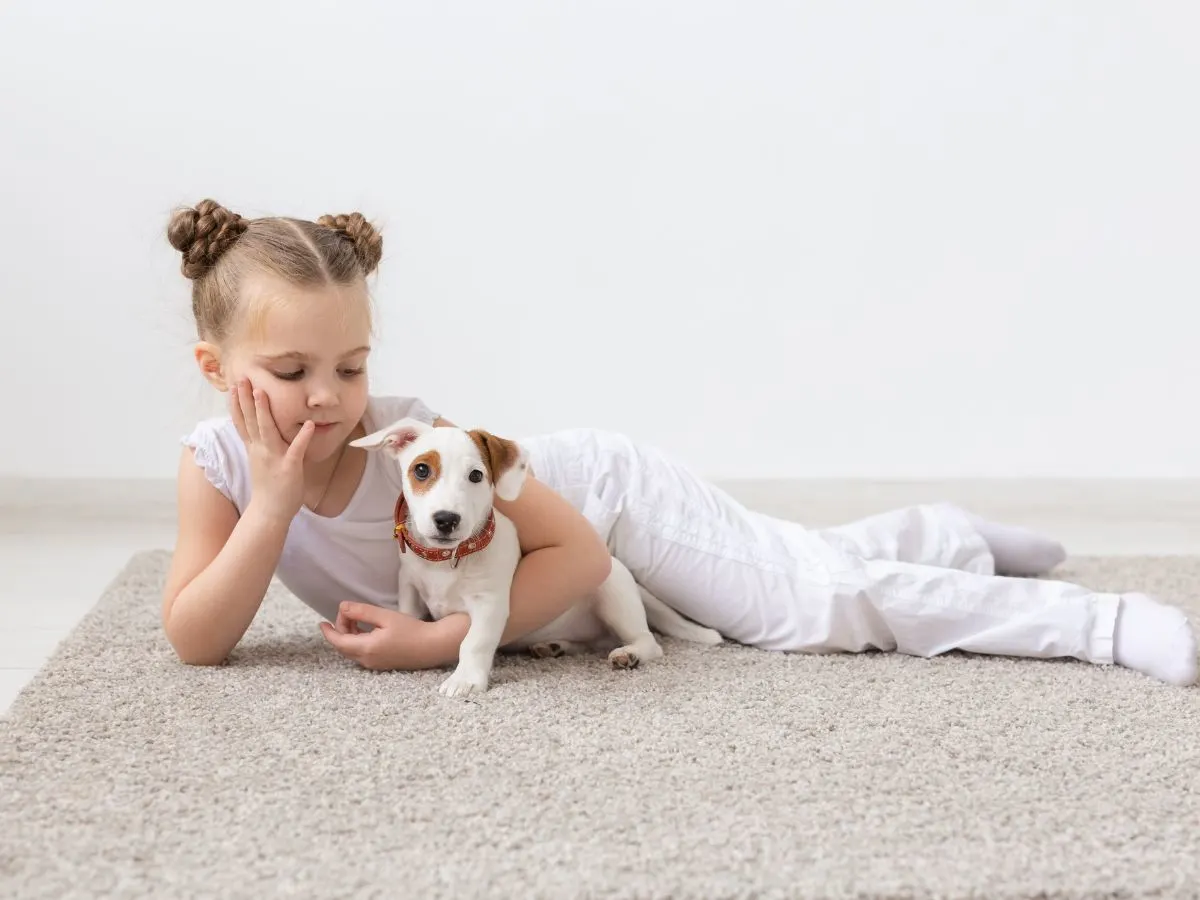 The key is to remove both the surface chunks and the tiny bits embedded into the fibers without smudging the watery poo all over the place.
How is that possible, and will the carpet still stink afterward? Read these simple steps to find out!
9-Step Guide for Cleaning Diarrhea Out of Carpets
You might think getting wax out of carpet is a pain, but diarrhea takes the win on that challenge. It's by far the least pleasant task. Even so, the job has to be done.
You'll need the right tools and materials to clean up successfully and remove the possibility of long-term feces stains. Follow this step-by-step guide detailing a simple process for dog owners and parents.
The first step is not so pleasant, but things will get easier as you go.
1. Scoop up the Chunks
The first thing you'll want to do is remove any diarrhea bits resting above the carpet's surface. It sounds terrible, but it'll save you a lot of trouble in the following steps.
For best results, it's very important to avoid rubbing or pushing the chucks deeper into the affected area. Look for something dull and flat (a plastic knife or a paper plate) to swipe the pieces into a plastic bag and immediately throw them in the garbage.
You might need to repeat this process several times, so grab a few plates or snip each in half if you don't have enough. Alternatively, you could pick up larger chunks with paper towels.
That said, putting on latex gloves (or other type) before you do any scooping or swiping is a good idea. That's not only because of the "ew" factor but also because you don't want to get exposed to any nasty parasites in your dog's poop.
2. Blot the Area Dry
If you're lucky, diarrhea won't have seeped too deep, and you'll be able to soak up a huge portion just by blotting the excess moisture with a paper towel or a clean cloth.
Once again, the best way to clean fecal matter is to avoid rubbing or pressing too hard.
3. Go for a Vacuuming Round (Optional)
You should have a flat, dried-up stained area by now, but there might be a few loosened chunks and flakes here and there. Quickly passing over it a few times with a vacuum cleaner can help you get rid of those.
Note that it's possible to wet vacuum the area instead. However, in this case, you'll want to flush the area with cold water first. Follow the manufacturer's directions on your wet vacuum machine.
4. Prepare (and Test!) a Cleaning Solution
Those of you with carpet-friendly enzyme-based cleaners at home are in luck. You can skip most of this step and jump straight to testing the solution on a hidden, out-of-the-way spot.
You'll have to get a little crafty if you don't have a store-bought enzyme cleaner. Fortunately, there are a few homemade recipes to consider. Some people use ammonia, while others say their carpets handle bleach well. Believe it or not, there are folks out there that use shaving cream!
Me? I prefer a reliable three-ingredient mixture with the following items:
White vinegar
Water
Dish soap
Adjust the dilution depending on how sensitive your carpet is.
For instance, you could use half a cup of vinegar with a cup of water. Alternatively, using a tablespoon of vinegar with two water cups is also possible.
You usually won't need more than a few drops of dish soap.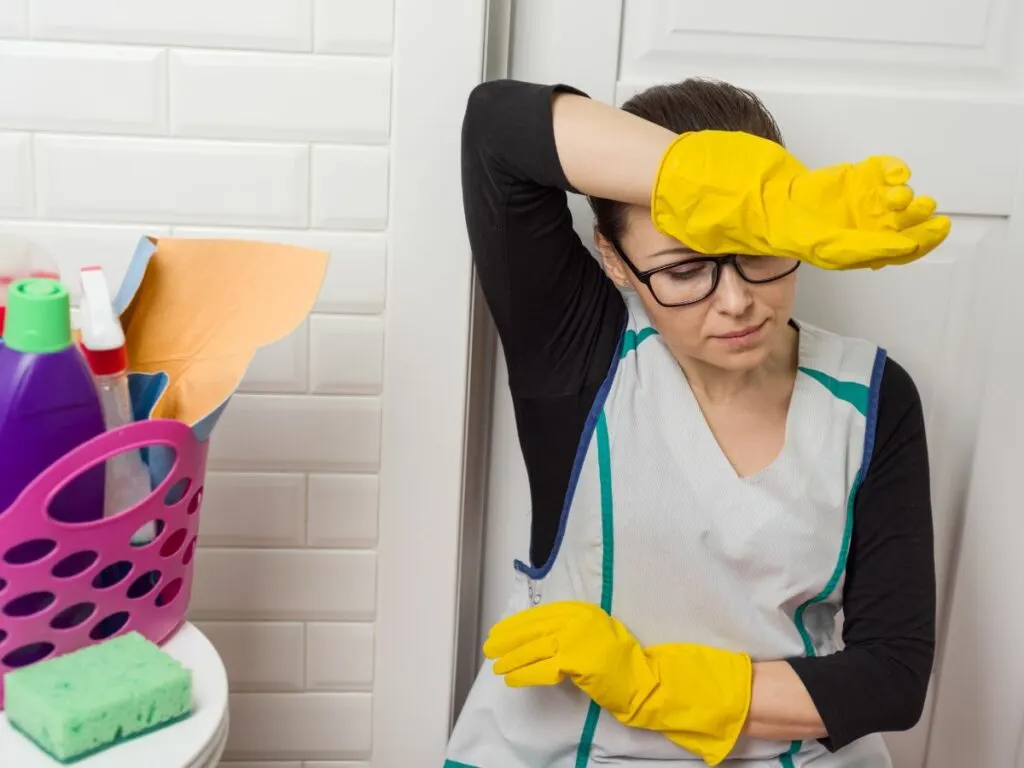 5. Spray, Blot, and Repeat
The next step is to attack the remaining stain.
With your cleaning solution all ready to go and patch-tested, begin a cycle of spritzing with a clean spray bottle and blotting with a microfiber towel. Of course, by now, you should know the drill—never rub.
Keep going until you no longer see any diarrhea (color leaking or actual bits) on the towel after blotting. From there, I apply one or two extra rounds for good measure.
6. Rinse Like It's Going Out of Style
Soap residue could leave the carpet discolored and sticky. So, your next task here is to give a thorough rinse.
You can mist the spot or pour water directly, depending on how large the area is. Then, blot with dry towels to suck up as much excess liquid as possible.
7. Still See Stains? Bring Out the Big Guns
Suppose you waited till the carpet was dried and found that the diarrhea left behind stubborn stains that the soap and vinegar couldn't handle.
When all else fails, a tiny bit of hydrogen peroxide (think 3% dilution) is a great option. The same "test, spray, blot, and rinse" technique applies here, but you might want to let the solution sit for a few minutes before blotting.
If you want to take it to the next level, consider using a steam iron to boost the hydrogen's peroxide effect. You'll want to use a towel as a buffer and avoid touching the fibers with the iron, though. The steam cleaner could turn the dial on the bad smell, so tread carefully!
8. Deodorize With Baking Soda
Make sure to get rid of lingering odors in the fibers. I recommend the following multi-step deodorizing process:
Sprinkle baking soda generously where the diarrhea stain used to be.
Let it set overnight.
Vacuum the powder out of the carpet.
Air the rug out in the sun if possible.
9. Spritz a Disinfecting Solution (Optional)
While vinegar is a great household cleaner, it's not an EPA-registered disinfectant. Sure, you also used dish soap, but still… Put your mind at ease if you are concerned about bacteria still hanging in fibers.
Consider buying a fabric-friendly disinfectant spray from the store and giving the carpet a couple of spritzes.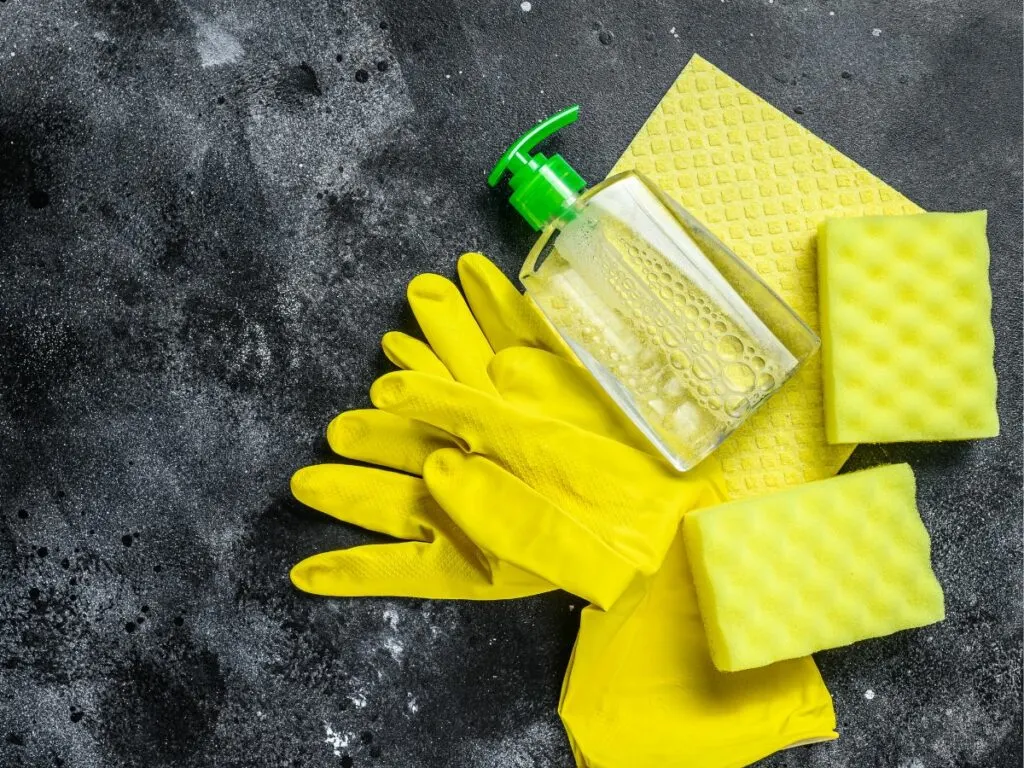 3 Pro Tips for Cleaning Diarrhea Out of Carpet Fibers
Before you get cleaning, there are a few nifty tips to check out.
Get your robotic vacuum away for now. Some models are "smart" enough to avoid pet waste, but others will smudge the whole carpet in a blink.
Make sure no one will step in it. If you can't clean the spot right away, put an upside-down bowl over the area to keep it protected.
Double-check the warranty on your products. Tackling the diarrhea stain with a non-approved product can void the coverage.
Like it or not, stains happen all the time. Just think about dreaded coffee stains and red wine stains. If you had to buy new materials or cleaning products for this project, chances are they will be useful again in the future, so consider it money well spent.
FAQs
Do you still have questions about the cleaning process or wondering what your best option is? Here are some common questions.
How can you clean dried diarrhea out of a carpet?
If the stain is already dried, proceed with the first step as usual and scoop the chunks of dried feces. Then, you'll need to use a vinegar solution to "rehydrate" the area before you start blotting.
What can you use to clean diarrhea out of a wool carpet?
Vinegar is safe to use on wool carpets, but you might want to opt for a dilution ratio of 1:8.
Can you use a carpet cleaner on a diarrhea-stained carpet?
Yes, it's possible to buy or rent a cleaner to "shampoo" the stain out of the carpet. However, you'll still need to remove the visible chunks and pieces first.
Sometimes it's worth hiring help cleaning carpet, sometimes not. Weigh the pros and cons carefully before deciding.
Is it okay to use bleach to clean poop out of a carpet?
You might get away with using a highly diluted bleach solution as a carpet cleaner. However, it's a risky move since not all fibers can handle bleach cleaning.
If the diarrhea situation is so bad that bleach is your only option, do a patch test and avoid mixing bleach with other ingredients that may cause a negative chemical reaction.
Final Words
With a few paper towels, a bottle of a DIY cleaning solution, a handful of baking soda, and tons of patience, your carpet will live to fight another day.
If you anticipate future accidents, grab some pet training pads or store the precious carpets away for a while. Prevention is often the best option and a smart approach to avoiding a lot of work later.