If you're the proud owner of a beautiful shag carpet, you know just how luxurious and cozy it can make your living space feel. But with great comfort comes great responsibility – can you vacuum shag rugs and how do you properly care for them? In this article, we'll share our top tips for vacuuming, cleaning, and maintaining your shaggy rug so you can enjoy its plush texture and stylish appearance for years to come.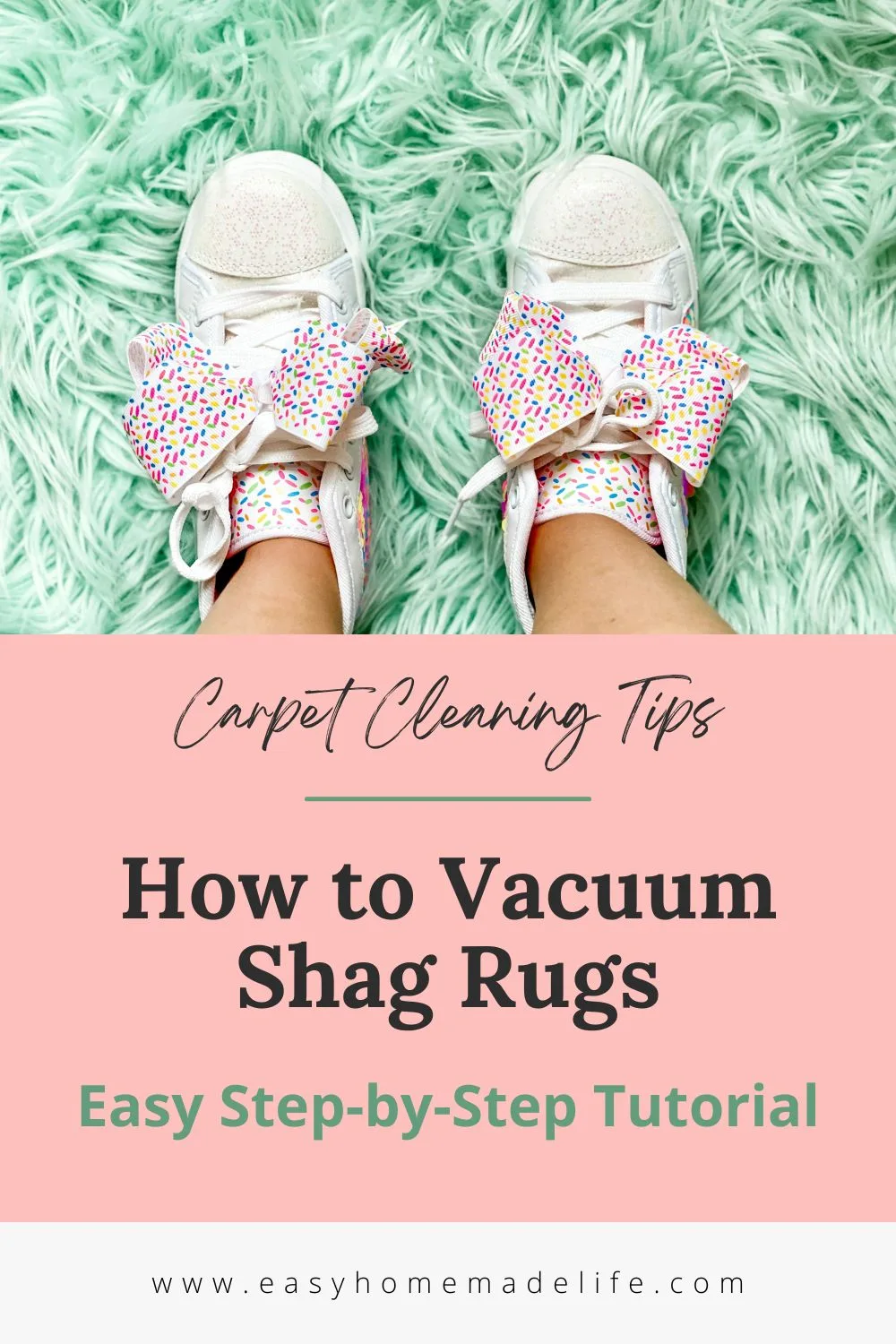 Celebrate with us because your cleaning routine just got easier. Yes, you can vacuum a shag rug. But you have to do it the right way.
Can you Vacuum Shag Rugs?
Shag rugs are a popular type of rug that are known for their long, shaggy pile. They are made in various synthetic and natural materials and come in a range of styles and designs.
You might be hesitant to vacuum a shag rug out of concern that the long, fluffy fibers could get caught in the vacuum's brush roll or beater bar. Causing damage to either the rug or your machine would be so sad.
It's true that if the vacuum is set too low, it can pull on the carpet fibers, causing the rug to become matted and distorted. This would result in an uneven and unattractive appearance. No one wants this!
Rest assured, you can vacuum a shag rug, but the approach differs slightly from regular carpets. We're here to provide the tips and techniques you need for properly looking after your rug. This article will cover how to vacuum it clean, alternative methods for regular cleanings, and tips for preventing damage.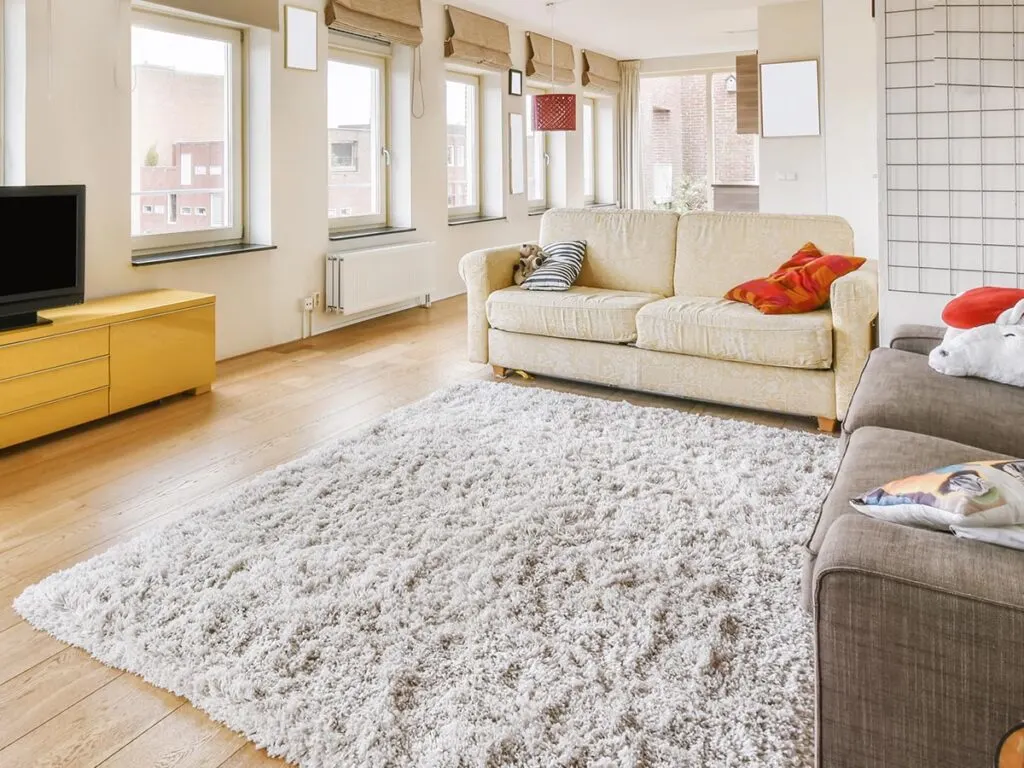 Vacuuming a Shag Rug: Tips and Techniques
Vacuuming is one of the most important steps in caring for your shag rug. It helps to remove dirt, dust particles, and other debris that can accumulate in a high-pile carpet, keeping it clean and looking great. Consider these tips for best results.
Choosing the Right Vacuum for Your Shag Rug
Not all vacuums are created equal, and some are better suited for cleaning shag rugs than others. The best vacuum will have a motorized brush roll, as this will help to agitate the rug fibers and remove dirt particles and debris more effectively. Additionally, choose a type of vacuum with adjustable settings, as too much suction power can damage the delicate fibers of a shag rug.
Setting the Right Vacuum Height
Setting the vacuum height correctly is crucial when vacuuming a shag rug. The vacuum can damage the long fibers or get stuck in the pile if the height is too low. Conversely, if the height is too high, the vacuum won't effectively remove dirt and debris from the rug. As a general rule, the vacuum should be set to the highest height possible while still allowing it to clean the rug effectively.
Preparing Your Shag Rug for Vacuuming
Before vacuuming your shag rug, it's important to prepare it properly. Start by removing loose dirt or debris from the rug using a soft-bristled brush or a broom. This will prevent the vacuum from clogging.
Vacuuming Your Shag Rug
When vacuuming your shag rug, start by vacuuming the perimeter of the rug and working your way inward. Use the vacuum's crevice tool to clean along the edges of the rug and in any hard-to-reach areas. Then, use long, slow strokes to vacuum the rest of the rug. Be careful not to press down too hard or move too quickly. If your vacuum has a beater brush, turn it off to avoid damaging the rug's fibers.
Vacuuming Frequency
Finally, it's important to vacuum your shag rug regularly to keep it looking its best. Generally, shag rugs should be vacuumed at least once a week, although heavy traffic areas may require more frequent vacuuming.
Stay on top of the action and watch out for signs it's time to clean your carpet so you can take care of it before the dirt builds up too much.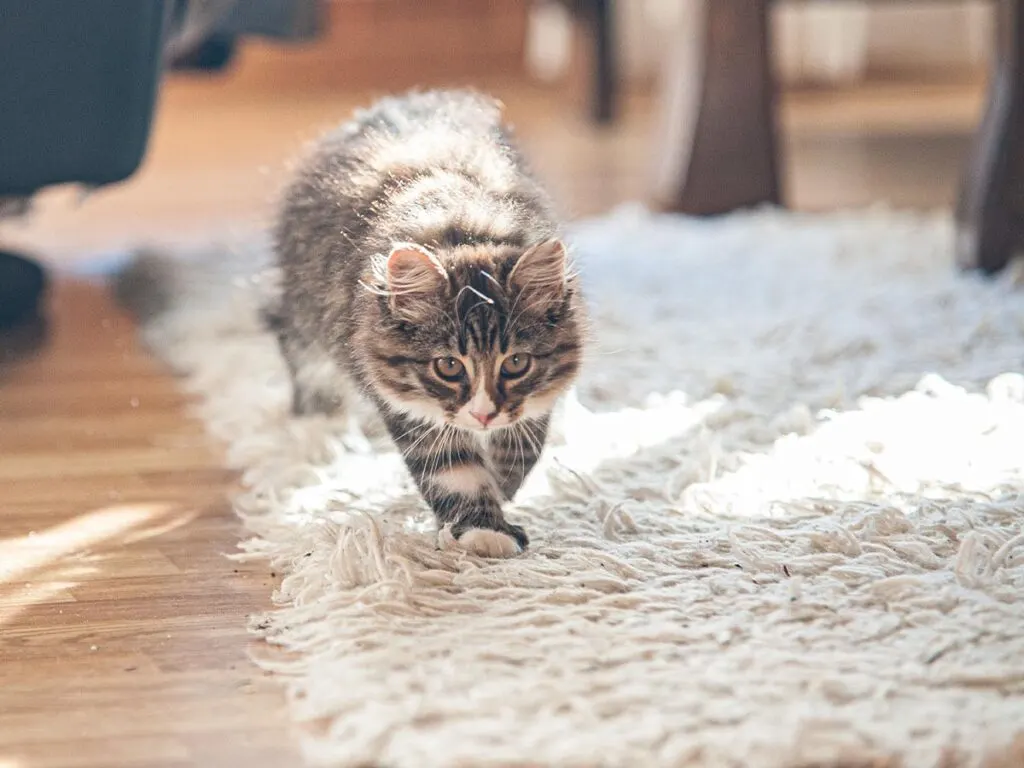 An Easy Step-by-Step: How to Vacuum a Shag Rug
Vacuuming is an effective way to remove dirt and debris from your shag rug. You can keep it clean without damaging the fibers. Follow the step-by-step guide on how to vacuum a shag rug without problems.
Materials
Vacuum cleaner with adjustable height settings and a beater bar or brush roll
Rug rake or brush (optional)
Directions
Prepare the shag rug. Clear the space off and remove any obvious pieces of dirt and garbage. Use an optional rug rake or brush if you have one.
Adjust your vacuum's height settings to the highest level. If your vacuum has a gentle or high-pile setting, use that instead.
Vacuum the shag rug in different directions to prevent matting. Use long, slow strokes and apply gentle pressure to avoid damaging the rug's fibers. Flip the rug over and vacuum the underside too.
Clean your vacuum's brush roll or beater bar. Pull out any hair, dirt, or debris that may have accumulated.
Fluff the shag rug. Give a few brisk strokes with your hand or optional rug rake or brush until the rug looks perky and inviting again.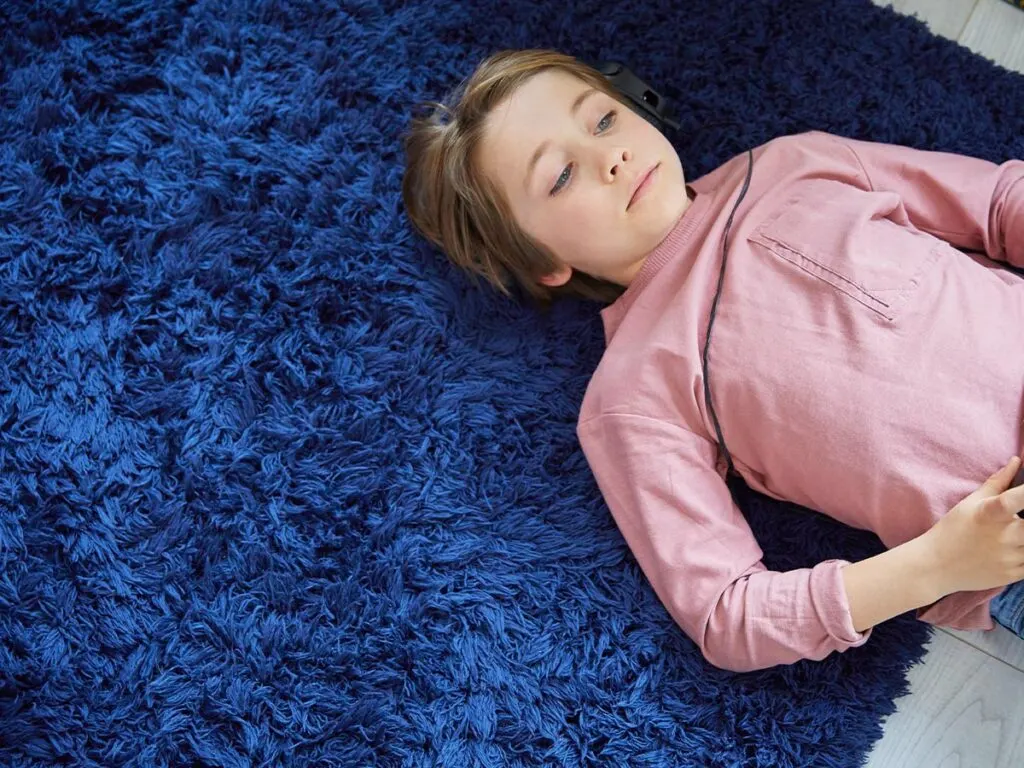 Alternative Methods for Cleaning Shag Rugs
While vacuuming is an effective way to clean shag rugs, you can use alternative methods for a quick clean when you don't feel like taking out the machine.
Here are some alternative routine cleaning methods for shag rugs:
Shaking the Rug – Shaking the rug is a simple and effective way to remove loose dirt and debris from your shag rug. Take the rug outside and give it a good shake to loosen any dirt or debris that may be trapped in the deep pile. This method is the best option for a small rug that you can lift and shake easily.
Beating the Rug – Lay the rug flat on a clean surface or drape it over a clothesline and use a tool like a rug beater, broom or tennis racket to gently beat the rug from left to right and up to down. This method is a good option for larger rugs that are difficult to move and shake.
Brushing the Rug – Brushing the rug is a gentle way to remove dirt and debris from your fluffy rug without a vacuum. Use a soft-bristled brush or a carpet rake to gently brush the rug, working in the direction of the pile. This method gives the best results for old, delicate rugs and those prone to damage.
Spot Cleaning – Spot cleaning is a good idea for stain removal when you see small stains or spills on shag rugs. Use a clean cloth or sponge to blot the stain. Avoid rubbing it further into the rug's fibers. Then, mix a mild detergent solution and warm water in a spray bottle to clean the affected area. Be sure to rinse the area thoroughly with clean water and leave the rug to air dry completely before using it again.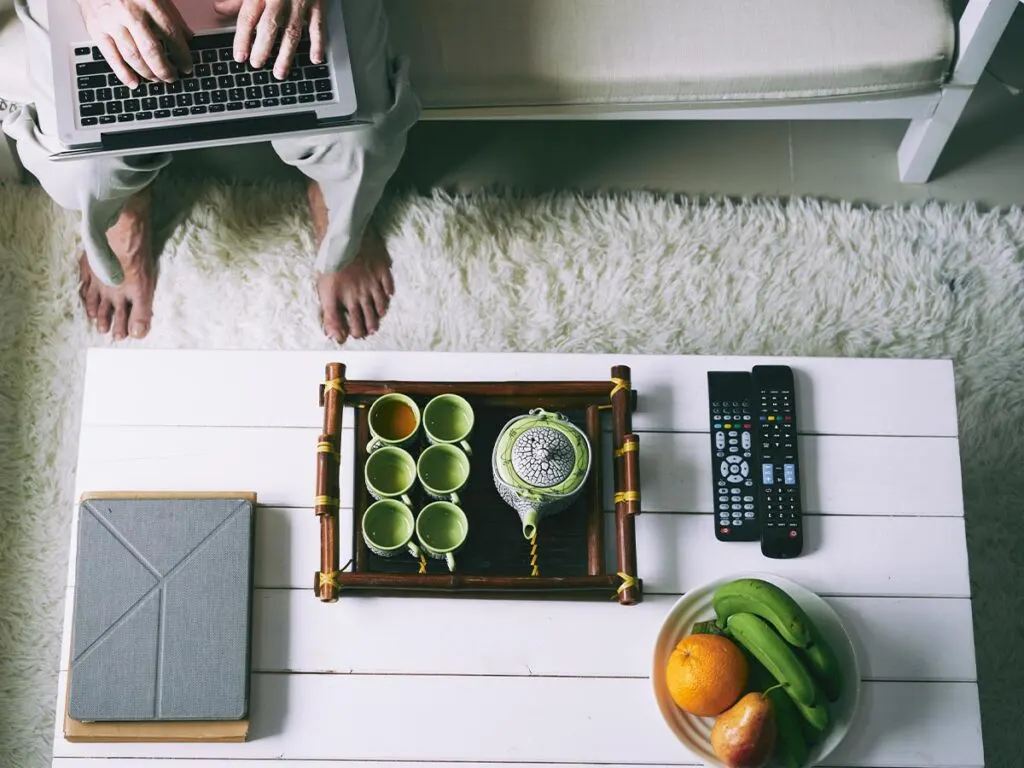 Regular Maintenance: How to Keep Your Shag Rug Looking Its Best
After giving your rug regular vacuuming, there are a few final recommendations to keep in mind.
First, avoid placing heavy furniture on your shag rug, which can flatten the fibers and create permanent impressions. If you're placing it in the bedroom, follow these best tips for setting a bedroom rug under a bed.
Secondly, rotate your rug every six months to prevent uneven wear and tear.
Thirdly, avoid exposing your shag rug to direct sunlight, which can cause the colors to fade. Avoid high foot traffic areas, which can cause further fading and damage over time. Also, consider using a rug pad to prevent slippage and cushion the rug.
Finally, consider having your shag rug professionally cleaned every one to two years to remove deep-set dirt and grime that may not be visible on the surface. Look for a professional rug cleaner specializing in deep cleaning shag rugs to ensure your rug is properly cared for and maintained.
Final Recommendations for Shag Rug Care
In conclusion, vacuuming a shag rug is the best way to keep it clean and looking its best for a long time.
By following the step-by-step guide and tips in this article, you can safely and efficiently vacuum your shag rug without damaging its delicate fibers.
Remember to choose the right vacuum, set the correct height, and vacuum frequently.
Additionally, consider an alternative cleaning method when needed and follow regular maintenance practices to preserve the good condition or your precious shag rug.
By taking good care of your shag rug, you can enjoy its plush, cozy texture for years to come.