As the summer months approach, we know too well how much of a nuisance ants can be. They pose an even bigger problem if you have a lot of carpets in your home. In that case, you may ask: can you vacuum ants out of a carpet?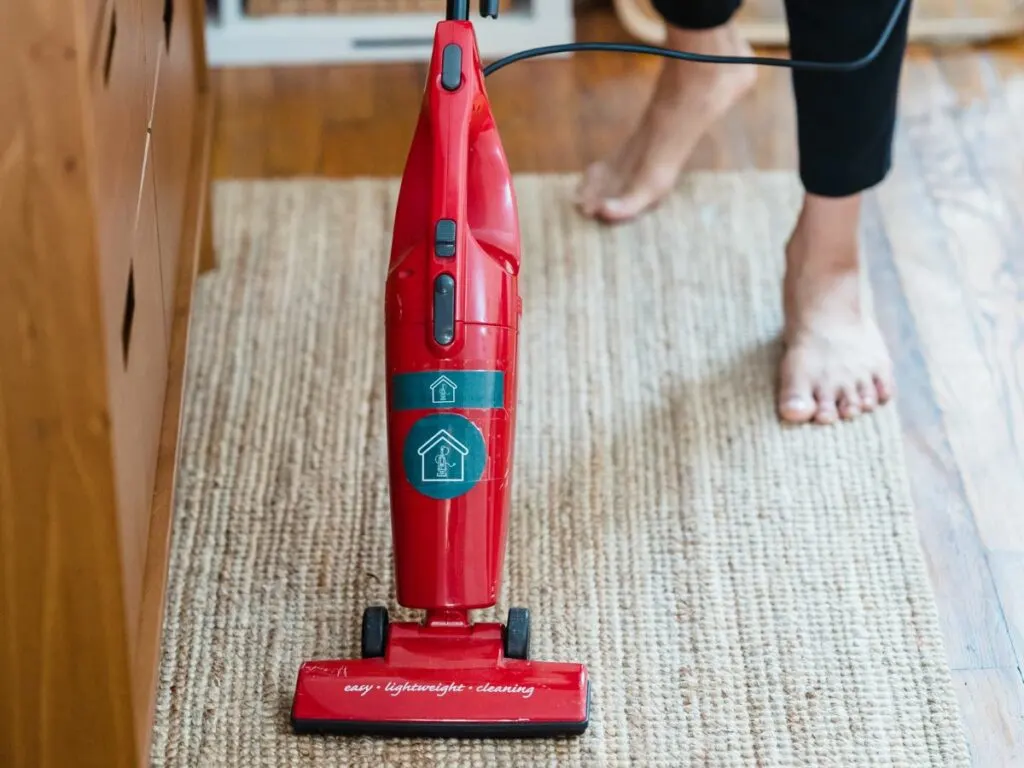 The short answer is yes. Vacuuming is one of many effective methods that homeowners use to address ant infestations in their carpets. Other methods include using ant baits, baking soda, or ant carpet powder. Sometimes, the problem is severe enough to warrant hiring a professional exterminator.
Read on to learn how to vacuum ants out of your carpet. We've also included valuable tips for preventing ants from getting into your carpet in the first place. If vacuuming isn't viable, try one of the other methods outlined in this guide.
How to Vacuum Ants Out of the Carpet
If you have an ant infestation on your carpet, vacuuming is an excellent option to get rid of it.
Some may argue that vacuuming ants doesn't work because these small, weightless insects can survive the vacuuming process.
While this is true, vacuuming your carpet will still kill the ants because the dust inside the vacuum cleaner suffocates them. Additionally, correct disposal of the vacuumed ants gets rid of them once and for all.
Furthermore, vacuuming frequently can help prevent an ant infestation from developing in them from the start.
All in all, vacuuming may be the most effective way in your situation. It's the best way to deal with carpenter and giant yellow ants.
But why do ants make a feast out of your carpet fibers, to begin with?
Ants are attracted to the crumbs and food droppings that fall on carpets. By vacuuming regularly, you can remove these food particles before the ants find them.
Here's the equipment you'll need to vacuum ants out of your carpet:
A high-powered vacuum cleaner with a flexible ridged hose
A sealed plastic bag for disposal
An insect repellant
Crevice tool extension
Step-By-Step Instructions
Turn on the vacuum cleaner and start working on the area with the highest concentration of ants. Continue vacuuming as you move around all the other areas of the carpet. Once the ants are trapped in the vacuum's built-in bag, it's time to dispose of them.
The disposal process involves applying an insect repellant to a sealed plastic bag. You can use things like ground cinnamon or peppermint oil. Then, empty the vacuum bag's contents into that plastic bag and throw it away in the trash can outside your house.
If your vacuum cleaner comes with disposable vacuum bags, skip the insect repellant application step and throw the entire vacuum bag into the plastic one.
Advantages
There are several advantages to vacuuming ants out of your carpet.
For starters, it's a cost-effective method that doesn't require buying any extra equipment. Most vacuums already come with flexible corrugated hoses and crevice extensions.
Another pro of this method is that it's highly convenient.
Additionally, it's a tried and tested way of removing ants from your carpet that makes it unnecessary for you to hire an exterminator.
Finally, vacuuming doesn't require you to use any chemicals. As a result, it's a safe way to solve your pest problems without worrying about toxic or volatile emissions. After all, you don't want your ant removal efforts to be at the expense of your loved ones' health.
Disadvantages
Vacuuming ants out of your carpet isn't without its drawbacks.
This method is excellent for removing carpenter ants and giant yellow ants. However, it isn't that effective in eliminating smaller types of ants.
Another con of this method is that the ants can get stuck in your vacuum's hose if they're particularly large. If this happens, it may block your vacuum's airflow.
Additionally, vacuuming ants out of your carpet isn't a permanent solution to your woes. If there's a full-blown ant nest in your home, the ants will return to the carpet. This issue is compounded if you don't dispose of the vacuumed ants correctly.
Things to Avoid When Vacuuming Ants
There are certain measures you may think will make your vacuuming efforts more effective. However, these measures do more harm than good, and you should avoid them.
For example, some people try to combat ant infestations by putting chemicals such as insecticides into a vacuum bag.
This doesn't work and is actually dangerous. These chemicals are combustible and can permanently damage your vacuum cleaner. Additionally, they emit dangerous gasses into the air.
You should also avoid vacuuming exceedingly large quantities of ants in one go. In these situations, it's better to forgo vacuuming in favor of a chemical solution. Another option is to hire a professional to do it for you.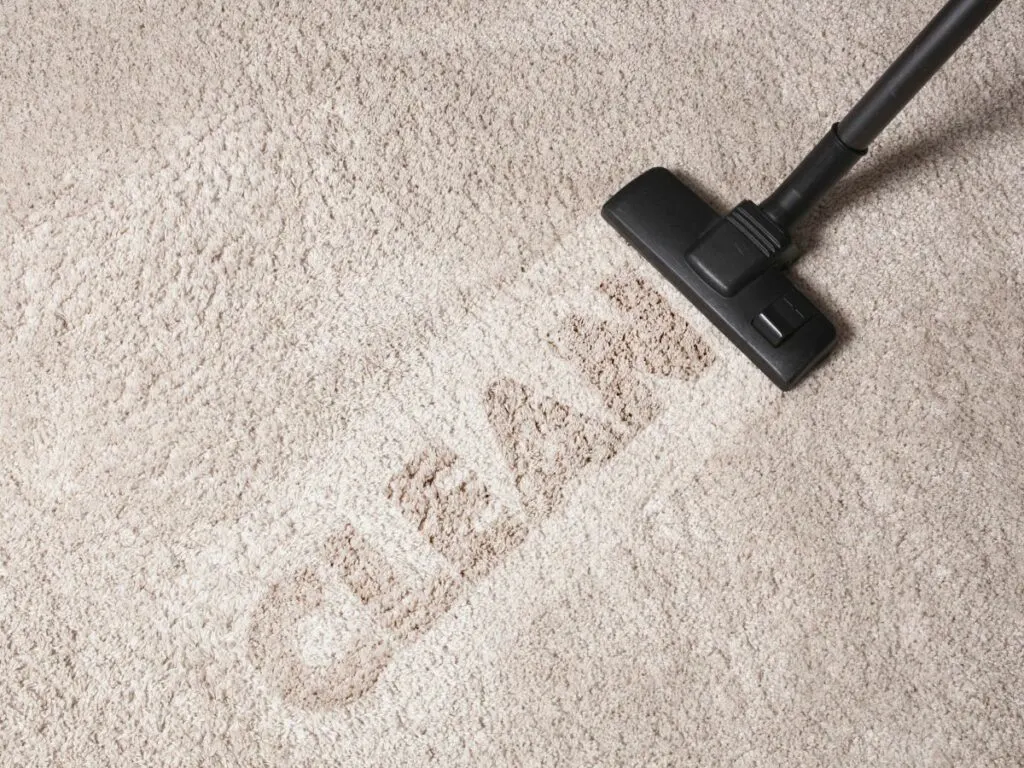 Other Ways to Remove Ants From Your Carpet
While vacuuming is a popular method for dealing with ant infestations in carpets, it's not the only option.
Here are some other effective methods you can use to make your carpet ant-free:
1. Using Ant Baits
Ant baits are highly effective alternatives to vacuuming ants out of a carpet.
These substances attract ants because they contain sugars, proteins, and oils. Once an ant eats ant bait, it dies because of the sodium borate it contains.
There are three main categories of ant bait: solid, liquid, and granular.
These three types of bait are all equally effective at exterminating ants. However, it's essential that you carefully read and follow the directions on the package before using it to ensure that you're doing so the right way.
Solid Ant Bait
Solid ant bait usually comes in pellets. However, it can also take other forms. To use it effectively on ants, you should break down the pellets into small pieces. The ants will eat the bait and take it back to the colony. In turn, the entire colony will consume sodium borate and die.
Liquid Ant Bait
Liquid ant bait works a bit differently. You have two options when using it.
The first option is to apply the bait directly onto the ants. Alternatively, you can observe the ants' behavior and apply the bait in the place where they tend to congregate.
Regardless of your method, liquid ant bait will kill the pesky critters in minutes.
Granular Ant Bait
Moving on to granular ant bait, it comes in powder form. All you'll need to do is spread the insecticide powder across your carpet. Make sure not to do so with your bare hands.
Once the ants find and eat it, they'll die shortly after.
2. Dry Cleaning Your Carpet
Another way to get rid of a severe ant problem in your carpet is dry cleaning. Not only does dry cleaning remove the ants, but it also gets your carpet looking as good as new.
Don't worry if you can't take your carpet to a dry cleaner because some services can come to your home fully equipped to handle the situation.
They'll eradicate all the ants and any remains that may bring them back.
3. Using Ant Carpet Powder
The third alternative method for combatting ant issues in your carpet is ant carpet powder.
Distribute the ant powder evenly across your carpet and wait for the ants to find and eat it. Once they do, they'll die within 30-60 minutes.
The next step is to vacuum the carpet and its surrounding area to remove and dispose of the dead ants.
The main concern with ant carpet powder is that it's toxic. Therefore, you should wear gloves when handling it. Keep your children and pets away from the carpet until you've vacuumed it thoroughly to remove any powder residue.
4. Using Baking Soda
Baking soda is a great way to naturally remove ants from your carpet without any chemicals, and it's available in most kitchens.
The first step is to mix equal quantities of sugar and baking soda into a bowl. Next, sprinkle the mixture all over the carpet. The sugar will attract the ants, and the baking soda will prove fatal to the ants once they consume it.
You should also keep pets and small children away from the carpet until you've removed all traces of the baking soda.
5. Calling an Exterminator
If you've tried several methods but still haven't gotten rid of the ants in your carpet, your best bet is to hire professional help.
Hiring an exterminator is often the best option when the ant problem is out of control.
The exterminator will assess the severity of the problem, locate the ant colony, eradicate them from the carpet, and exterminate the colony.
It may not be the cheapest option, but it's effective.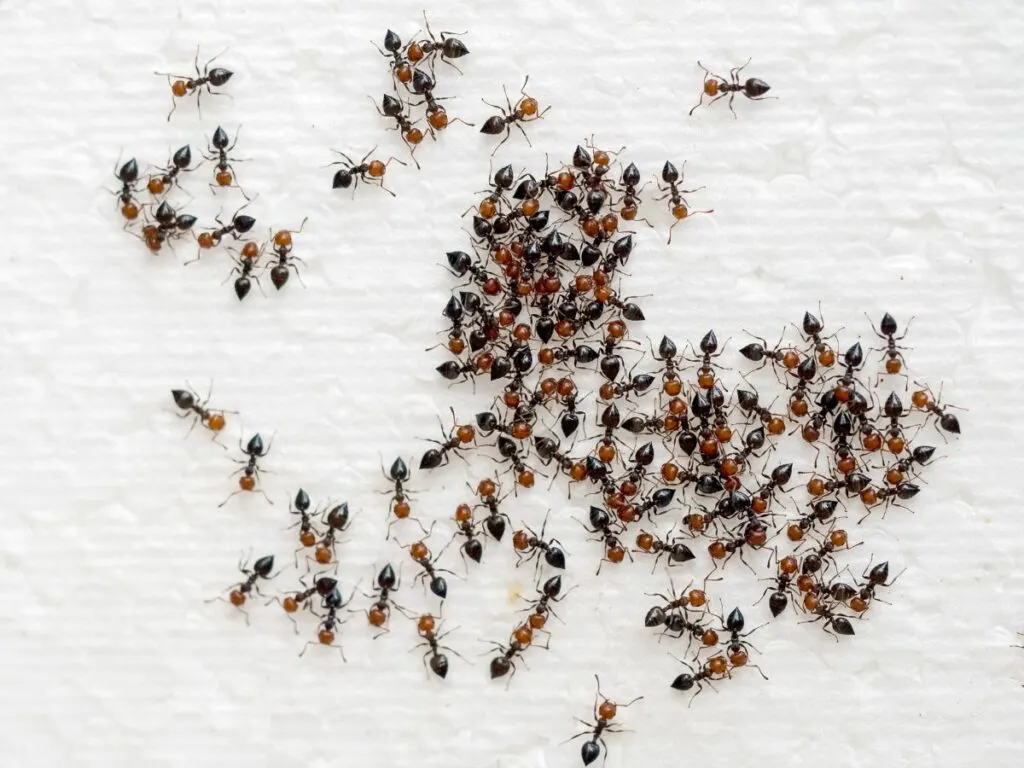 Reasons For Ant Infestations in Carpets
As in many aspects of life, prevention is better than cure regarding ant congregations in your carpet. Once you deal with ants on carpet, you'll surely want a long-term solution so the problem doesn't repeat itself in the future.
Before taking action to prevent an ant problem, it's a good idea to learn what caused it in the first place.
Food and moisture are the two main reasons ants get attracted to carpet.
Carpets are magnets for food remains and crumbs, especially if you don't vacuum your carpet regularly.
As for moisture, it may enter your carpet because of the floorboards beneath it. If these boards aren't properly maintained, they will likely develop rot. This provides the perfect conditions for ants to thrive and develop large ant colonies.
Preventing Ant Infestations in Your Carpet
The good news is that you can work to minimize and prevent infestations.
To stop ant infestations from developing in your carpet, you should take preventative measures to minimize the chances of your carpet providing the conditions mentioned above.
Don't eat in carpeted areas. But if this can't be avoided, vacuum regularly to remove food crumbs and any possible food source for the ants.
As for moisture, you should keep it at a minimum by checking for moisture leaks and damp places around your house.
Deal with any spilled liquid on your carpet promptly. This is especially true if the liquid is sugary because such liquids are ant magnets.
Use pesticides to stop ants from entering your house altogether.
Check for cracks or leaks in your home's foundation and address them to limit the avenues through which ants can enter your home.
Frequently Asked Questions
Can you use ant bombs to remove ants from a carpet?
We don't recommend using bomb pesticides or ant spray when addressing your carpet ant infestation. The reason is that it's difficult to control where the pesticide ends up.
Therefore, it's possible that you could fill your home with toxic chemicals and still have ants all over your carpet.
Why is it important to dispose of dead ants properly?
Disposing of dead ants correctly is essential. This is because dead ants secrete pheromones that attract other colony members.
Therefore, improper disposal of dead ants can counteract all your efforts and make the infestation even worse than before.
Can ants get out of a Dyson vacuum?
Dyson vacuum cleaners aren't the best choice when vacuuming ants. Their mechanism isn't effective at killing carpet ants. Therefore, the ants can escape the vacuum and return to the carpet.
To avoid this, dispose of the ants immediately into a plastic bag and apply pesticide to ensure their death.
What are the best natural ant repellants?
Substances with strong smells are effective natural remedies for keeping ants at bay. These can include garlic, cloves, peppermint, cinnamon, and citrus. Using dry powders from your spice rack or quality essential oils are two forms that work well.
Coffee grounds and white vinegar also work well. Save your grounds after making iced coffee or a delicious cafe romano, or use fresh dry grounds.
For example, soak cotton balls in peppermint oil or use five drops of essential oil and place them near spots in your home where ants are likely to enter.
Sprinkling diatomaceous earth around the edges of the carpet and along the ant trails is another safe, effective, and natural option.
How much does hiring an ant exterminator cost?
The average cost of hiring an ant exterminator is $150.
This figure varies depending on the severity of the problem and in turn, how many treatments are needed. The type of treatment used also factors into the cost.
The total cost can reach $500 in cases of highly severe infestation.
Conclusion
If you constantly see ants roaming around your carpets, you may wonder if you can vacuum ants out of a carpet. The answer is that you can. In fact, this is one of the more effective methods of dealing with ant infestations in carpeted areas.
Make sure to use a vacuum with a flexible corrugated hose so you can reach all corners of your carpet effectively. Additionally, using crevice extensions can help you do so even better.
Aside from vacuuming, several alternative methods exist for removing ants from your carpet. They include using ant bait, baking soda, or ant carpet powder. When the problem is seriously over your head, you can also seek professional help for dry cleaning your carpet or all-out professional extermination.